Brianna Marie Sue McNicol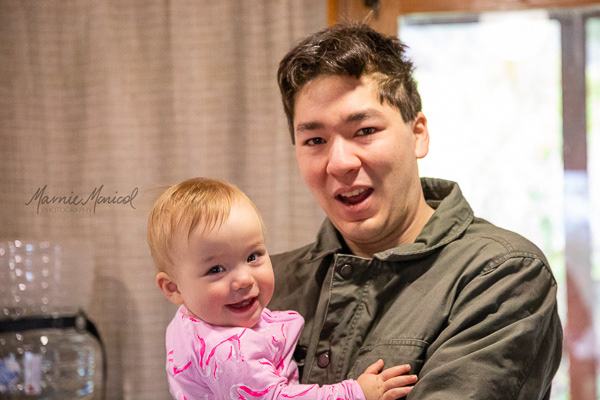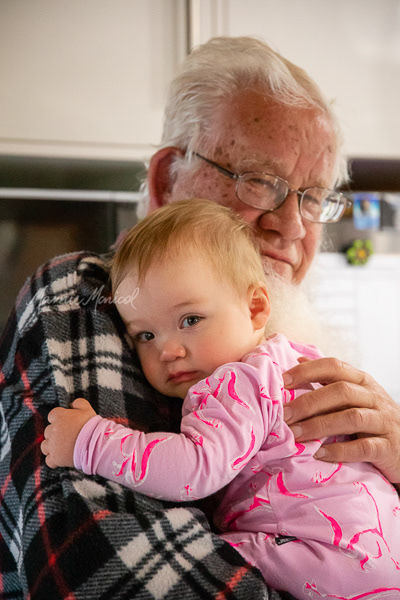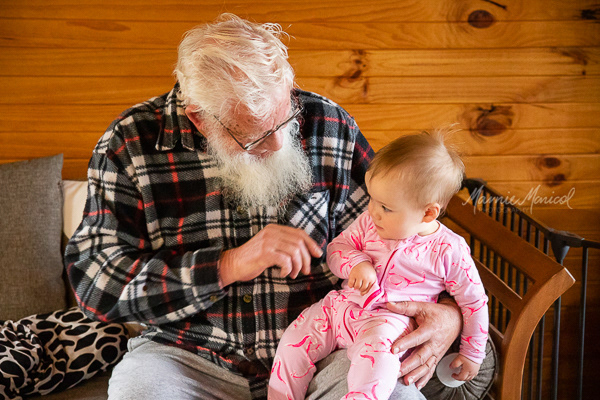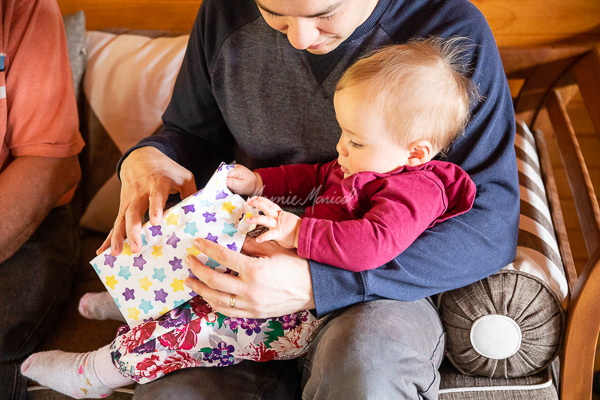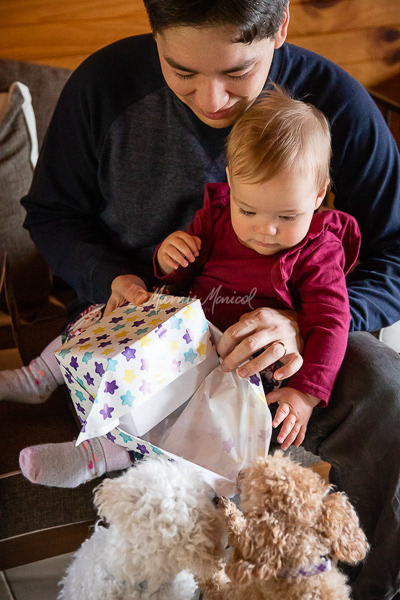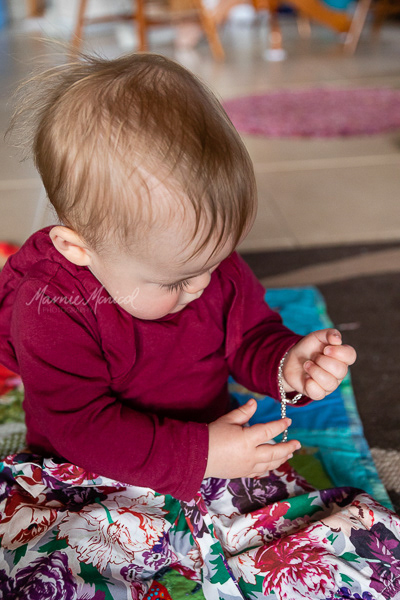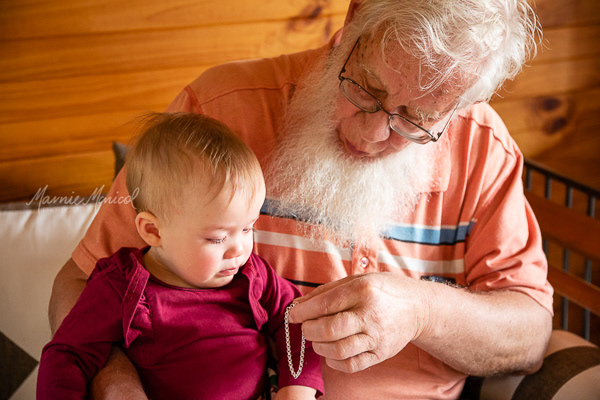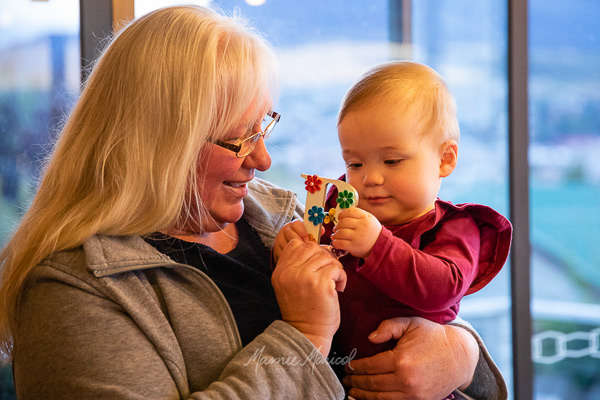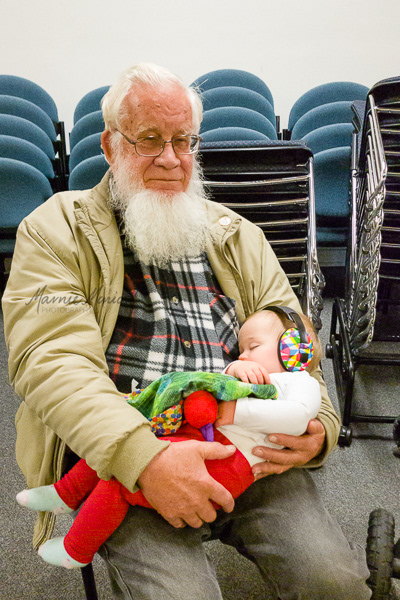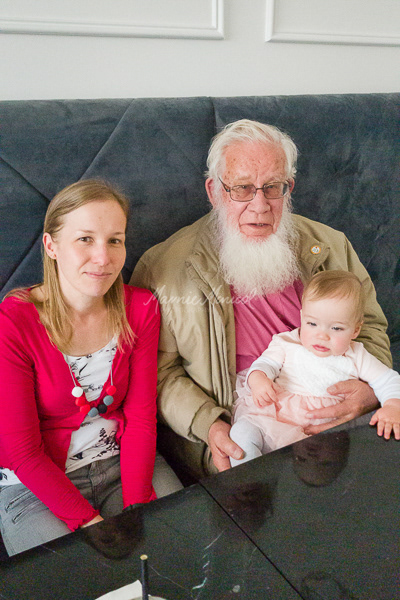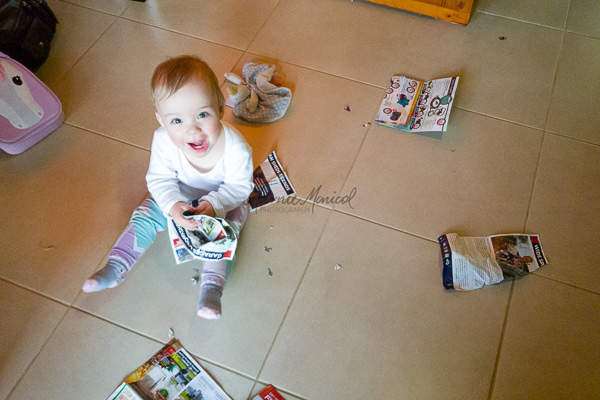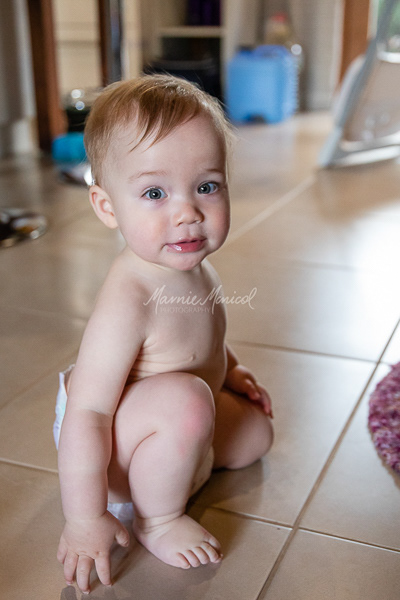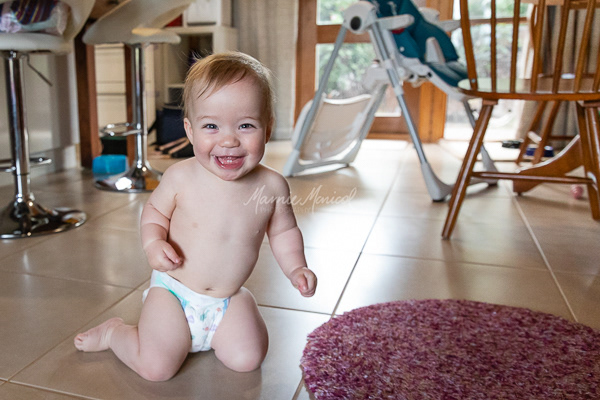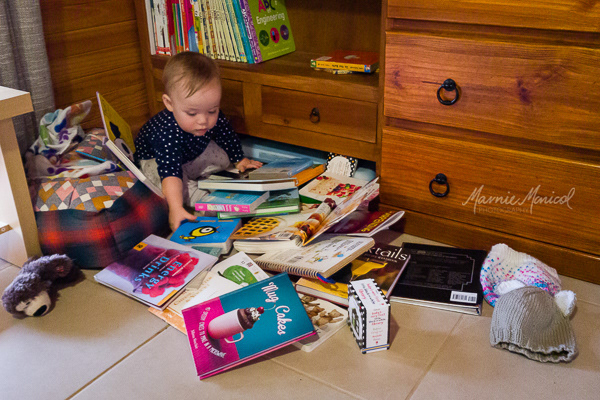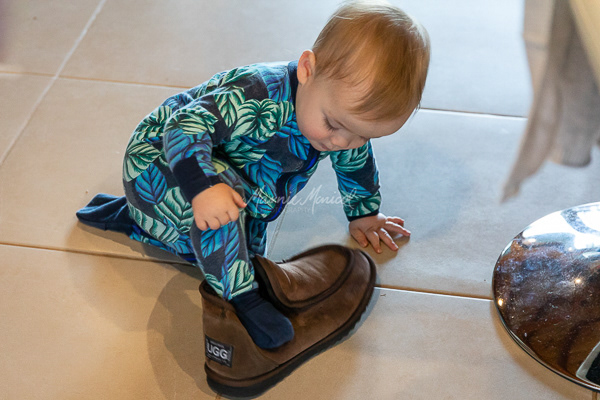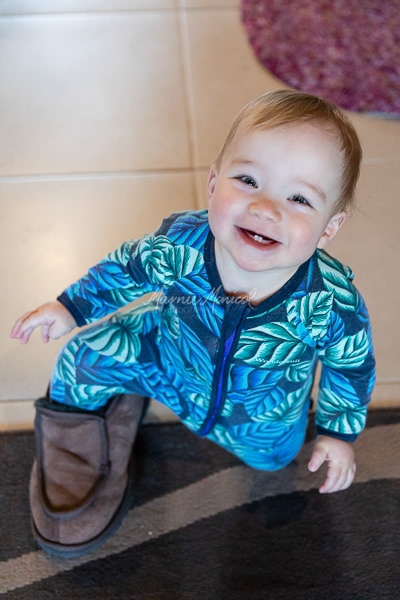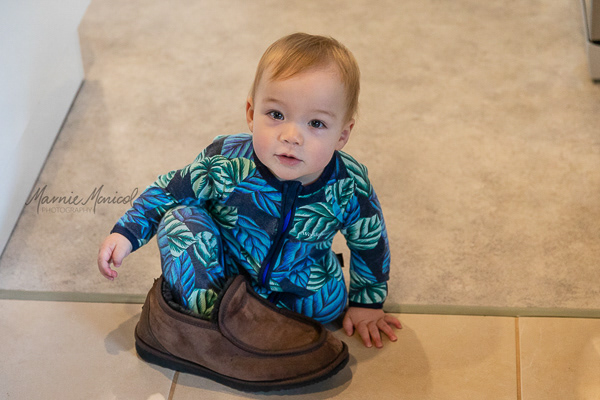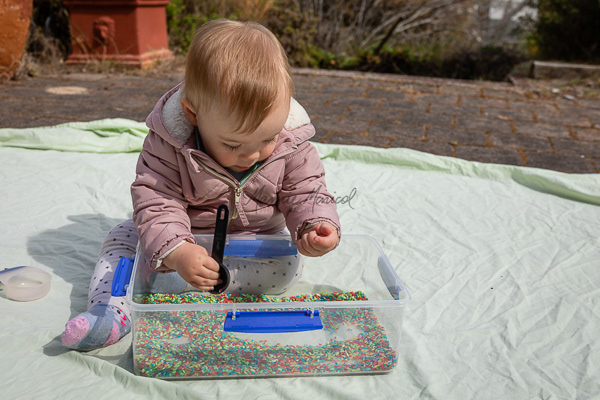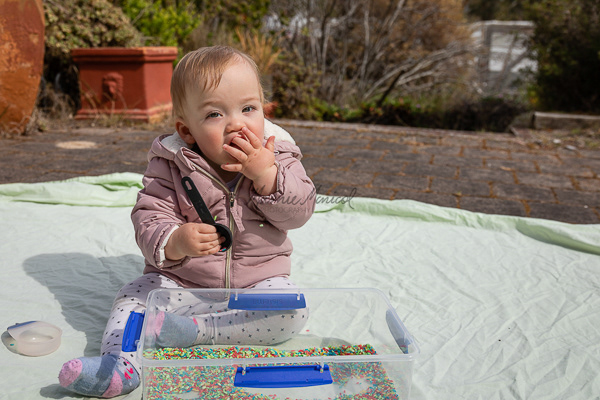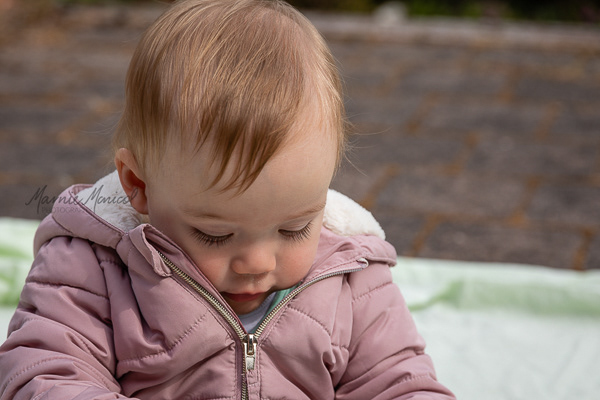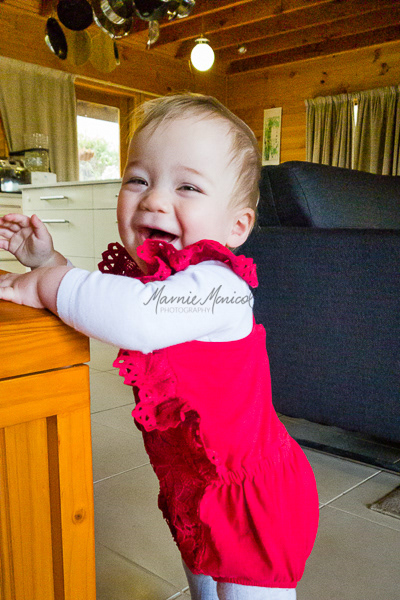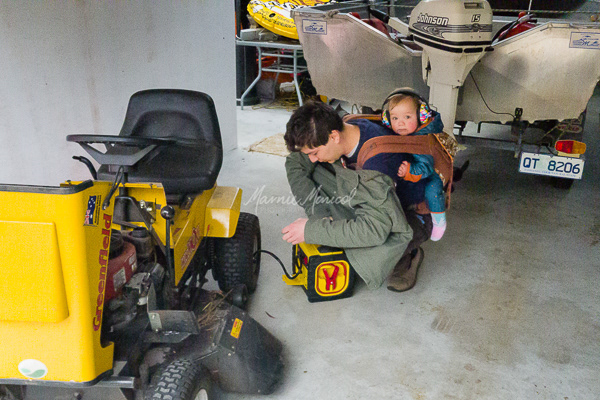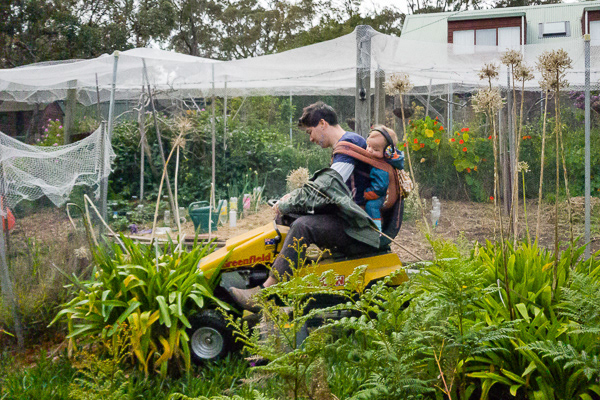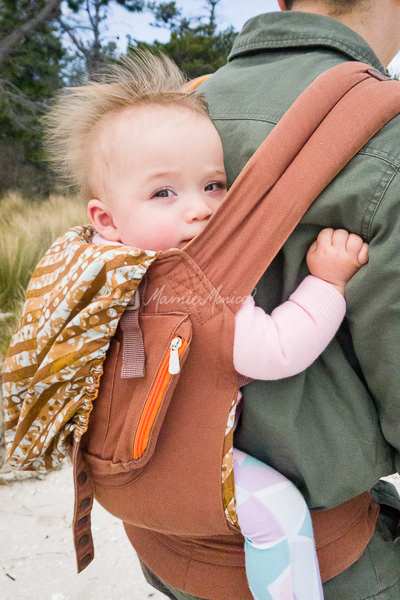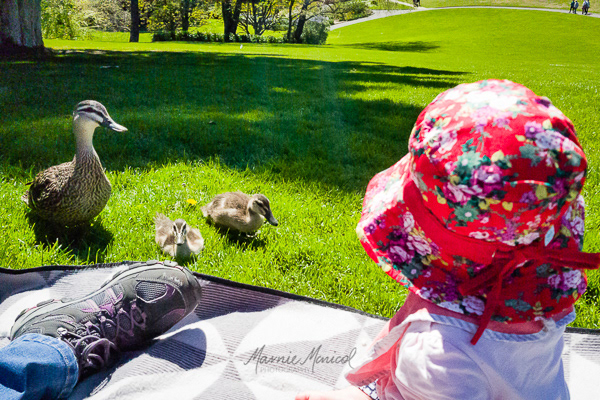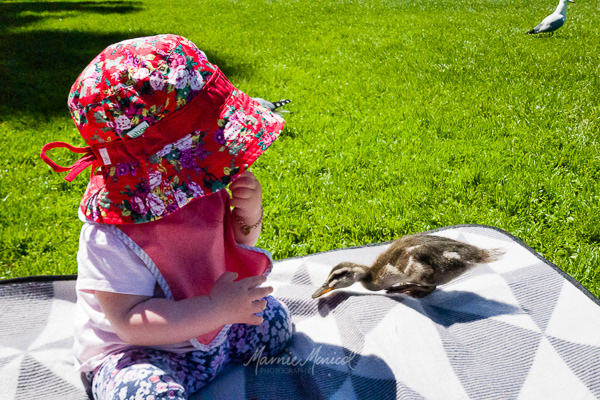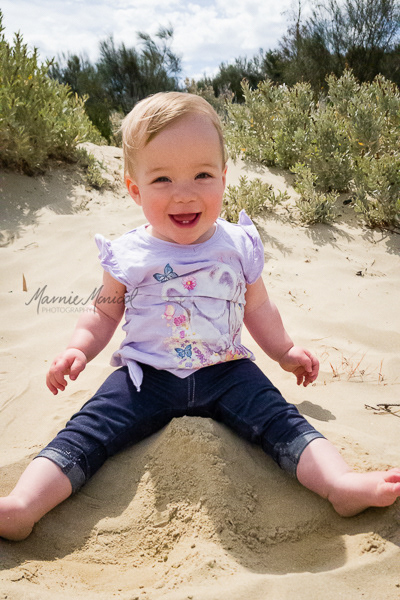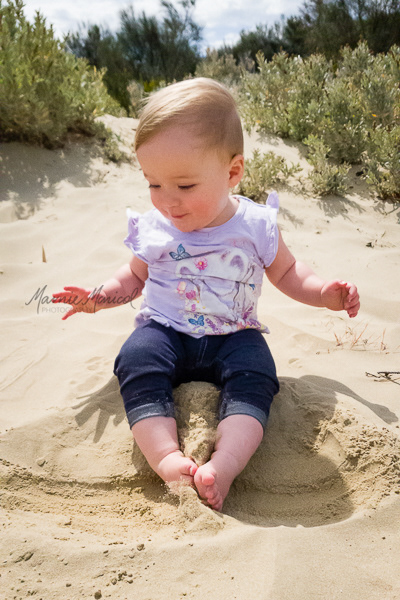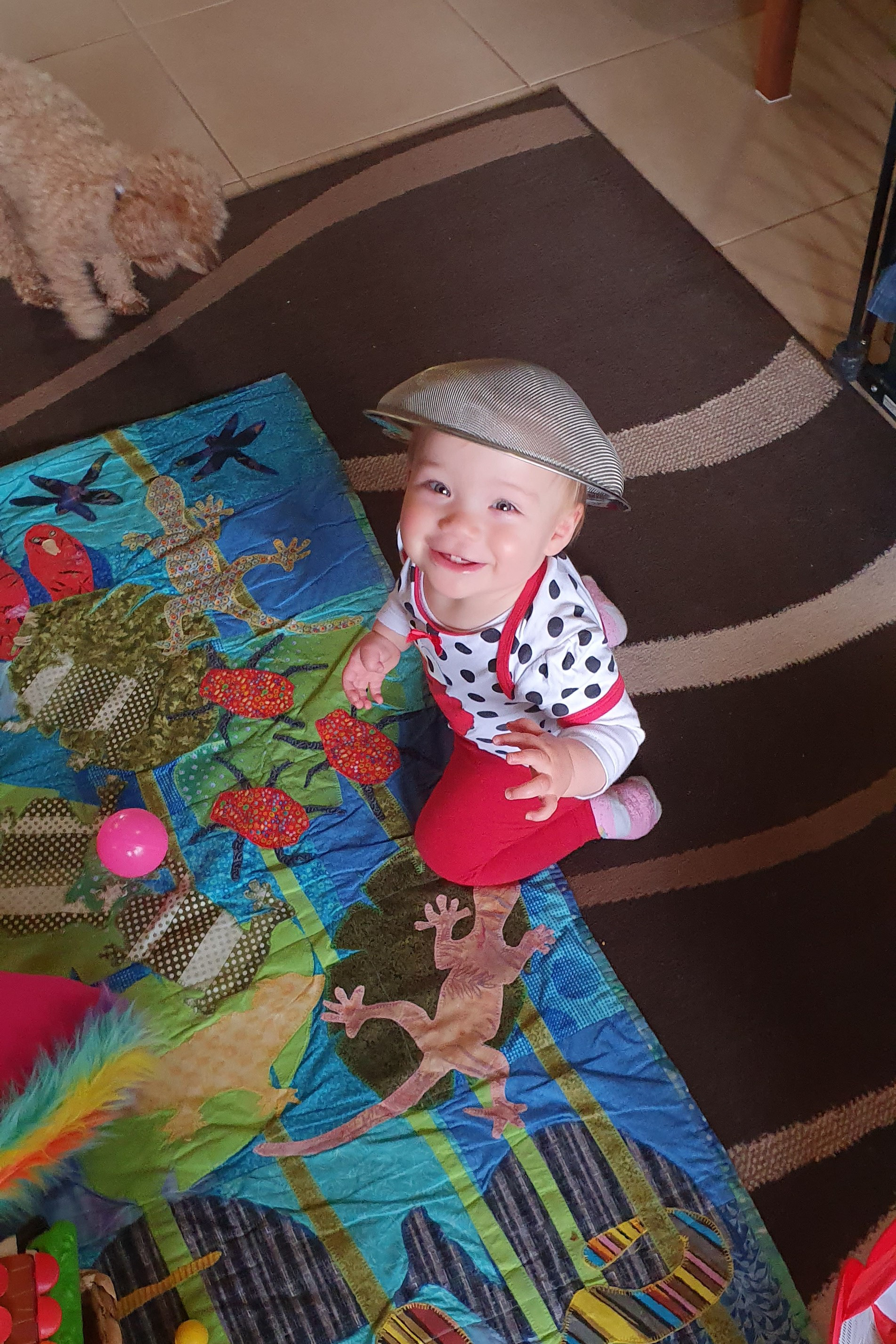 12 Months ~ Birthday hugs with Dad, birthday hugs with Great-Opa, opening birthday presents, hugs with Uncle Dwayne, more presents, falling asleep in Opa's arms at band rehearsal, coffee with Great-Opa, reading our mail, running away from Mum when it's time to get dressed, reading books, trying on Dad's ugg boots, rice play, being cheeky again, helping Dad with the ride on mower, feeling the wind in her hair, meeting baby ducks, making 'sand angels,' church of the flying spaghetti monster, and entertainment while Mum cleaned.
Mum & Dad have a playlist with some of the songs they play in Big Band. Brianna has always loved a bit of jazz!!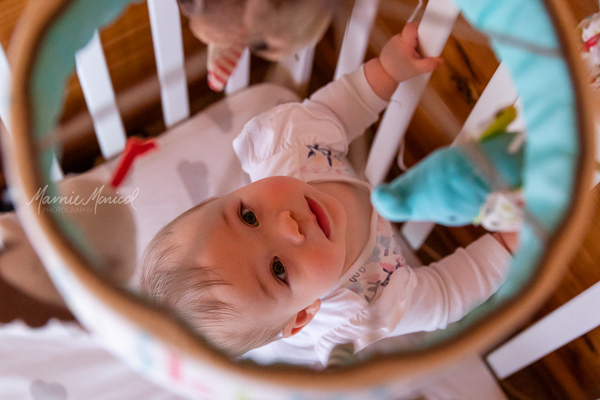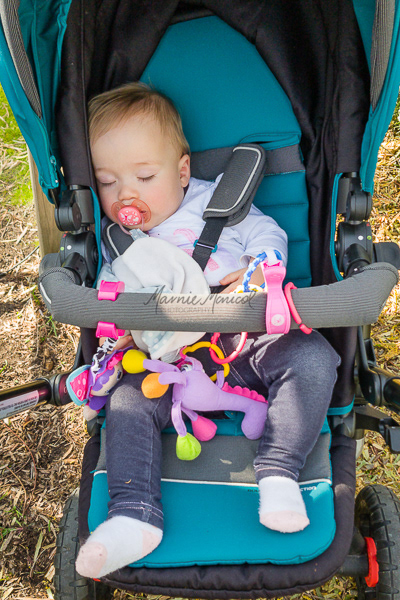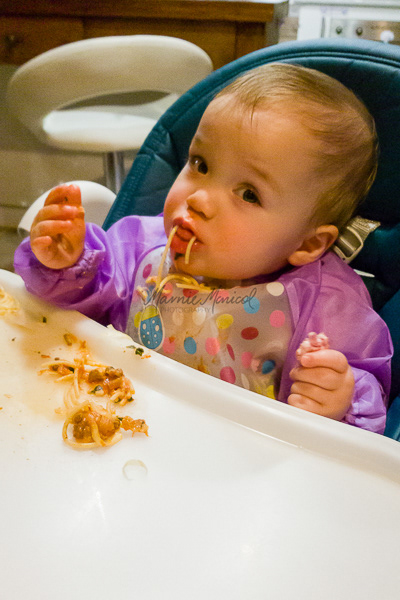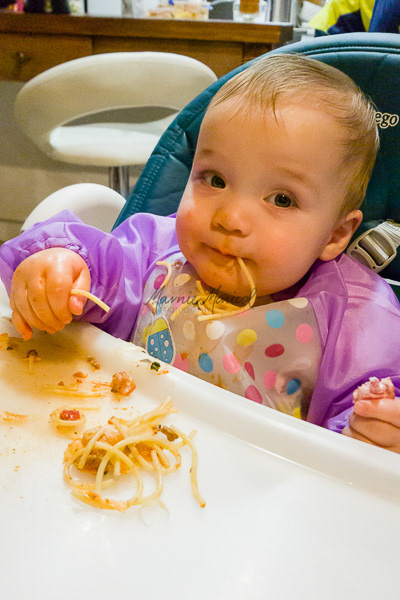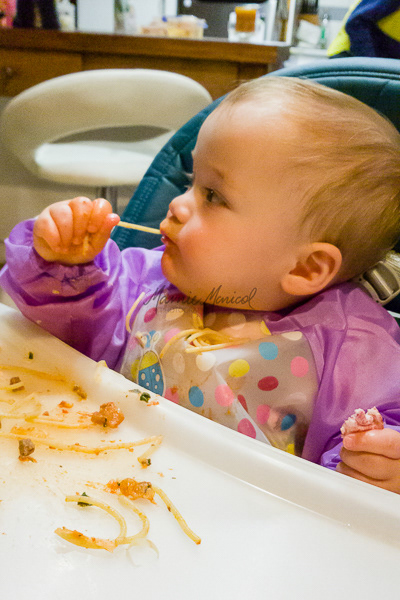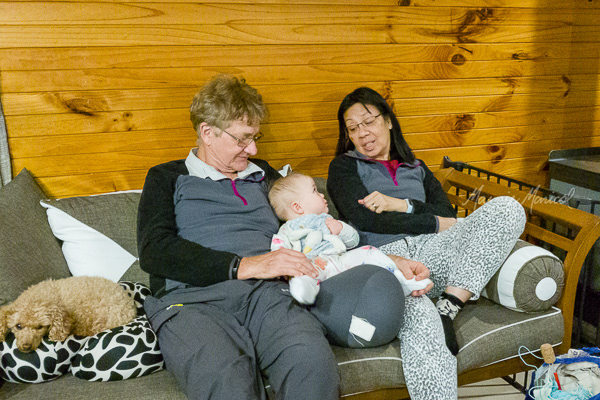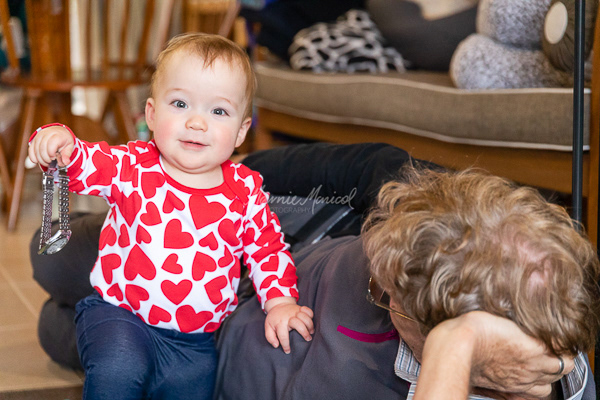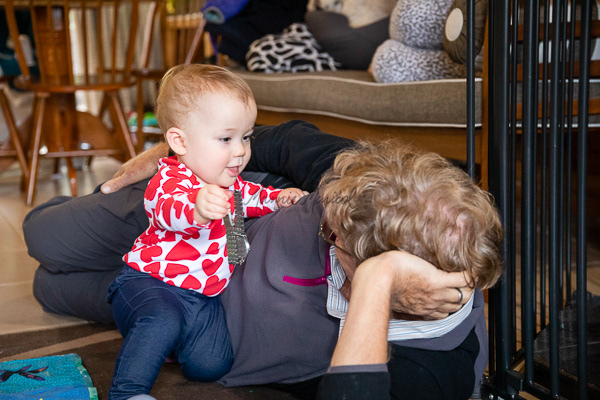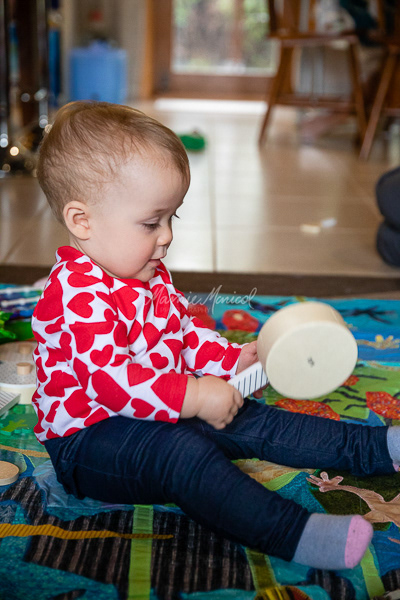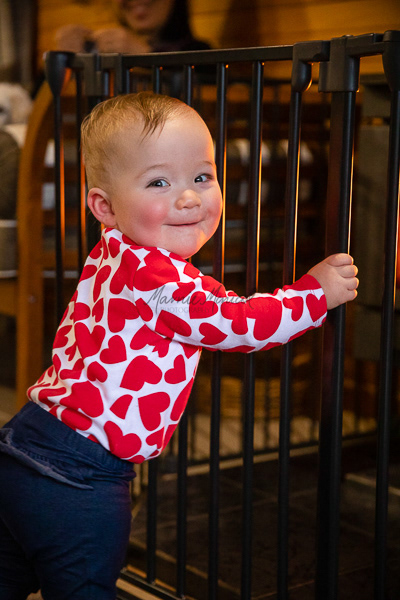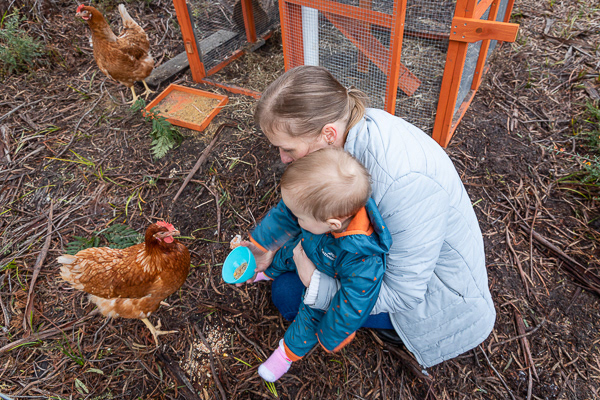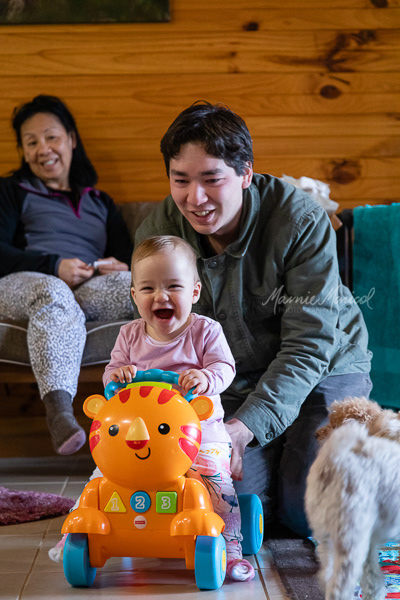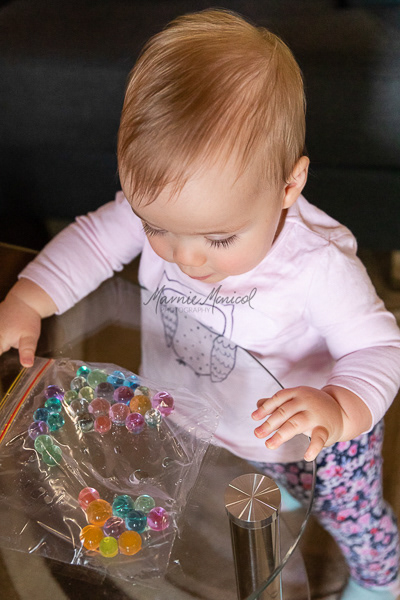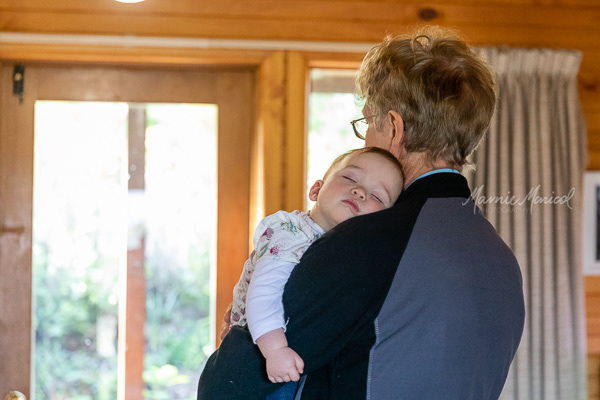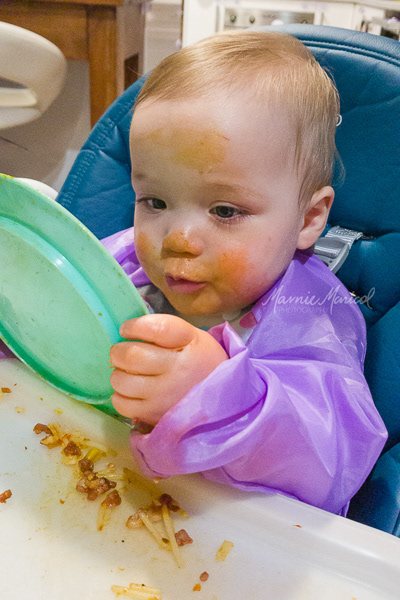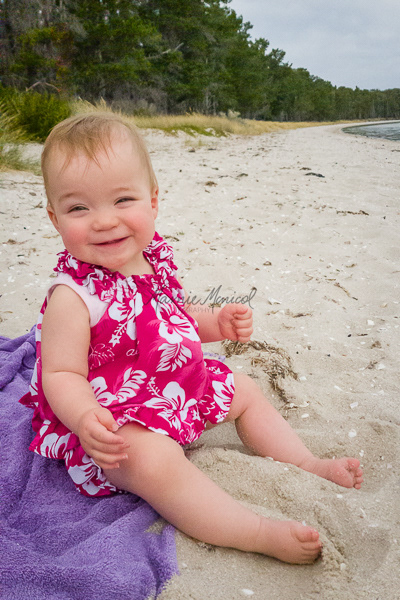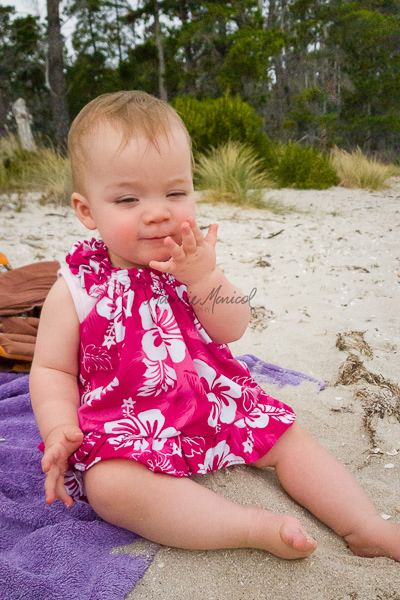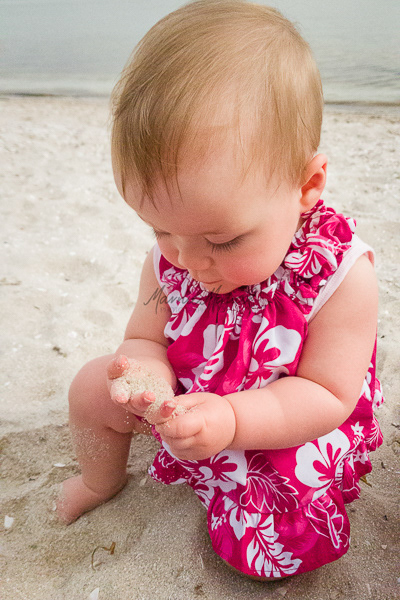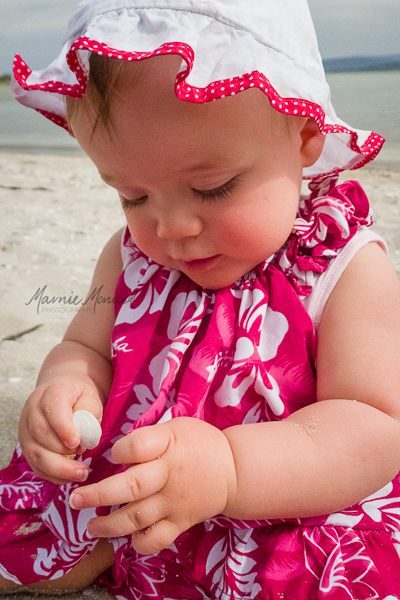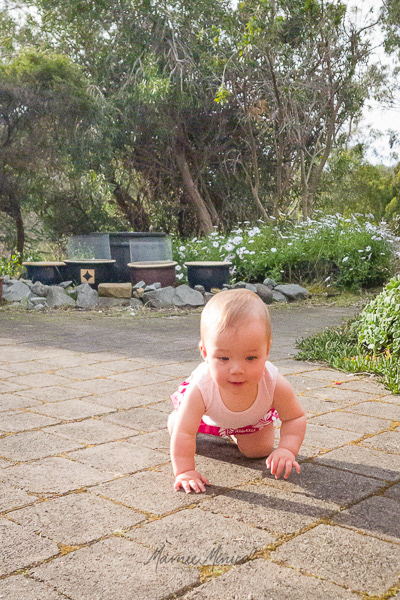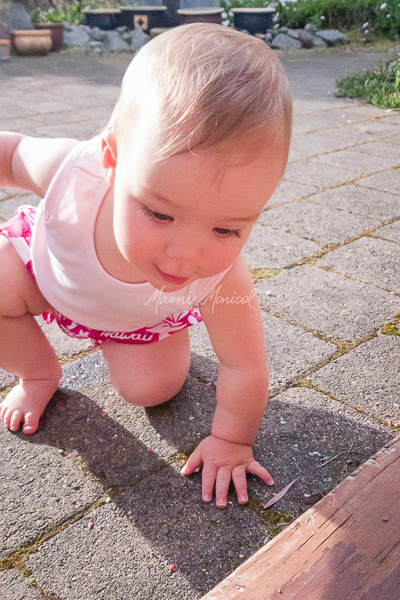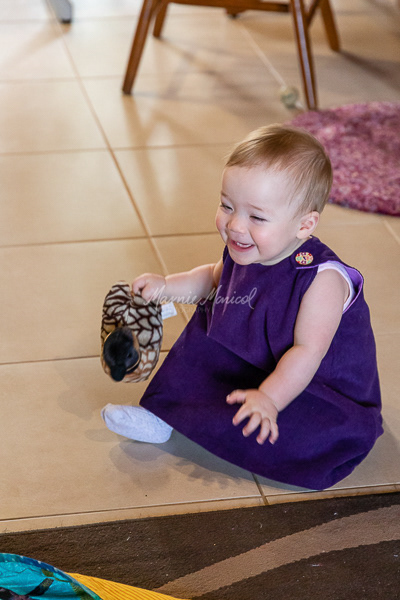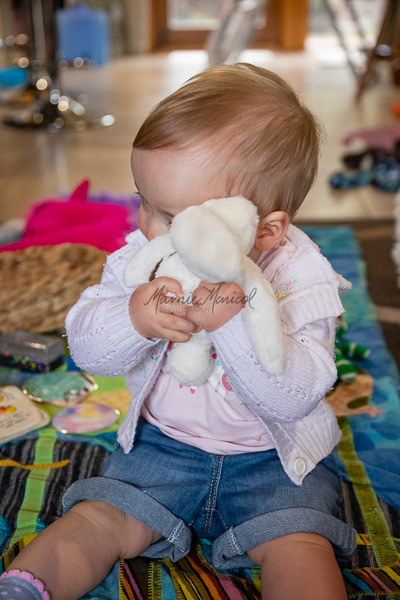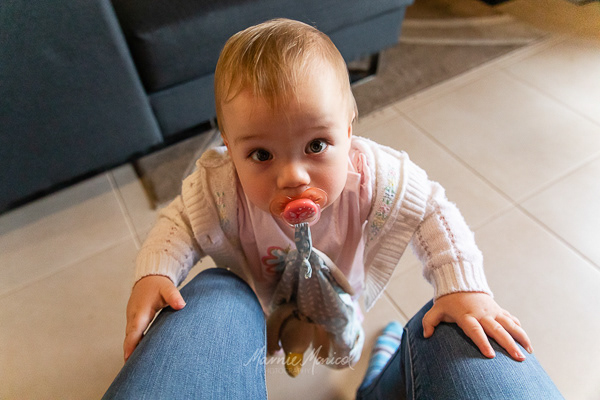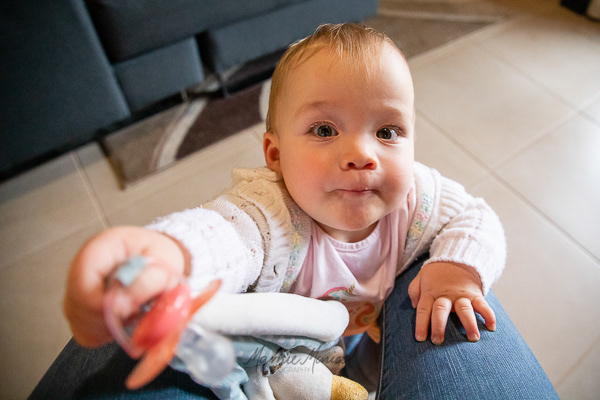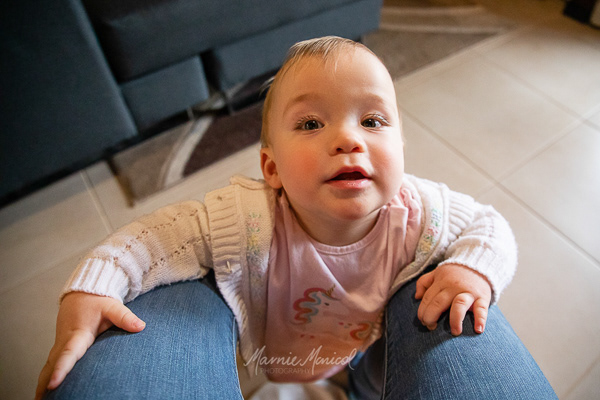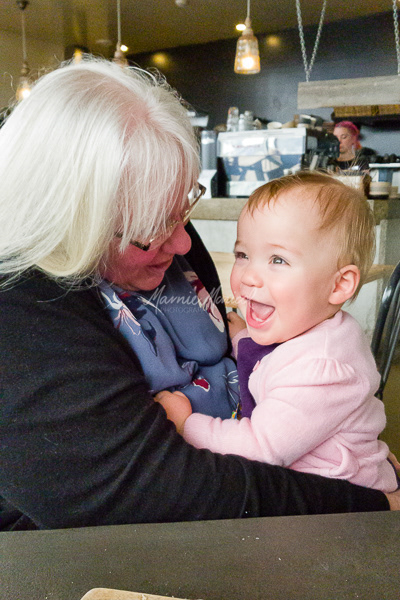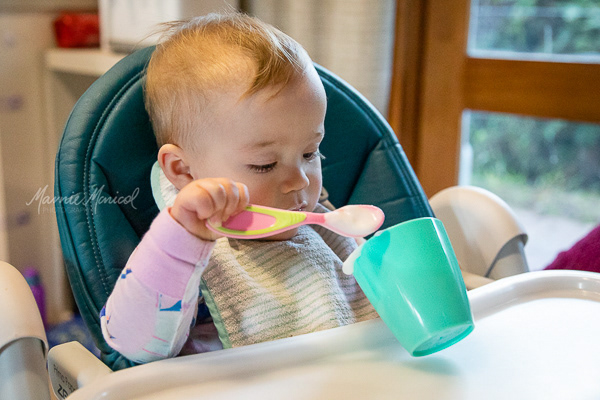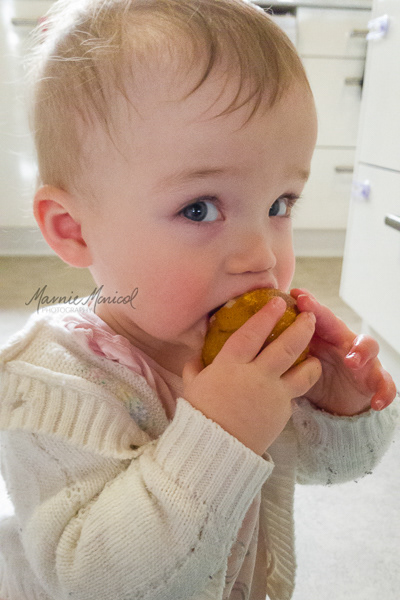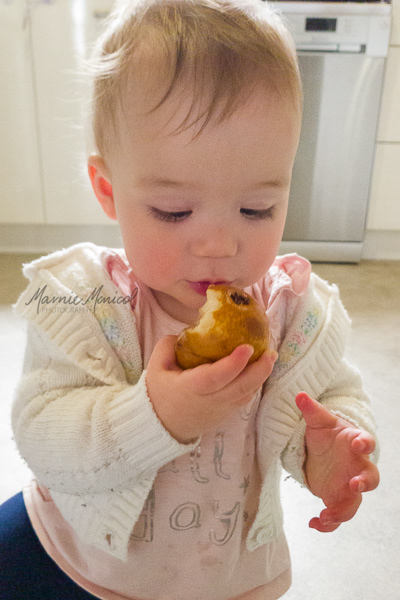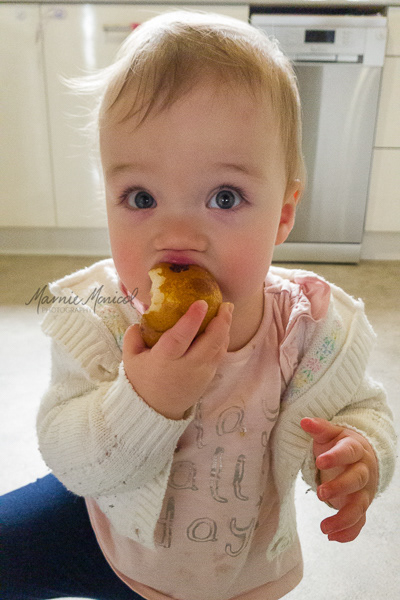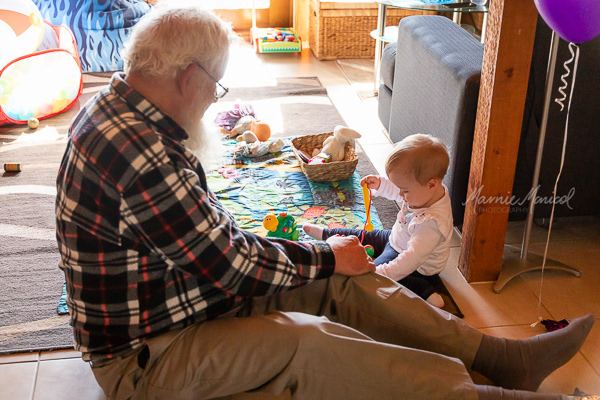 11 Months ~ Watching the musical mobile again, Mum's gardening buddy, all the spaghetti faces, visit from NaiNai and Oompa, play time with Oompa, mini-masterchef, mini-firebug, making friends with chickens, play time with Dad, piano with NaiNai, playing with jelly balls/water beads, a pre-birthday party nap, more spaghetti faces, beach days, outside play, favourite duck, bunny hugs, sharing dummy with Mum, Granma time, first babycino, eating an entire pear, and getting to know Great-Opa.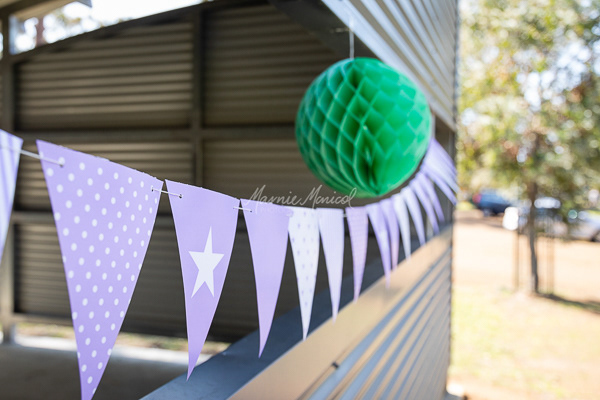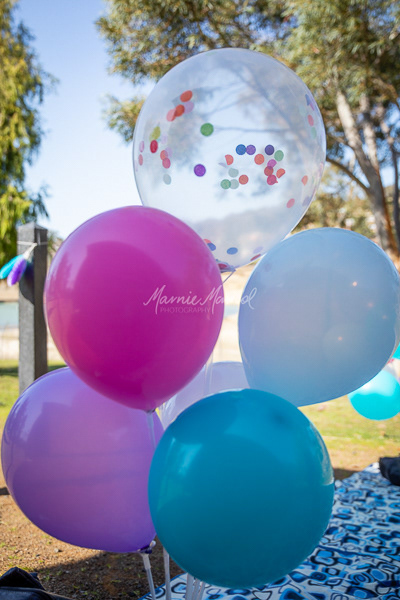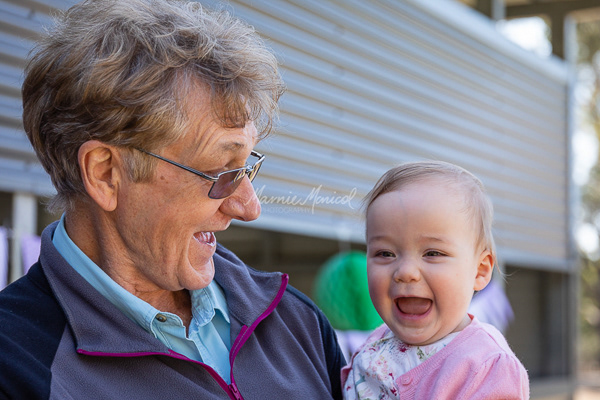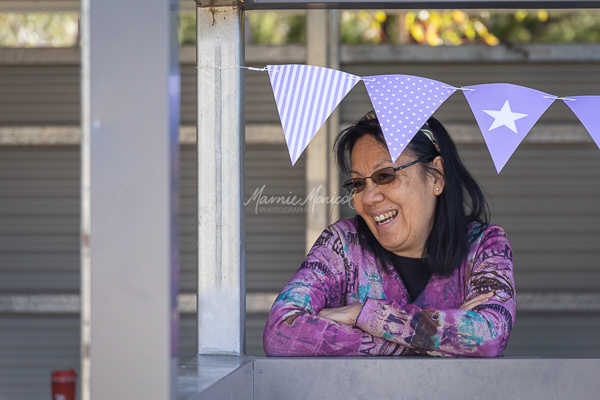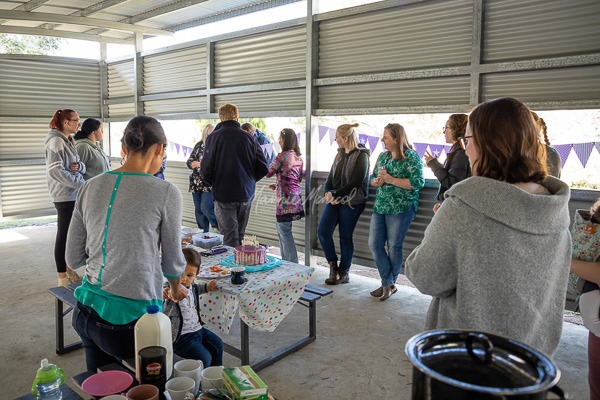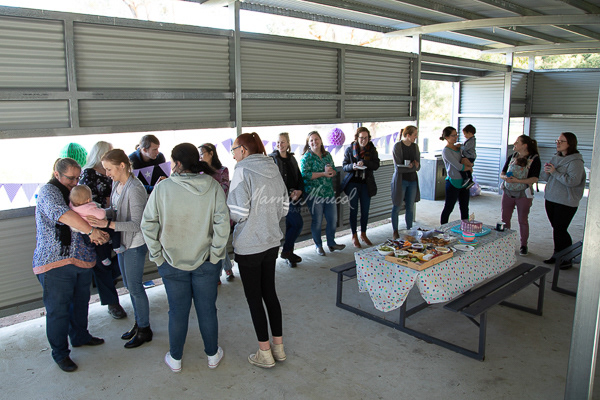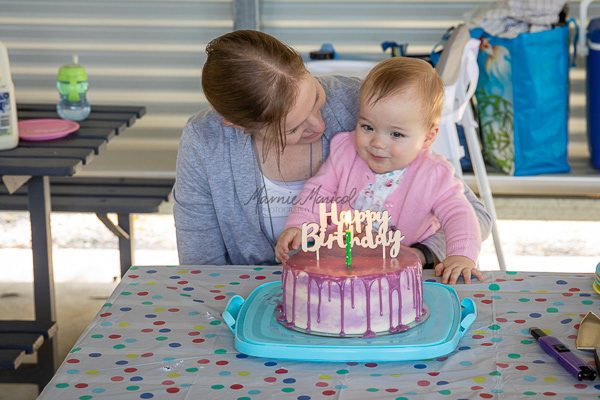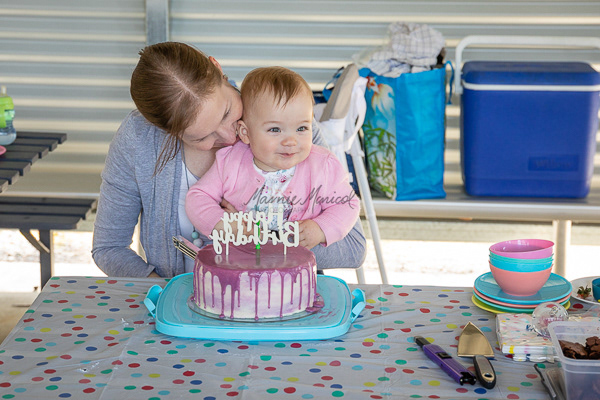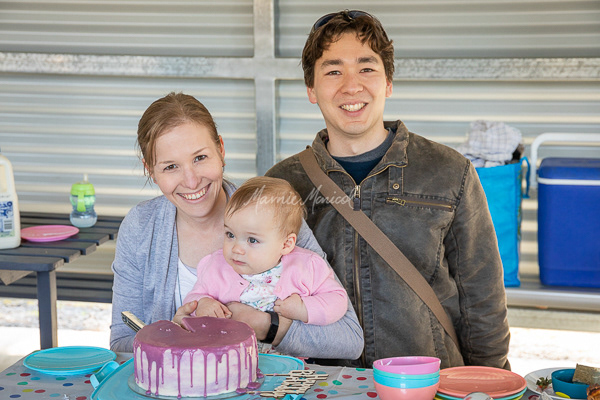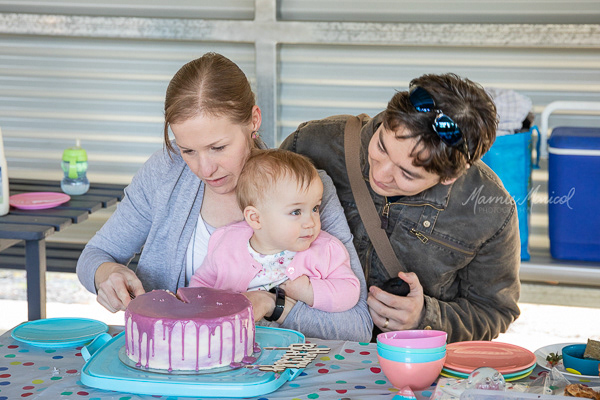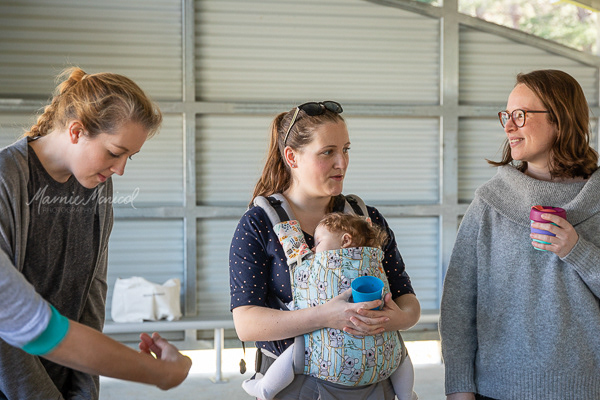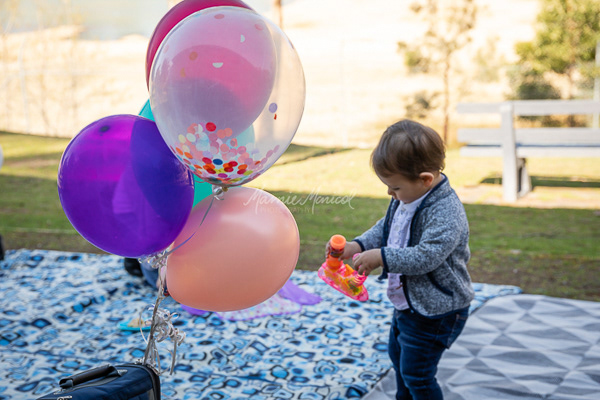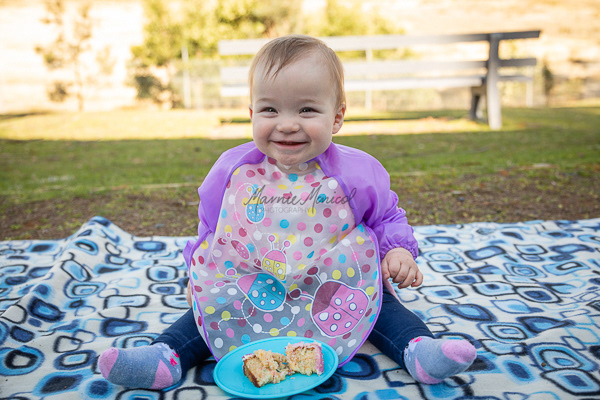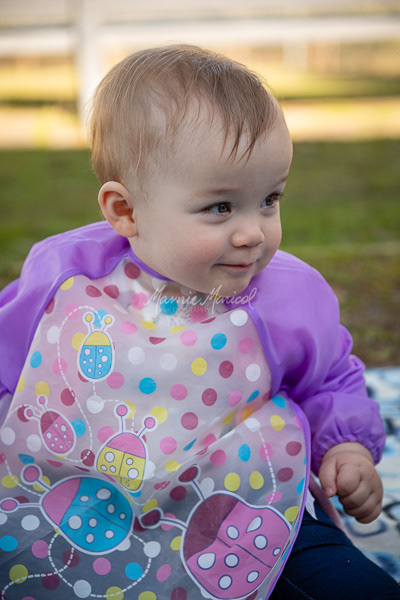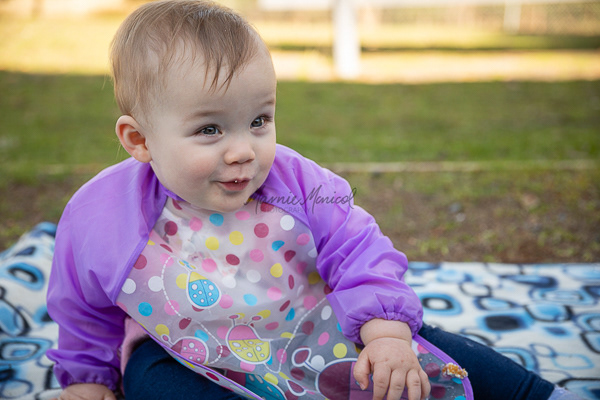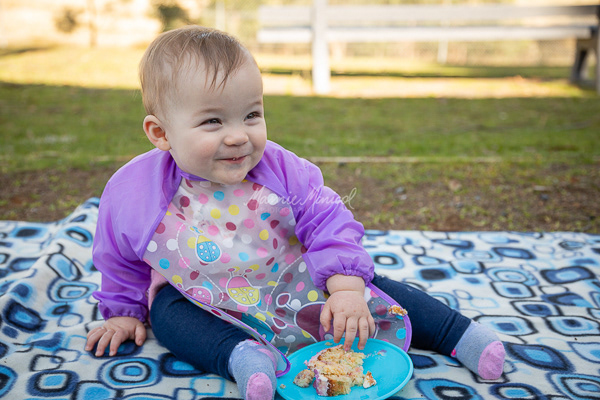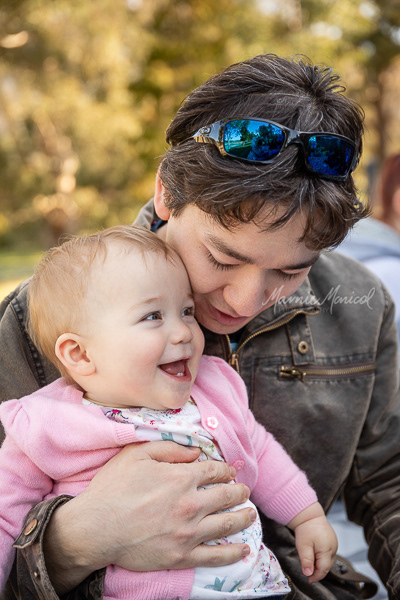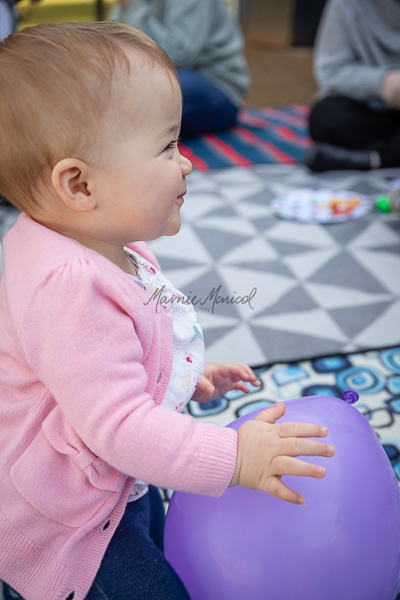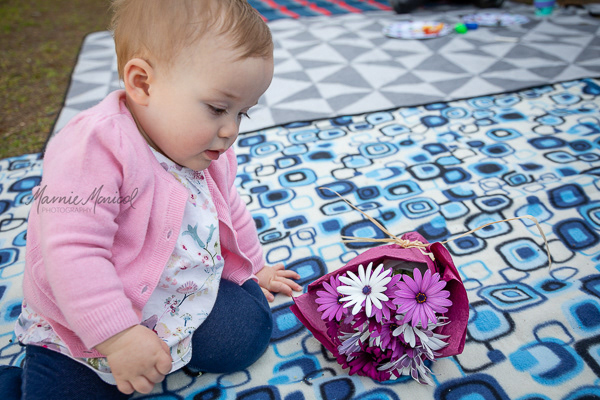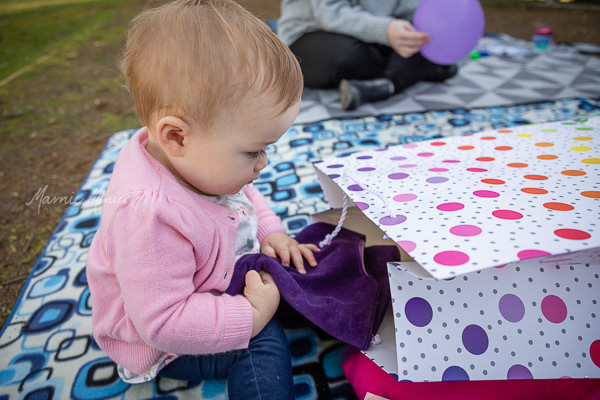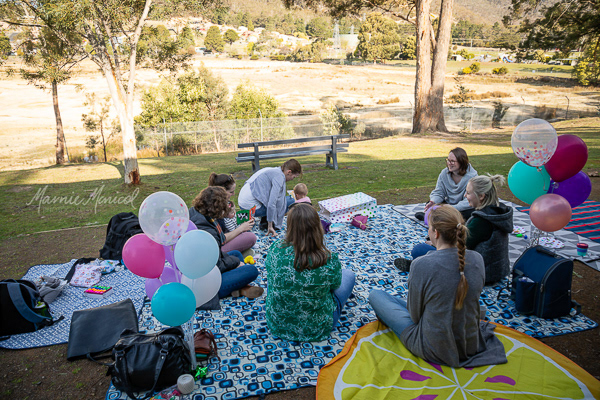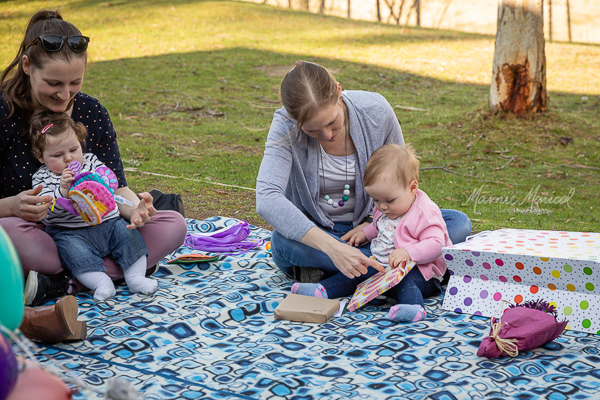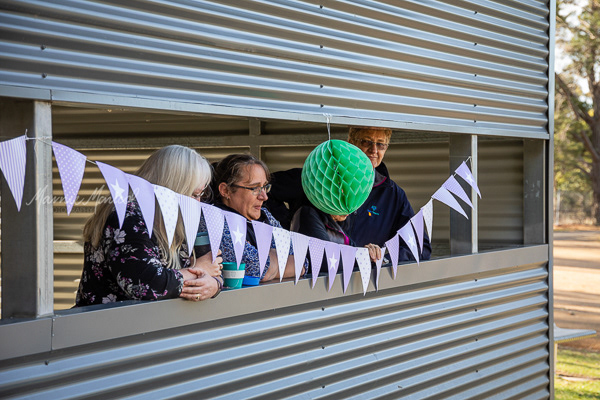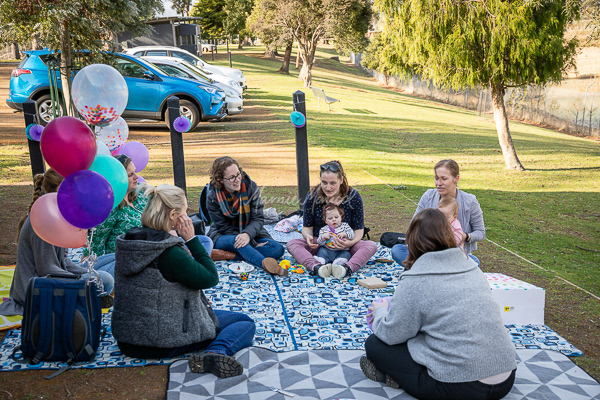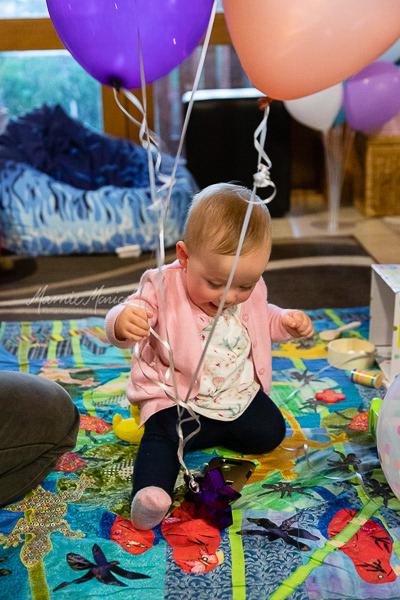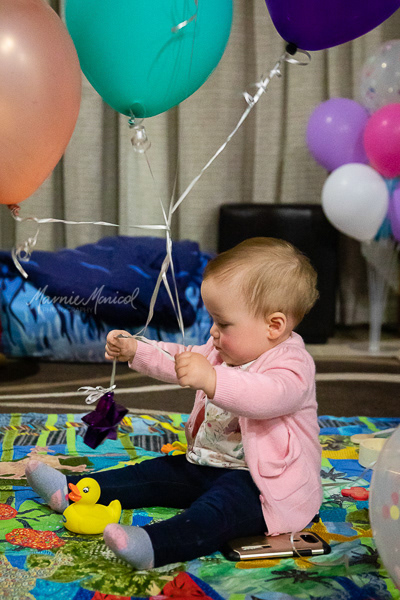 Brianna's (slightly early) 1st birthday party ~ Thanks to everyone who came along. She had a great afternoon!!
Puppies say "ruff, ruff!!"
Our toys on head game has evolved just a little.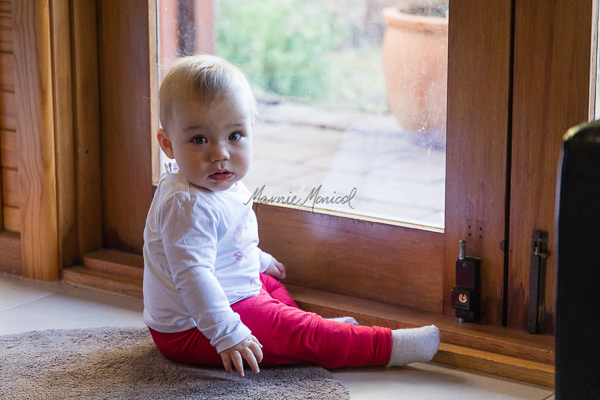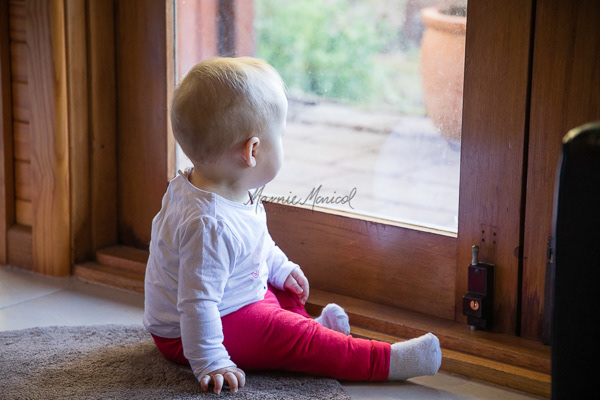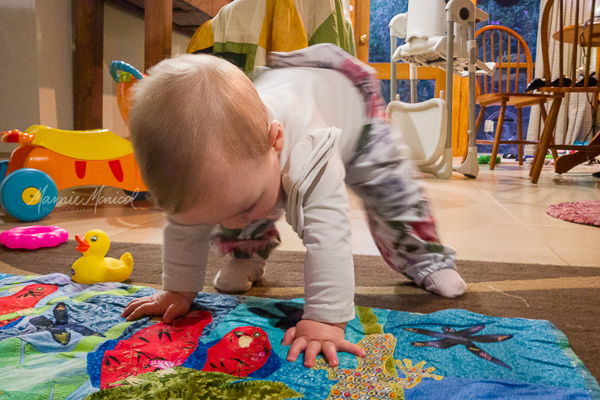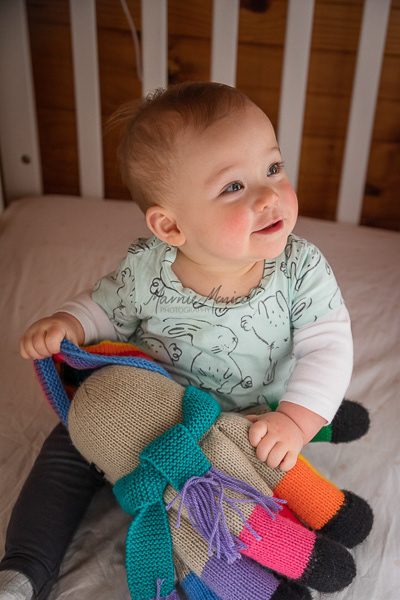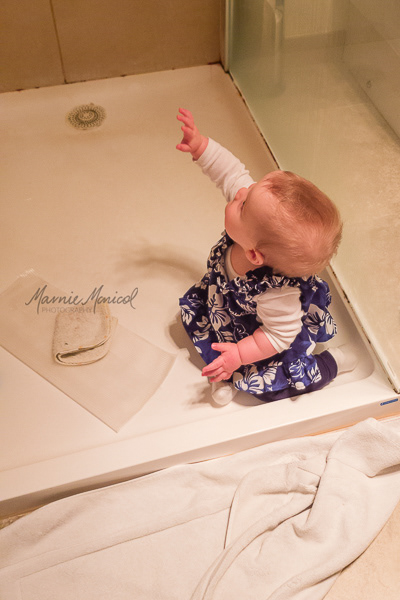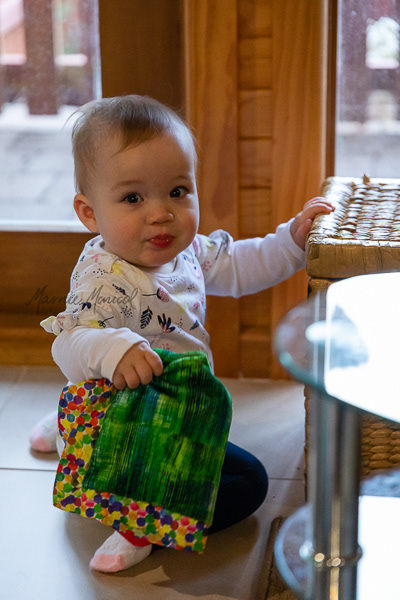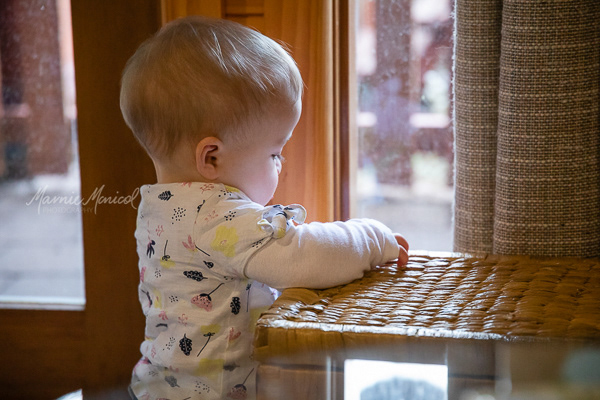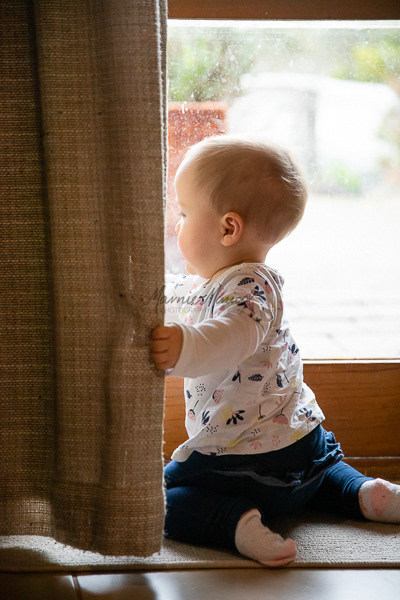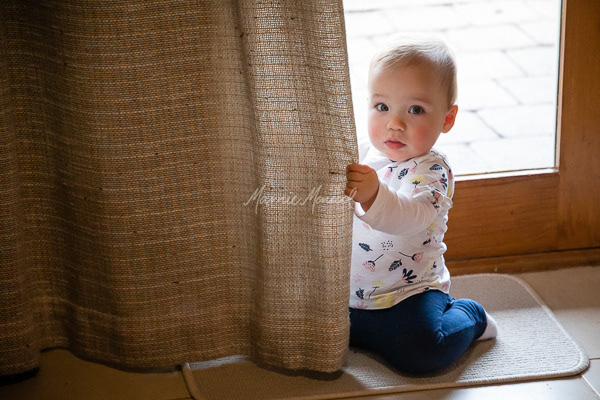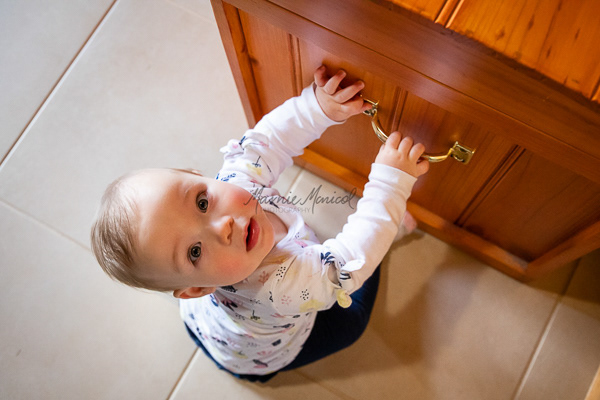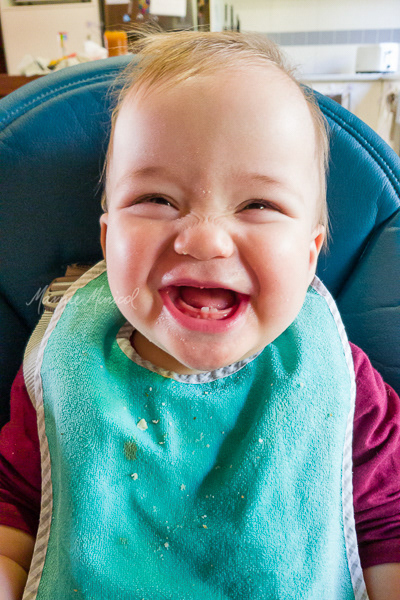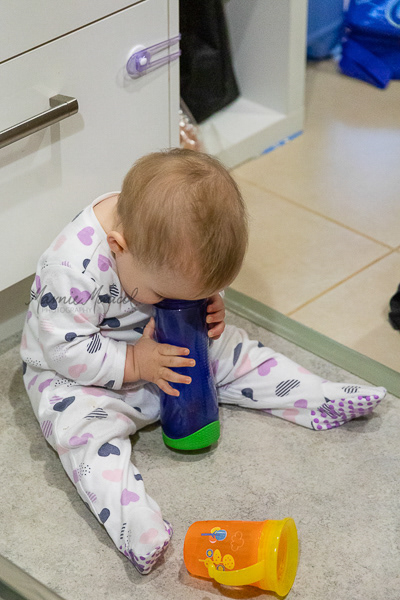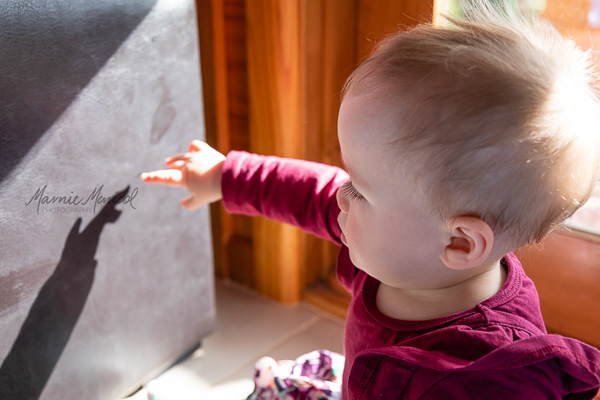 10 Months ~ Looking out the windows, getting ready to stand, playing, getting ready for a shower, more playing, investigating curtains, investigating screws, crinkly nose, emptying shelves to investigate drink bottles, learning about shadows, and waking up gorgeous.
Throwing a ball for puppies.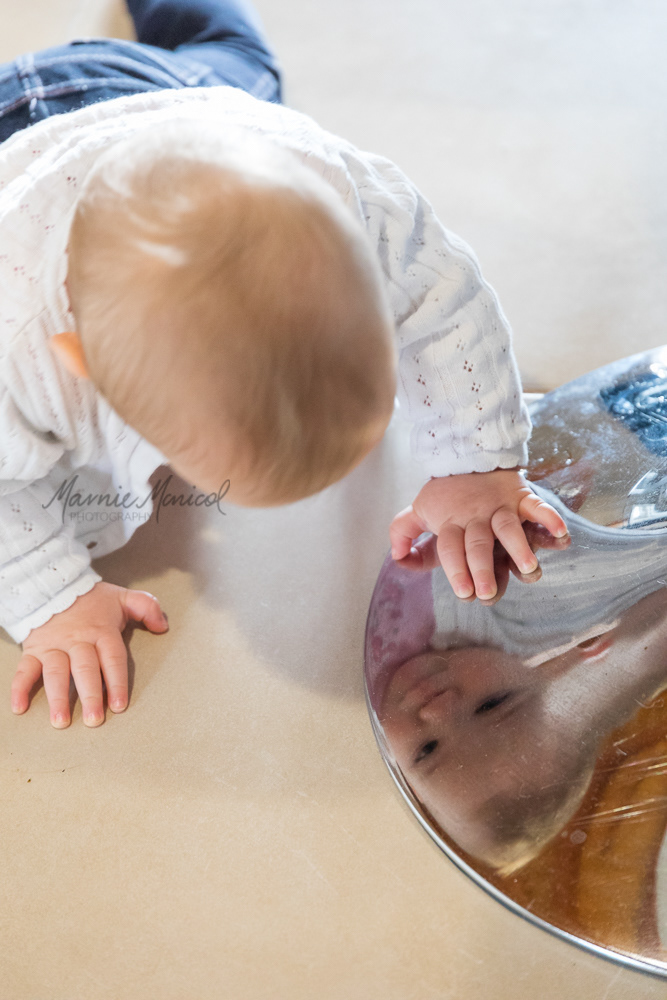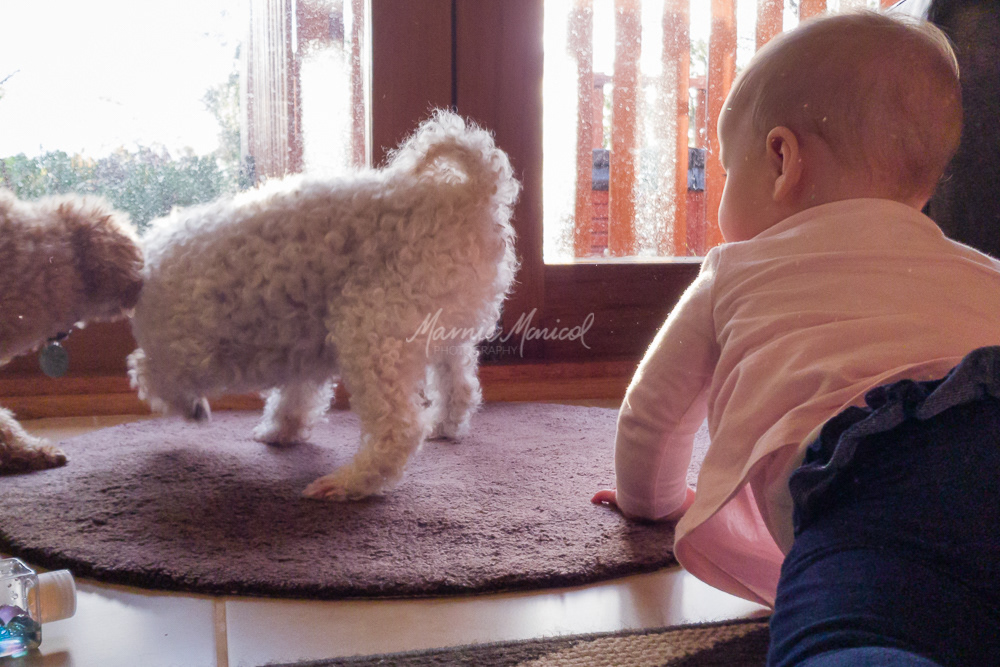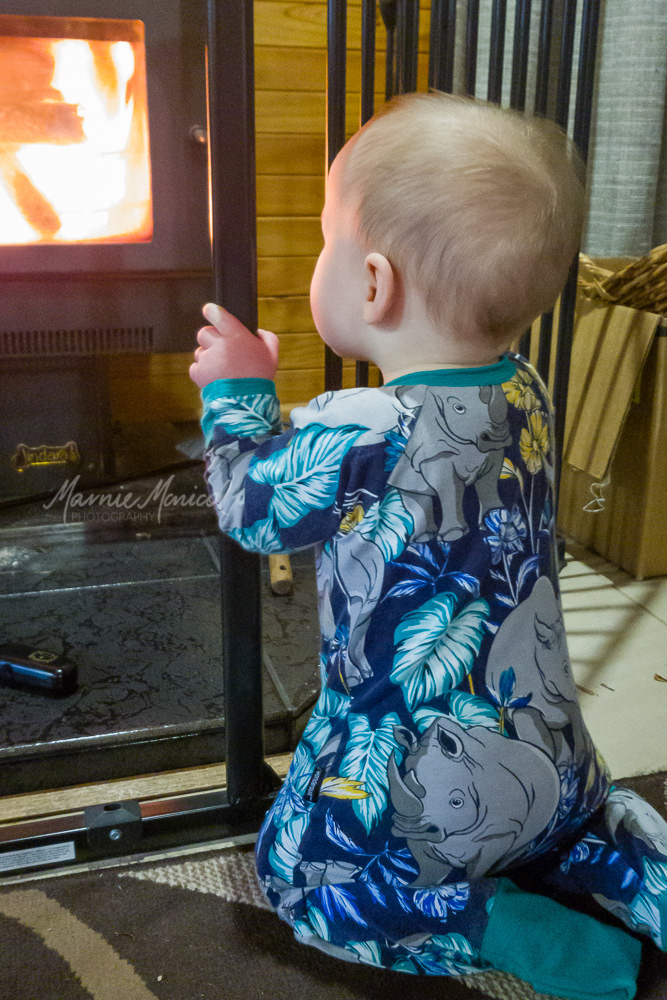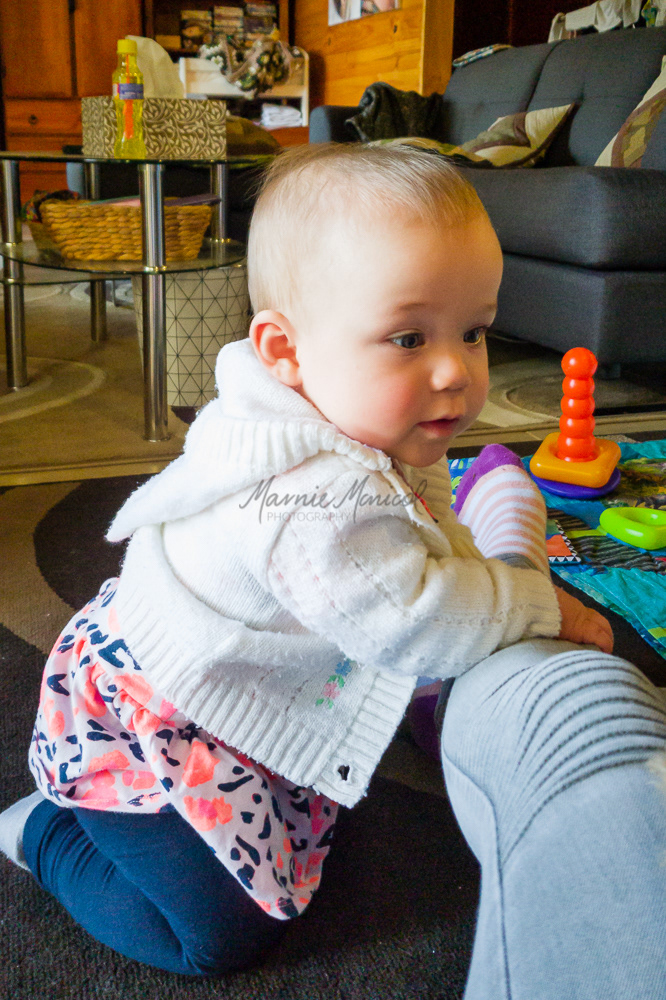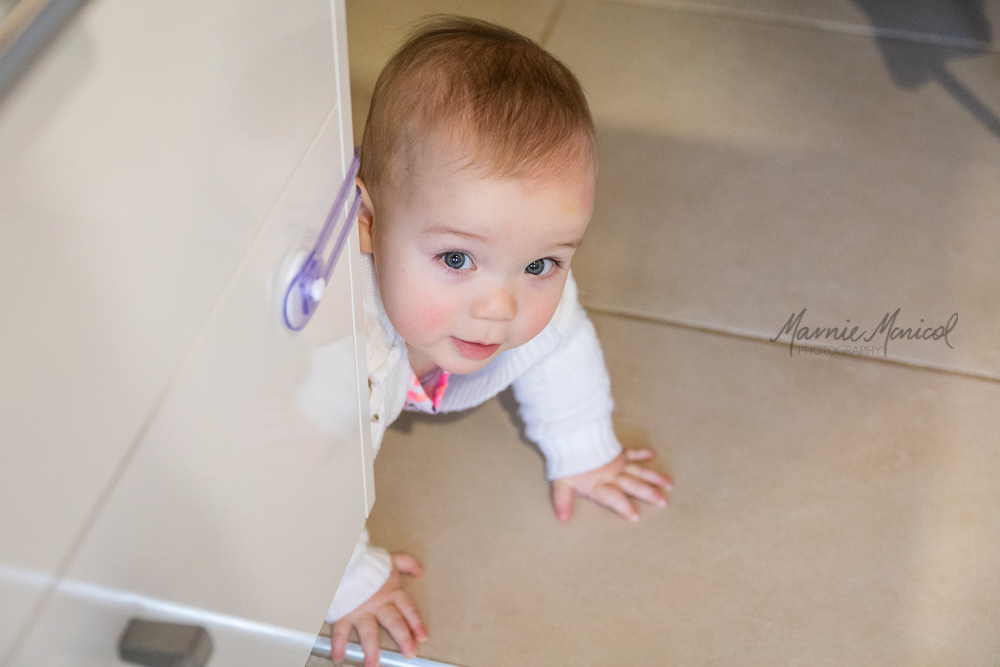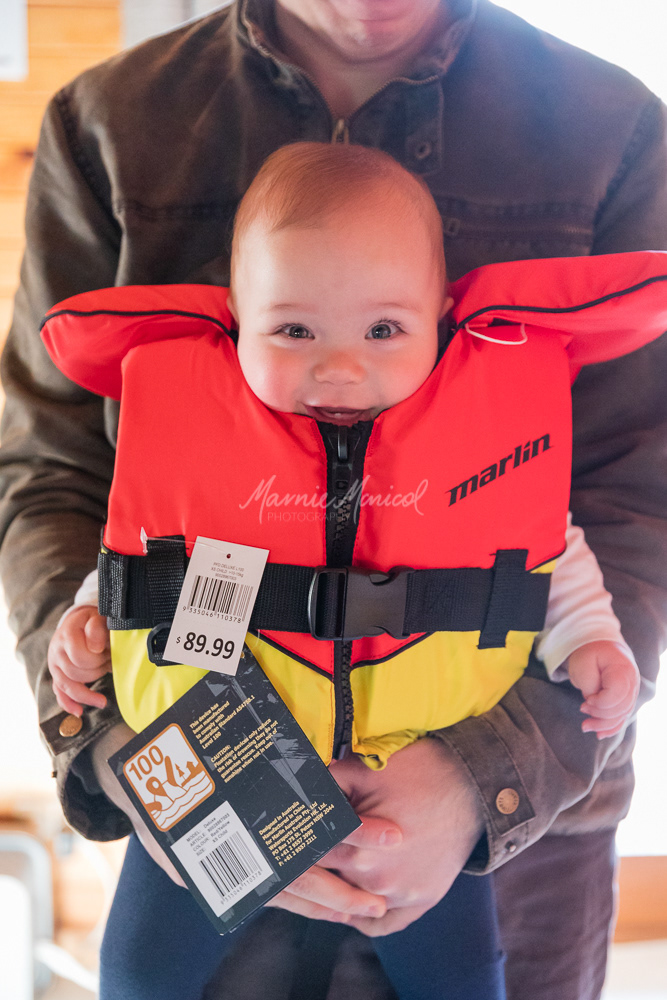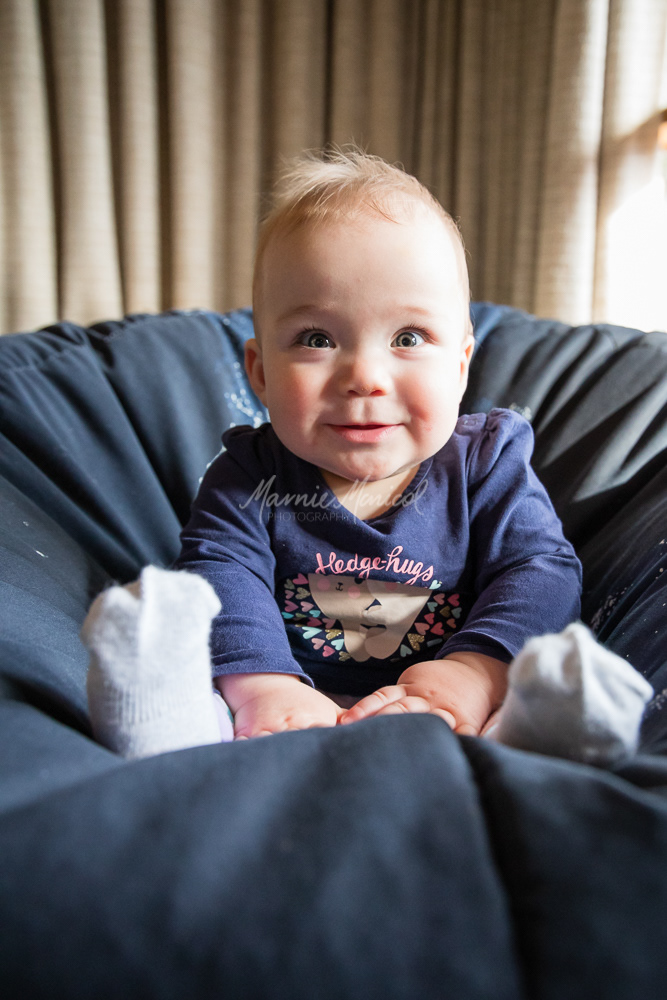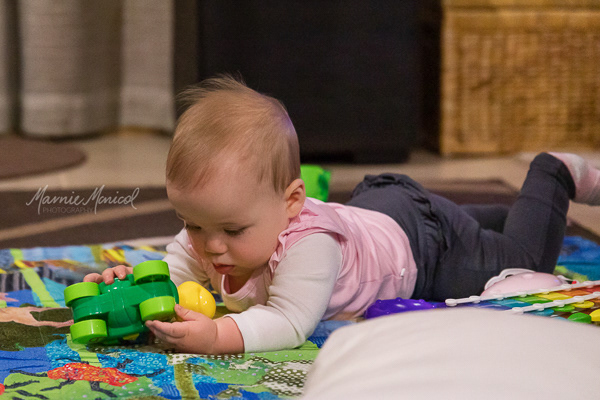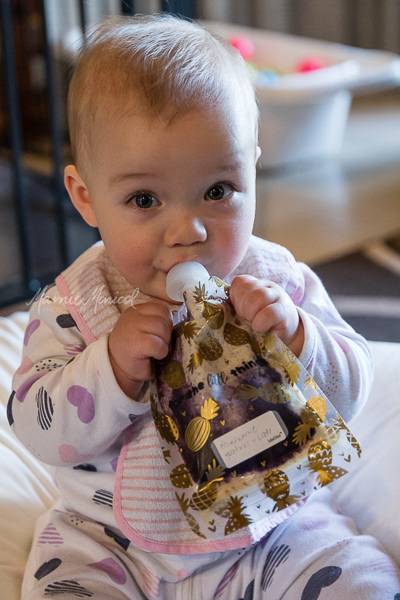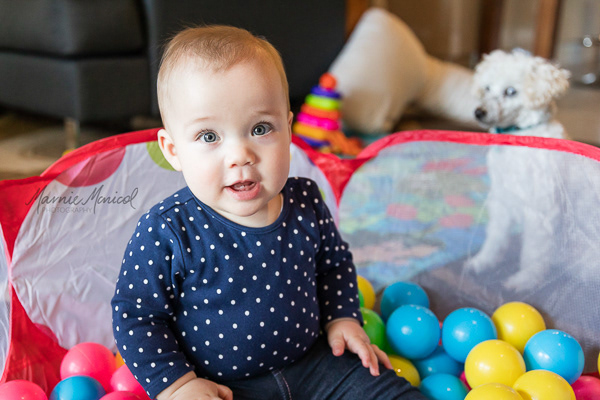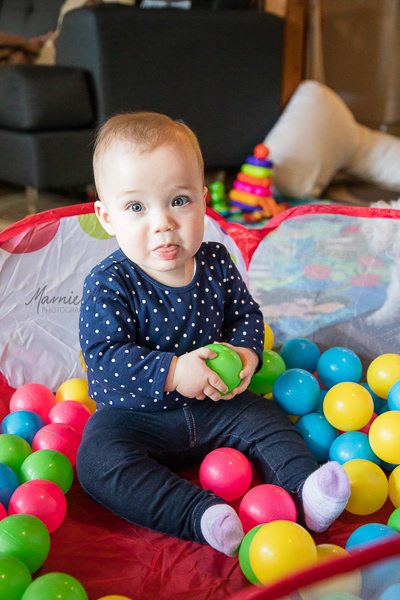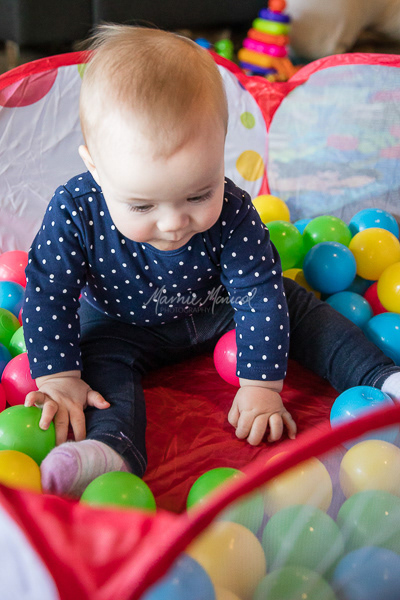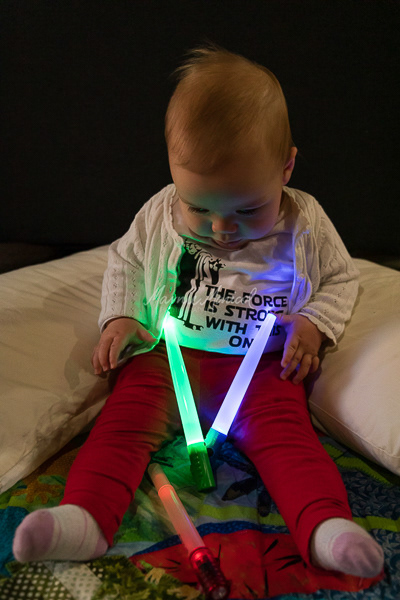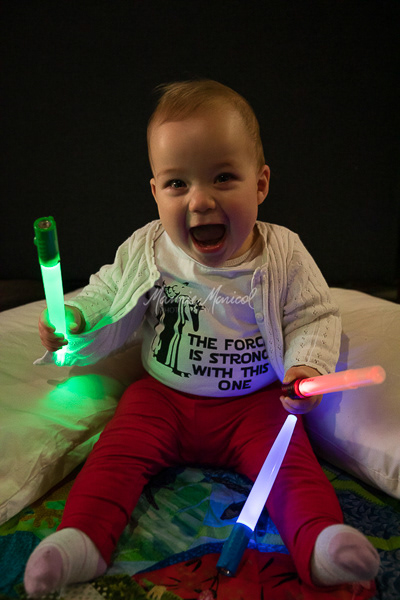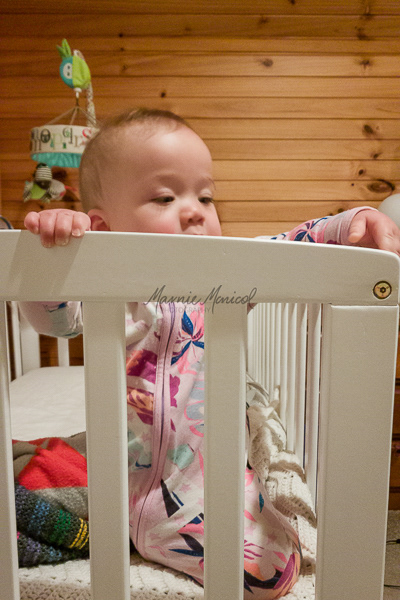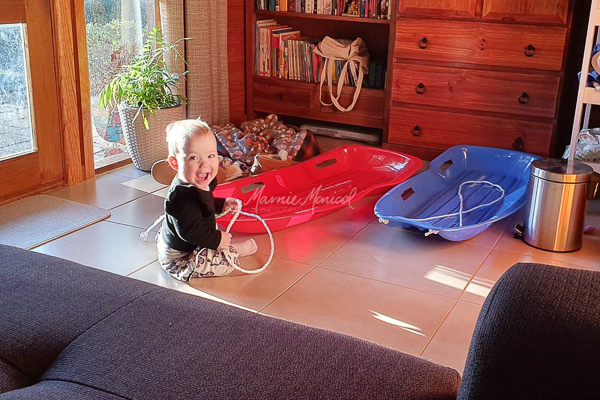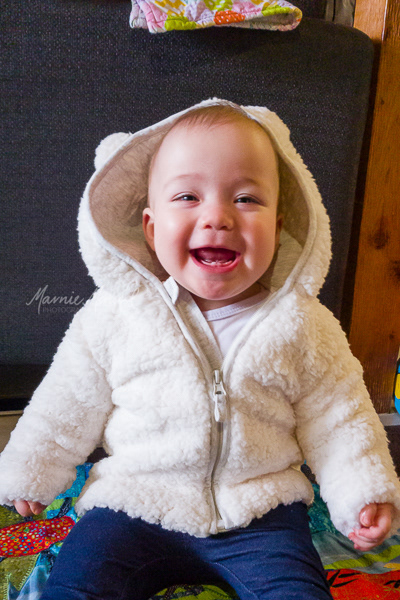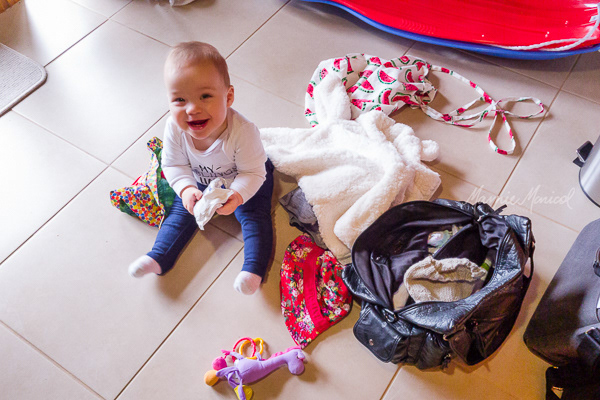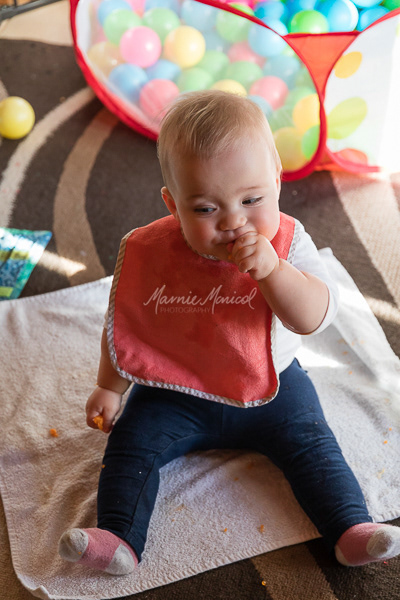 9 Months ~ Investigating reflections, play time with puppies, learning to pull up onto knees, peek-a-boo in the kitchen, trying on her new life jacket, sitting in bean bags, playing, eating yoghurt, more playing, checking out our new toboggans, being cheeky, unpacking bags, and more eating.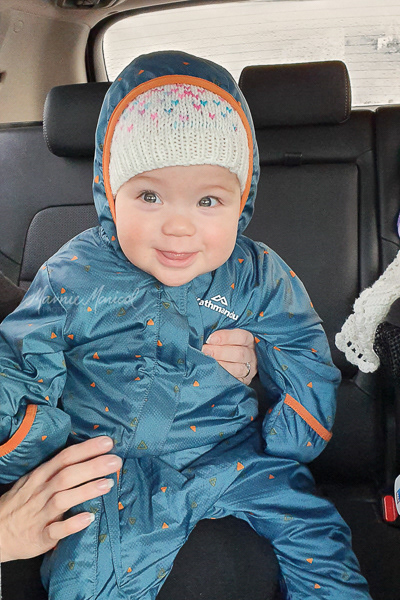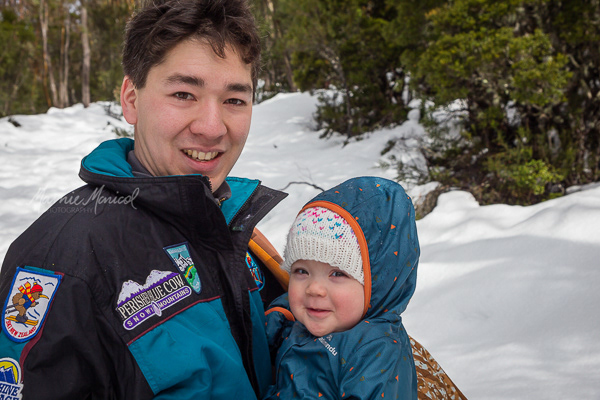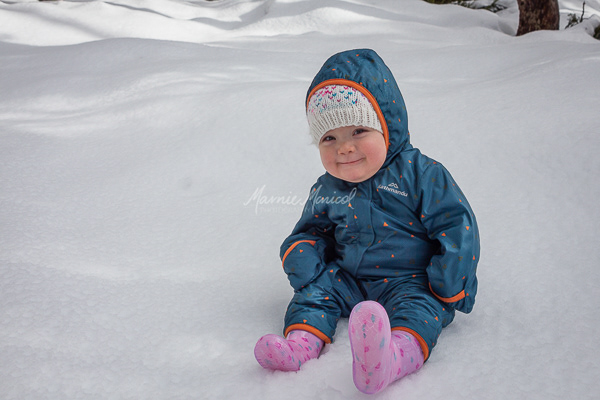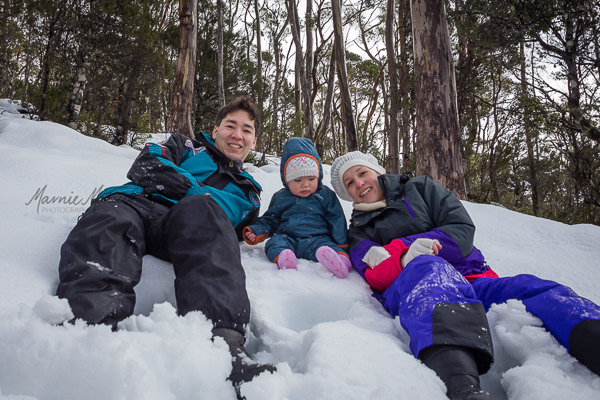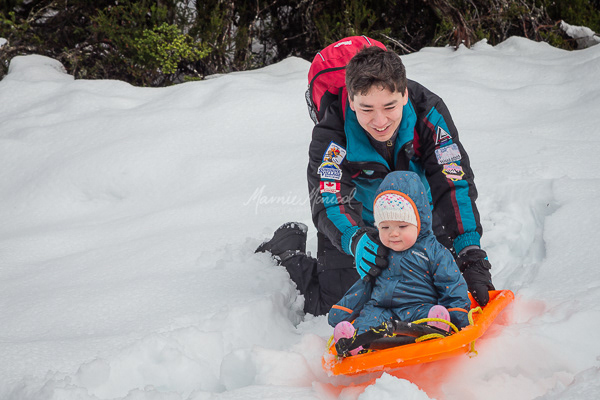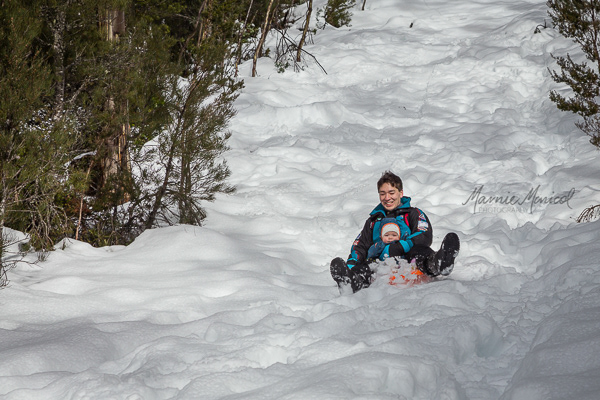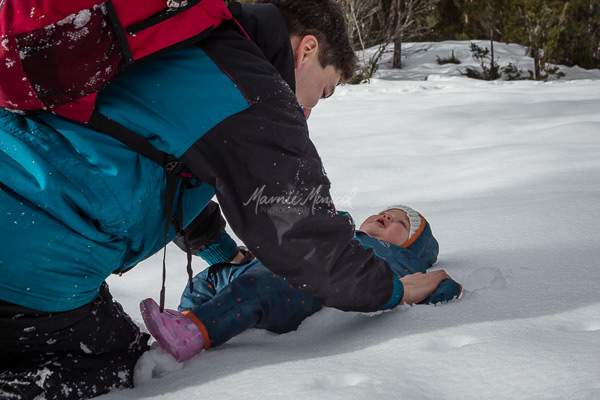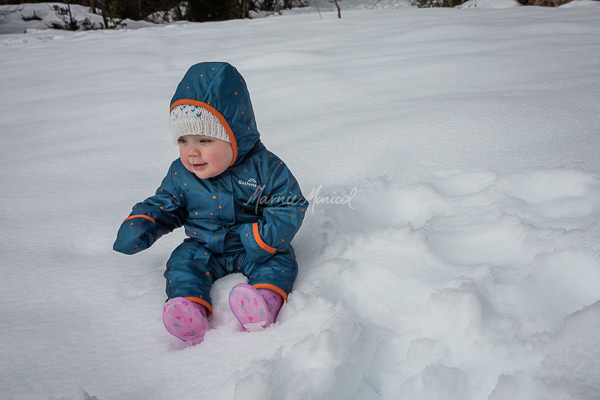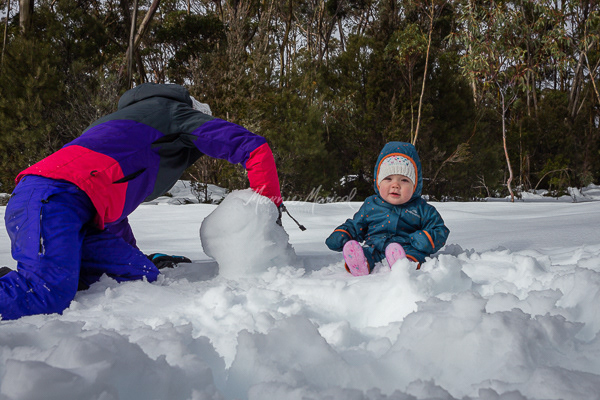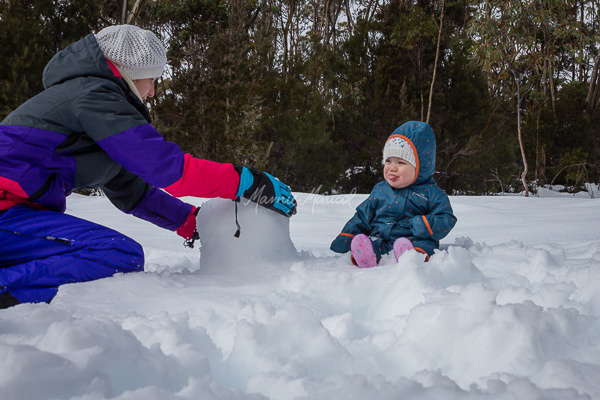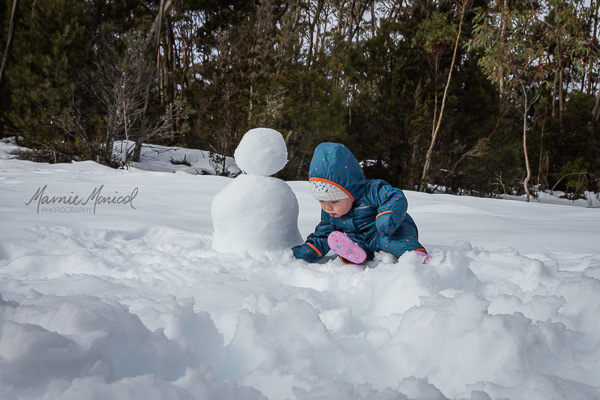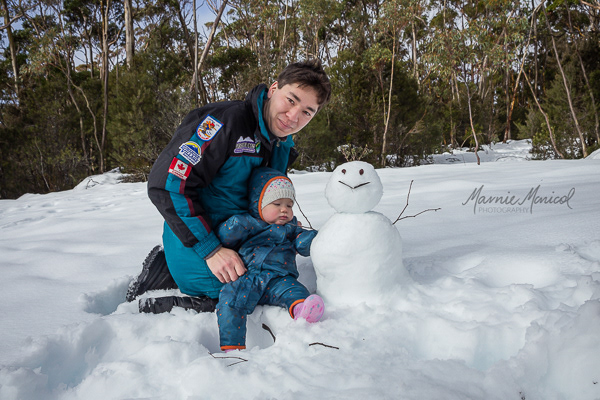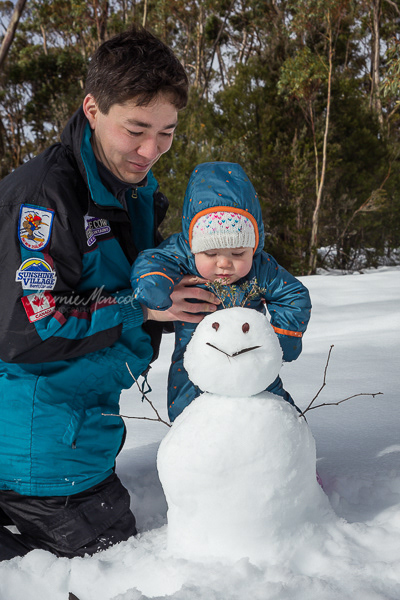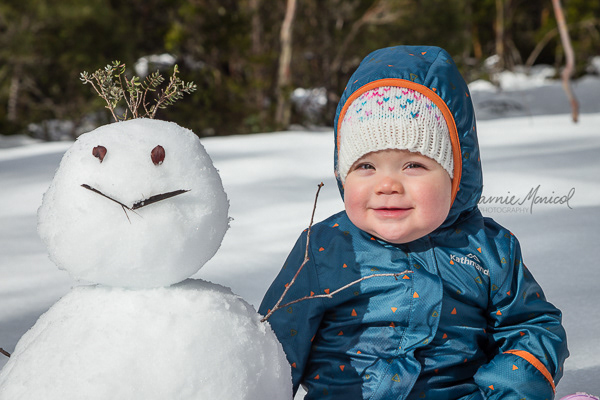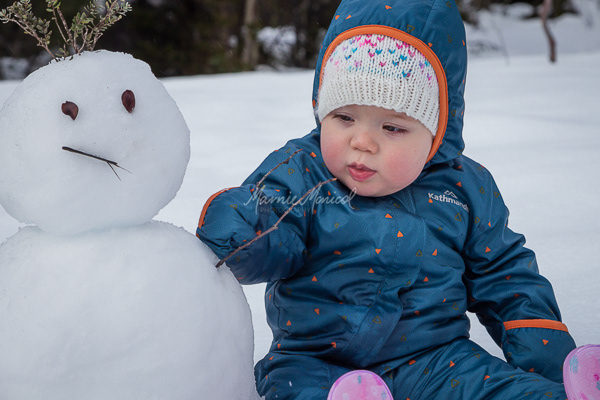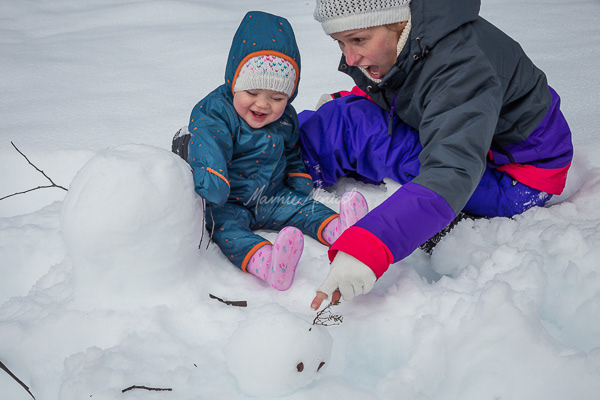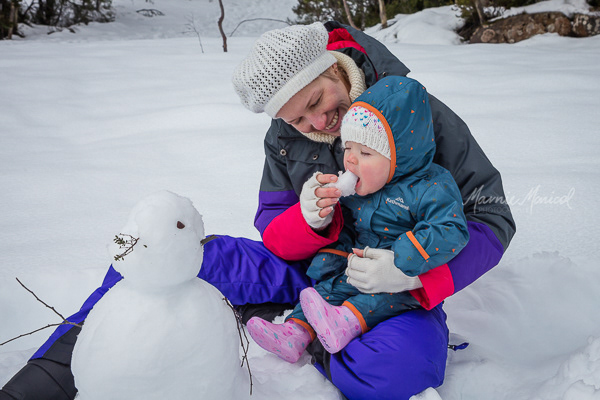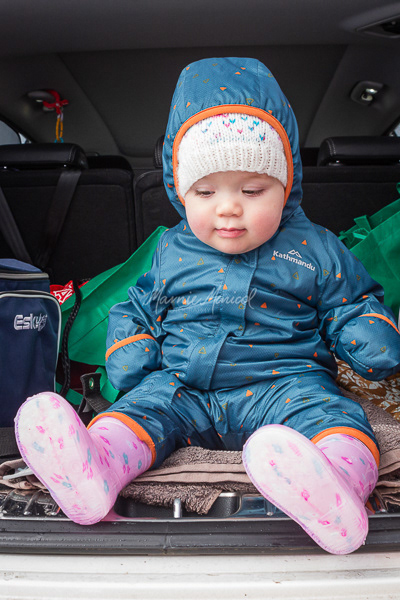 Brianna's first snow trip ~ looking around, tobogganing, baby snow angels, baby snowman, blowing raspberries, eating sticks, and licking snow.
It's an adorable two-handed effort to make this noise.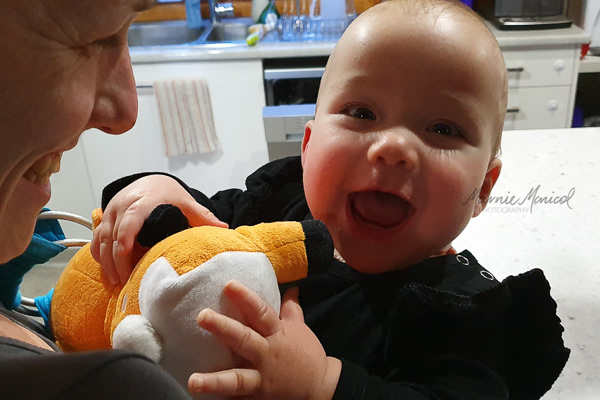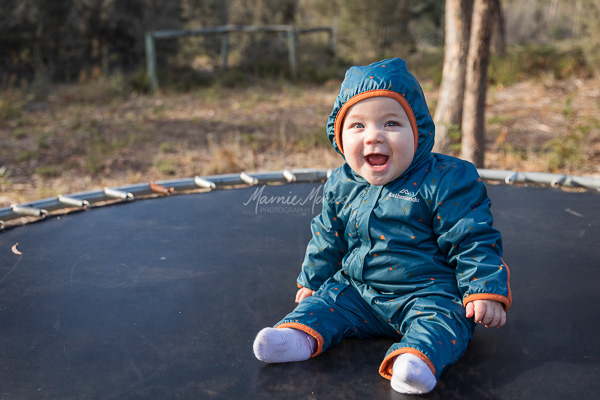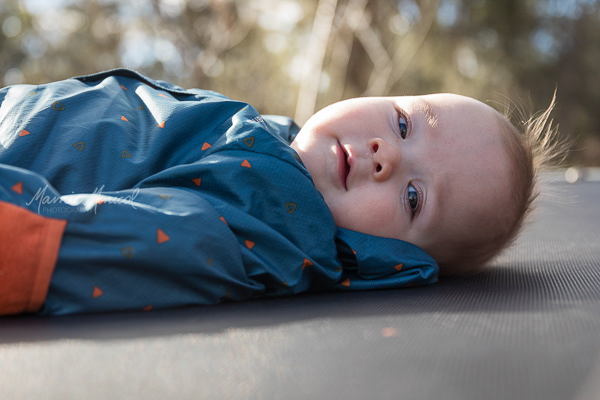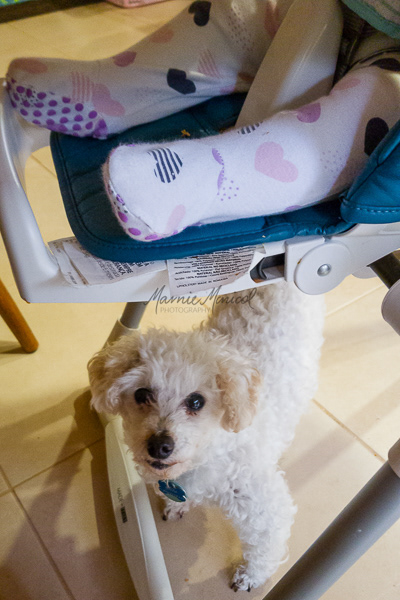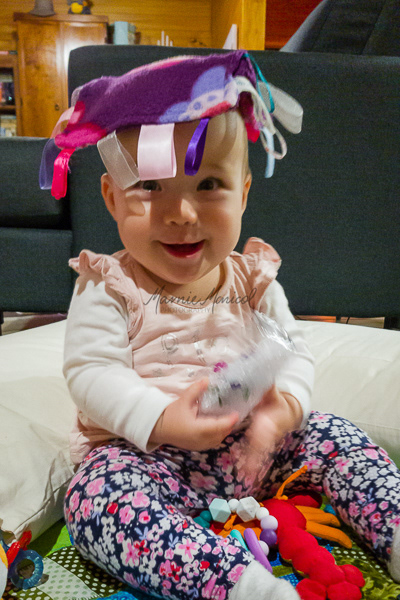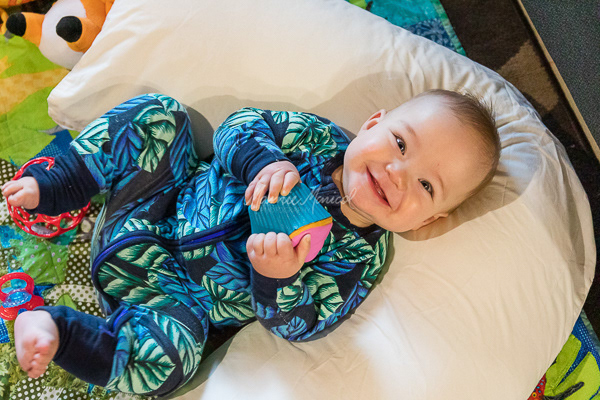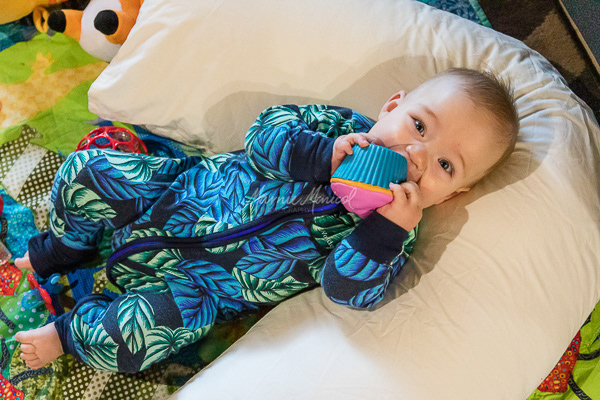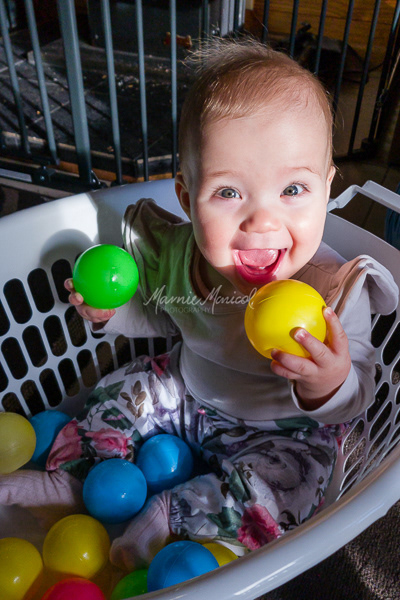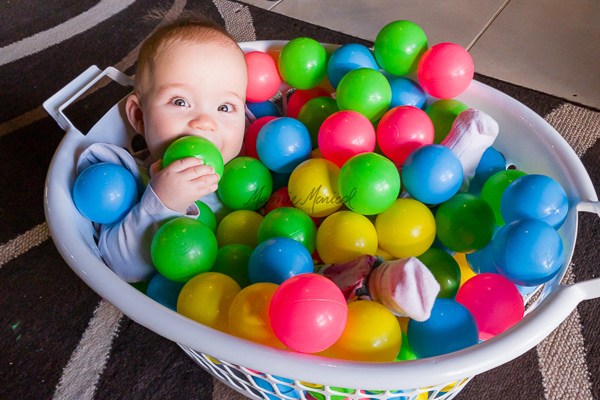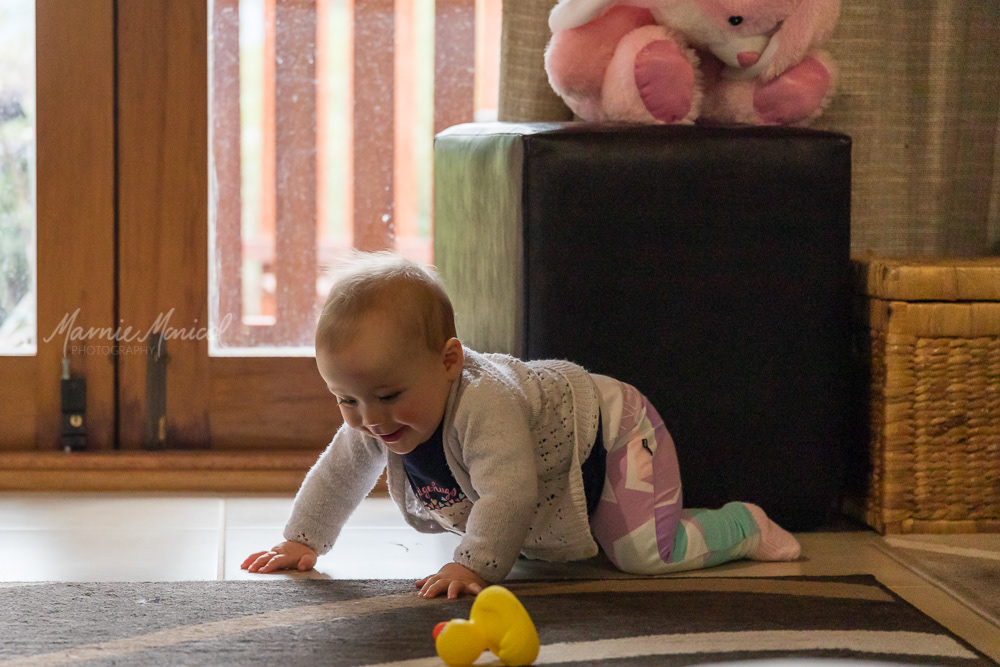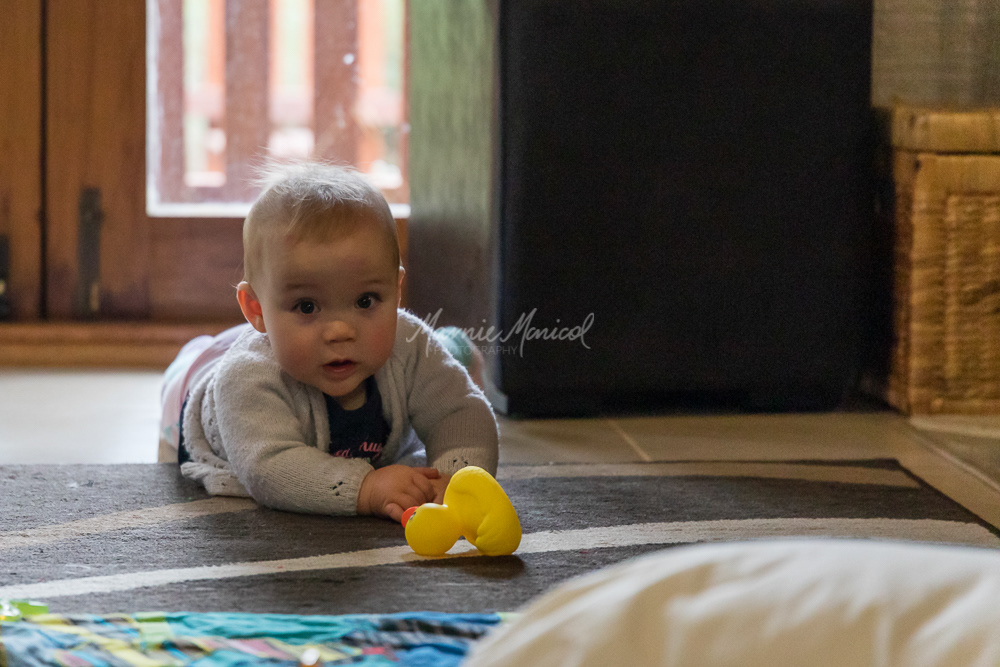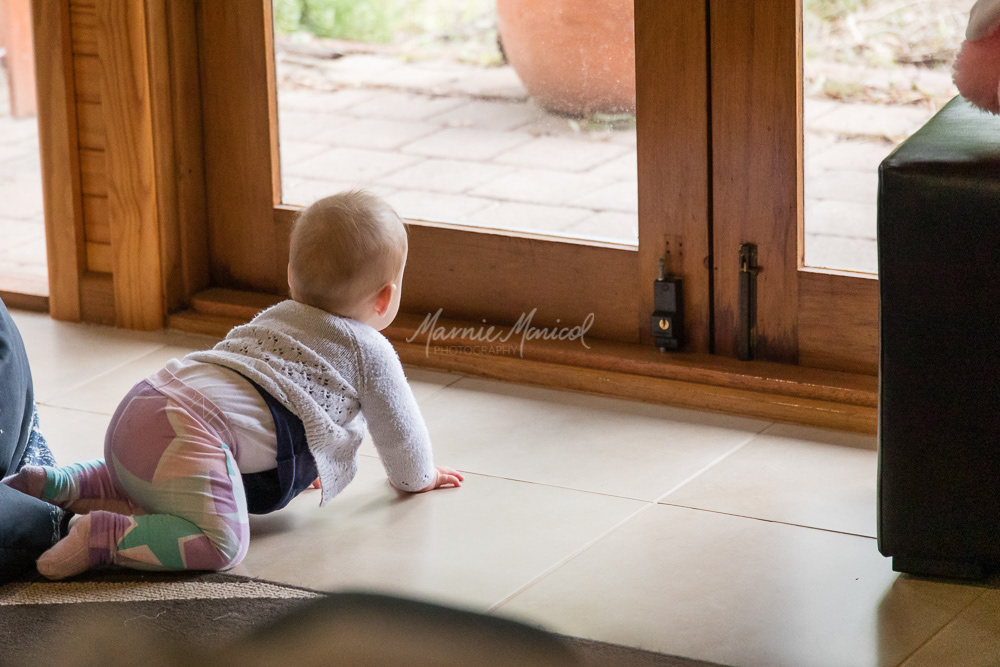 8 months ~ Uncle David's present from Japan, snuggly warm and ready for outside play in any weather, our meal time vacuum cleaner, Daddy putting toys on Brianna's head, 'eating' cupcakes, our temporary ball pit, exploring, and taking herself over to the window to look out.
It takes less than 4 days to perfect the art of zooming!!
The day before Brianna crawled!!
Uncle David's present from Japan.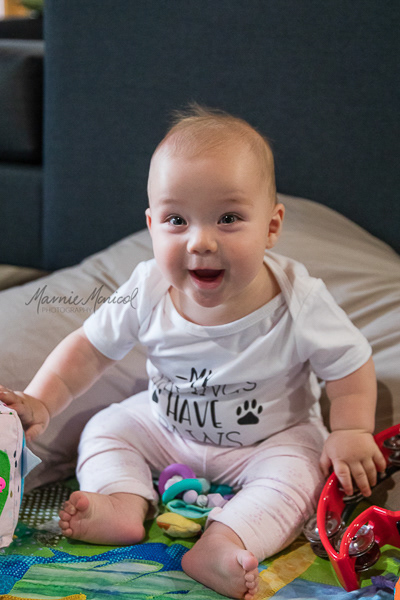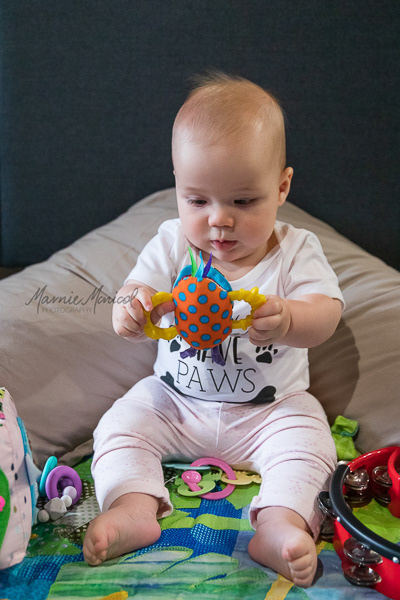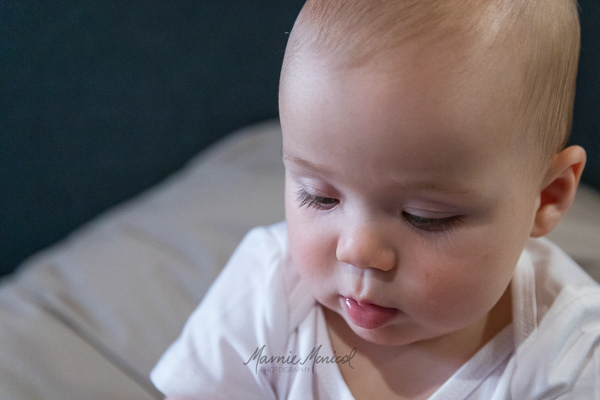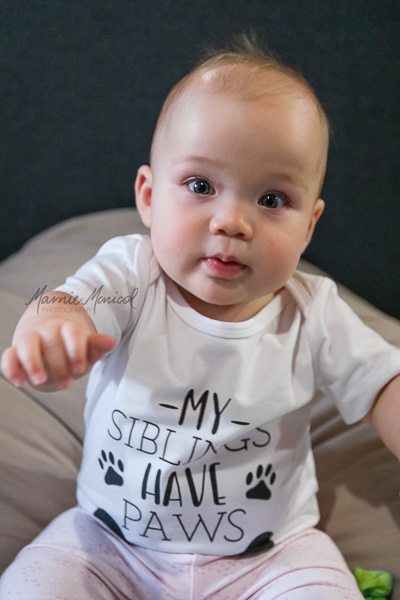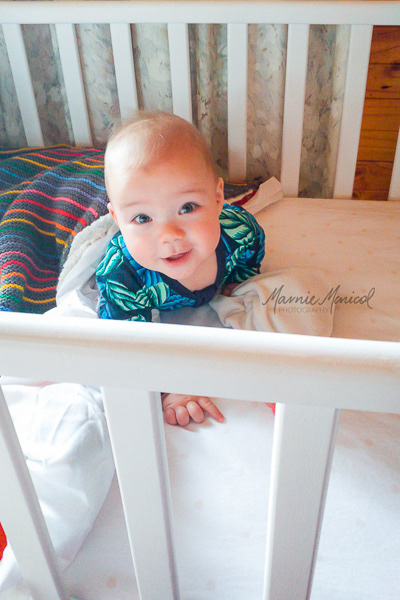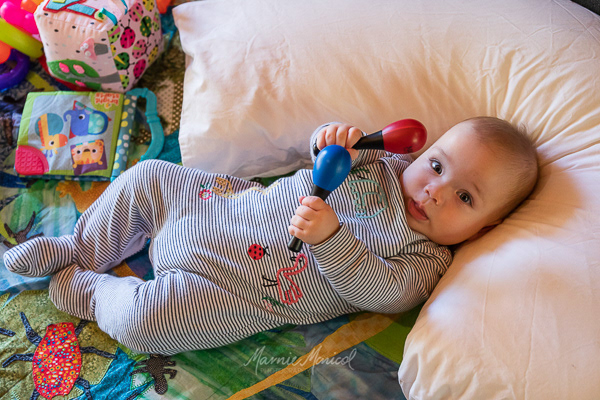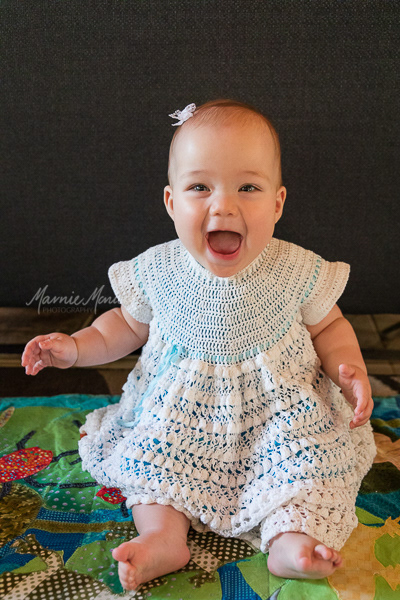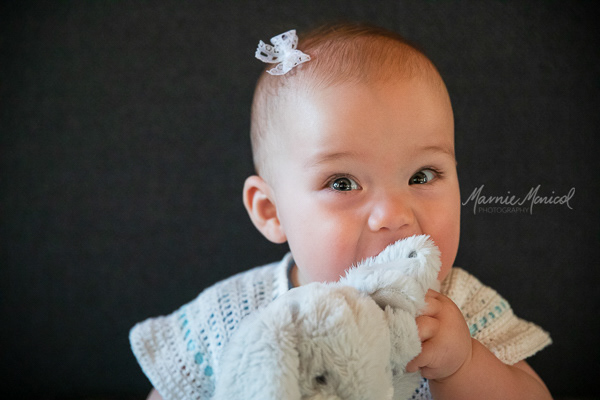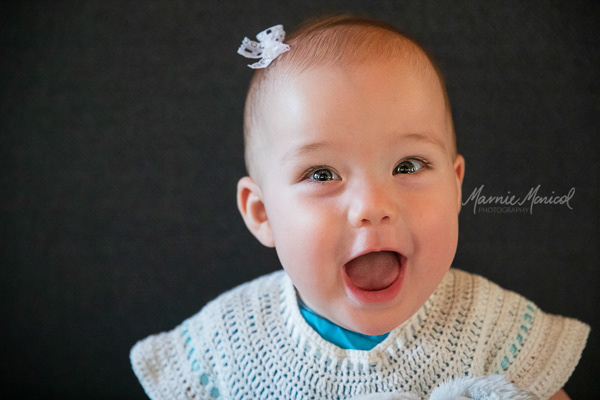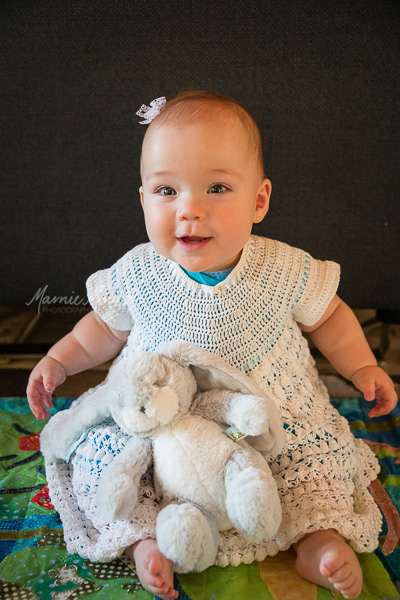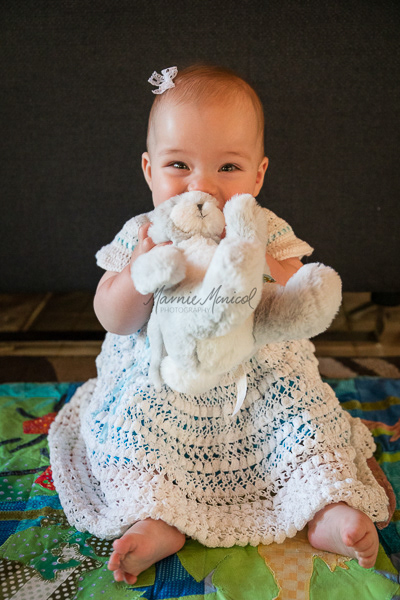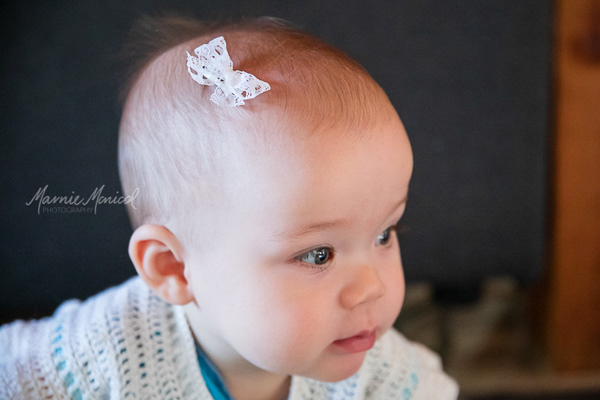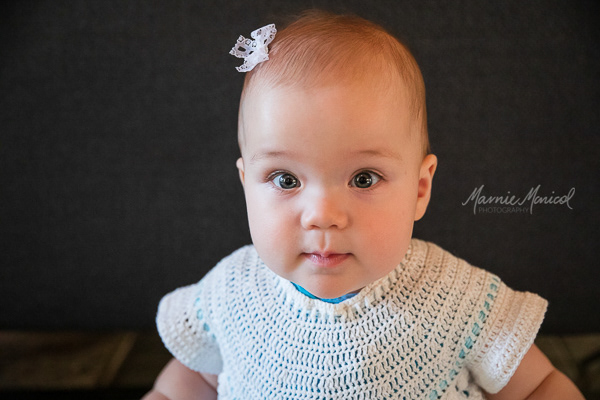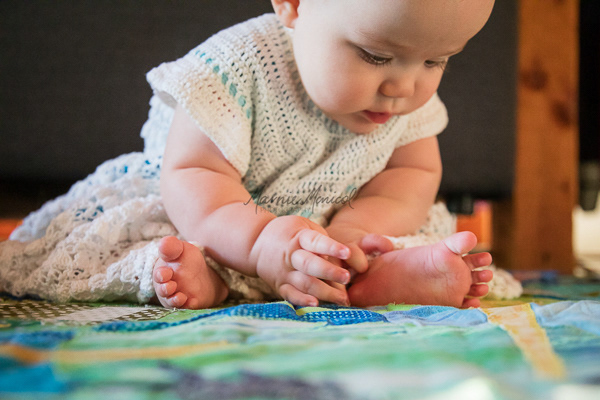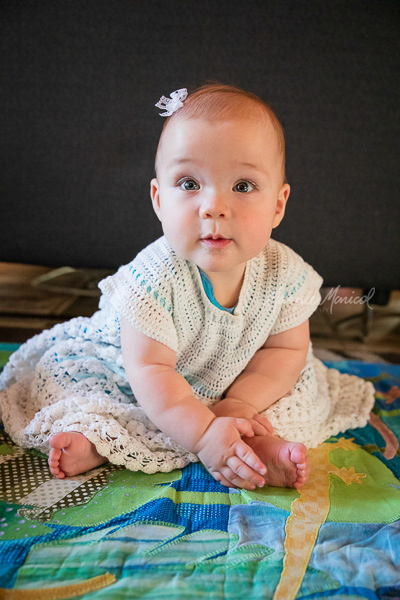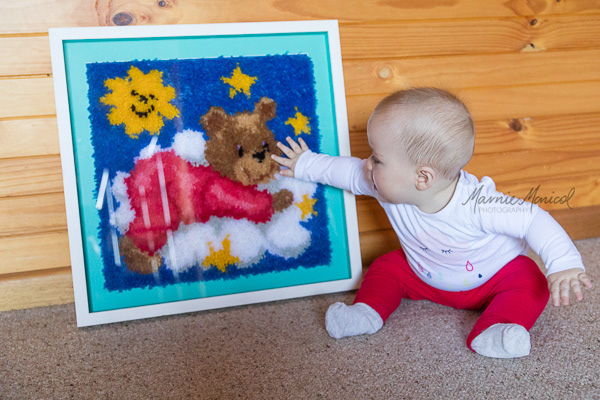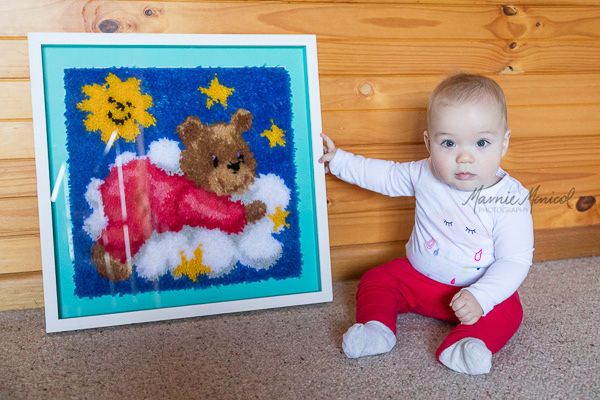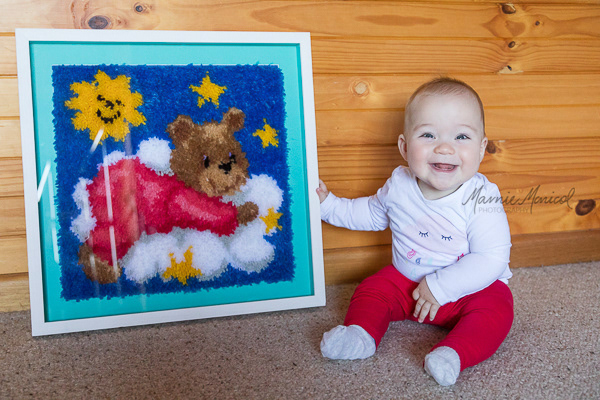 7 months ~ Play time, waking up smiling, chilling with maracas, that special dress again, and a lovely handmade gift.
Getting ready to crawl when she should be sleeping...
That smile happened right at the moment Mum started singing Brianna's favourite song, Wiggly Woo.
 P.S. Your speakers are not malfunctioning, the sound has been removed from this video for your personal health and safety.
Listening to Mum and doing.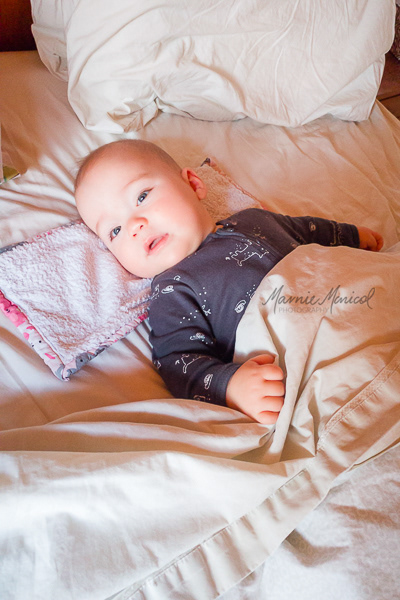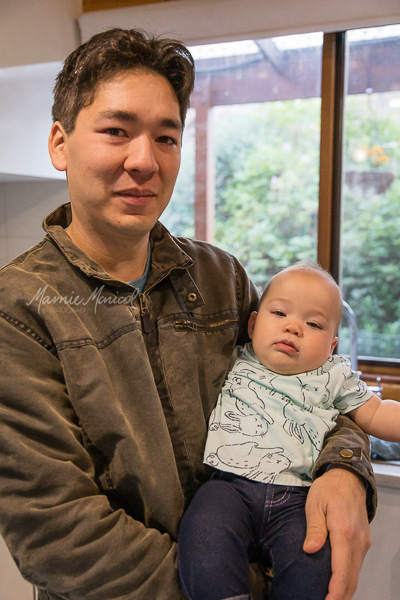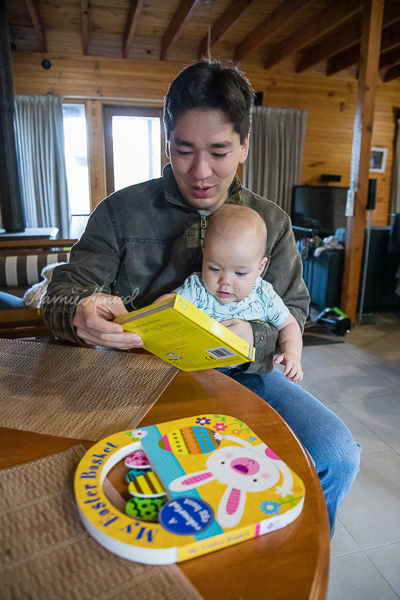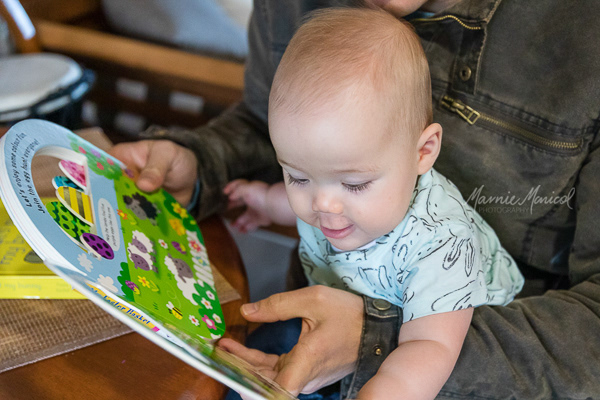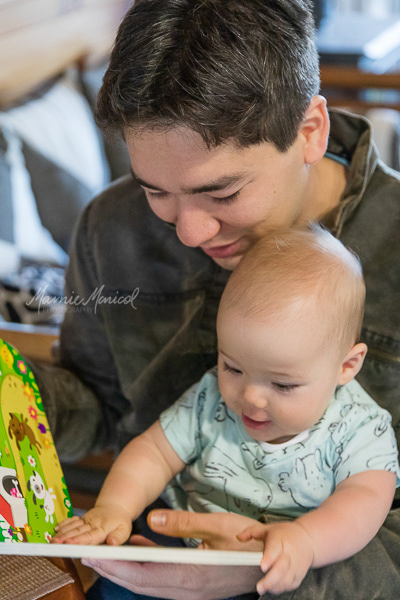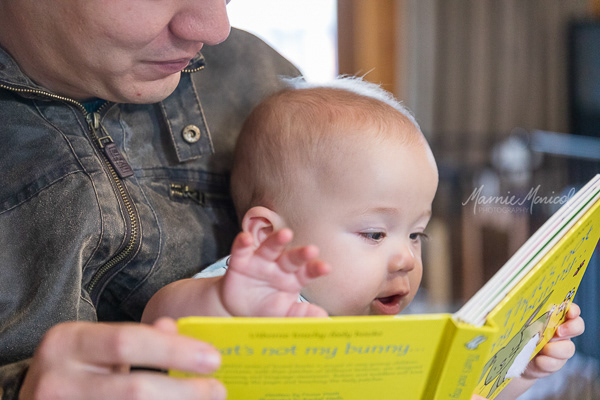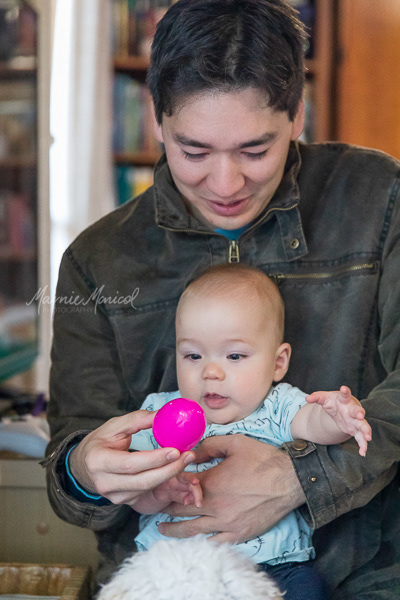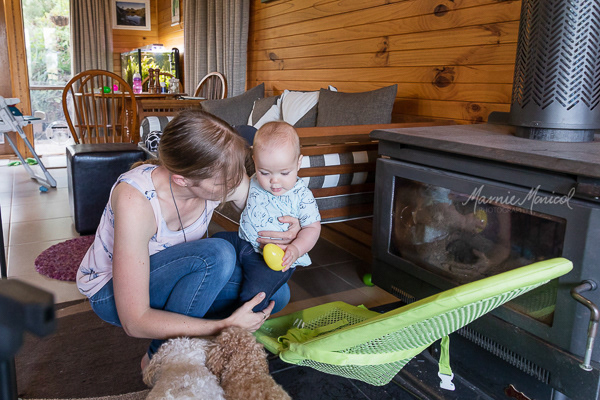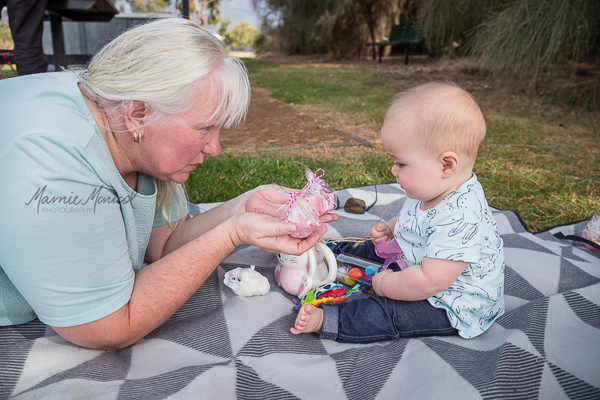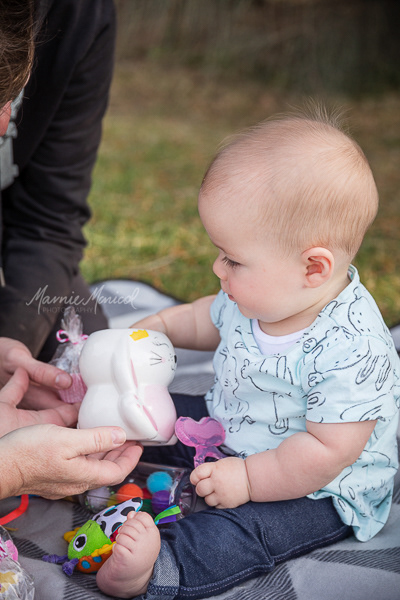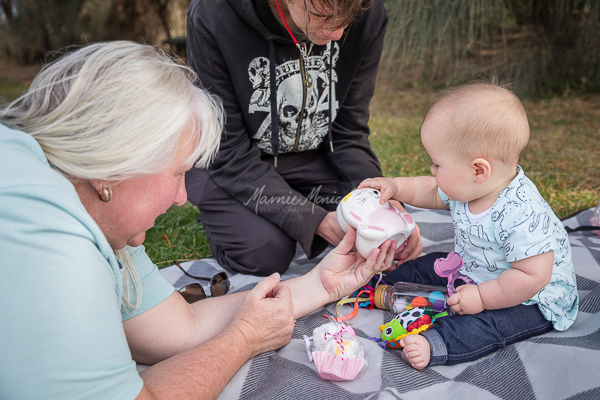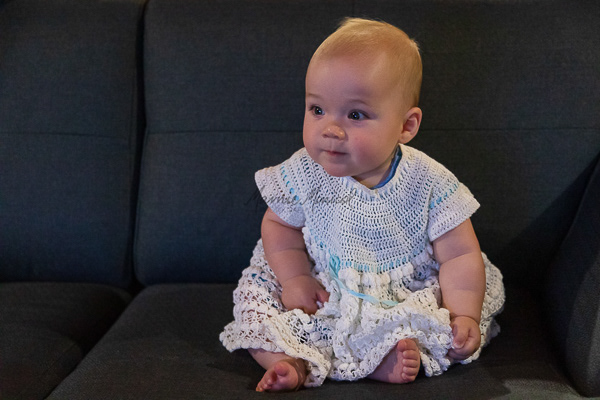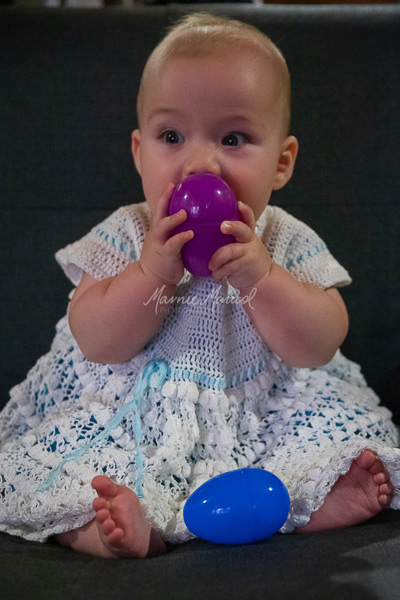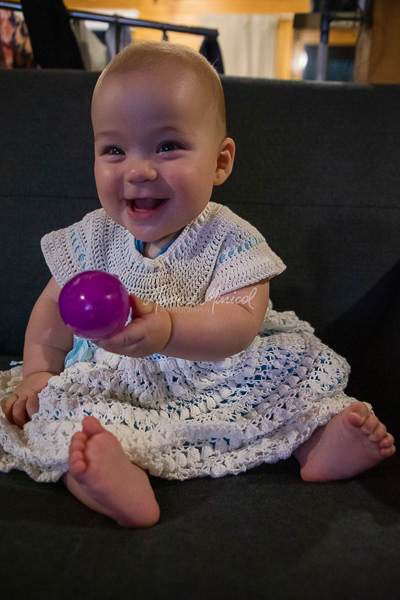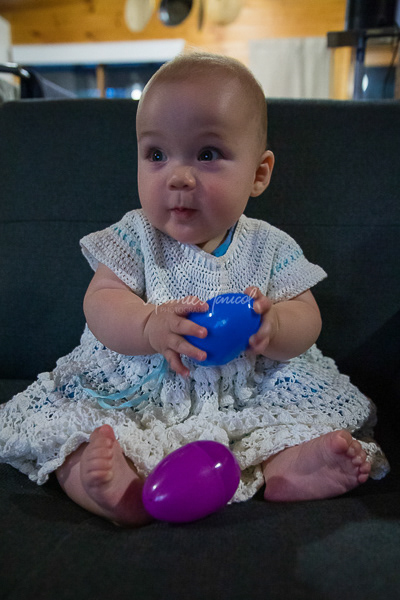 First Easter!!
*The very special dress was sewn/crocheted by Great-Oma for Mum to wear at Granma's wedding.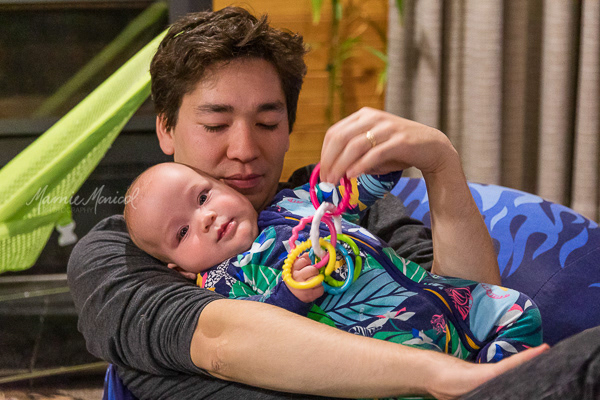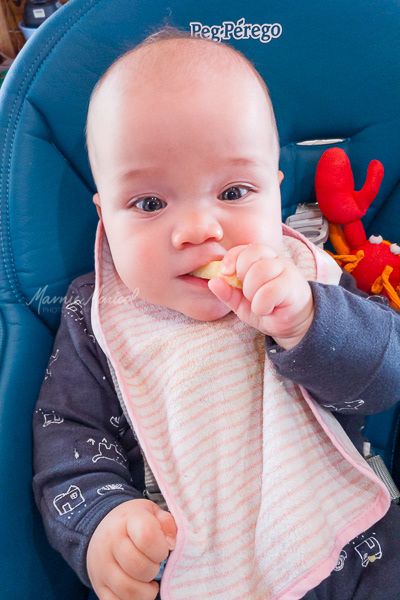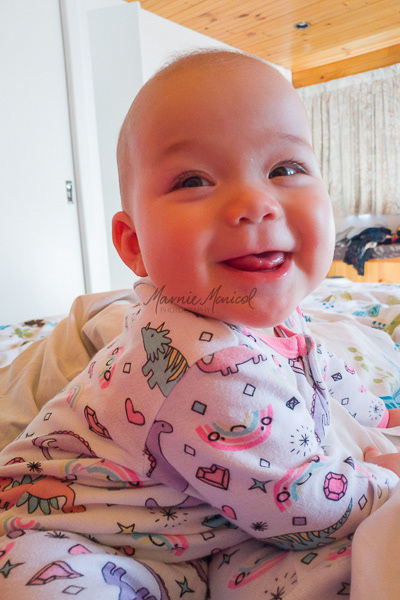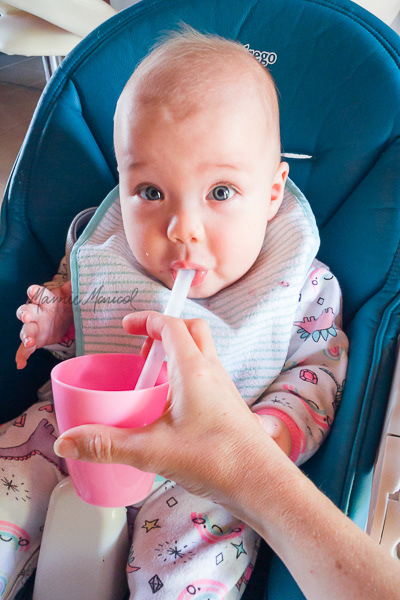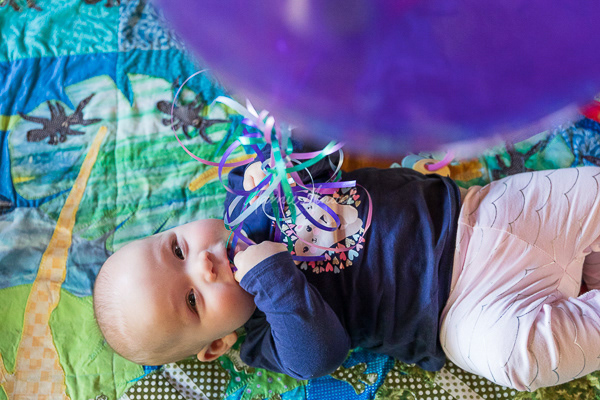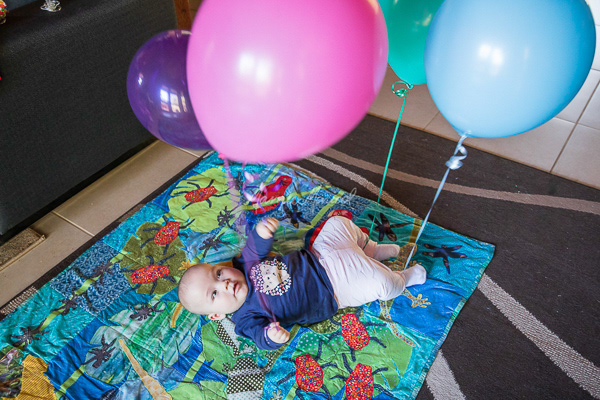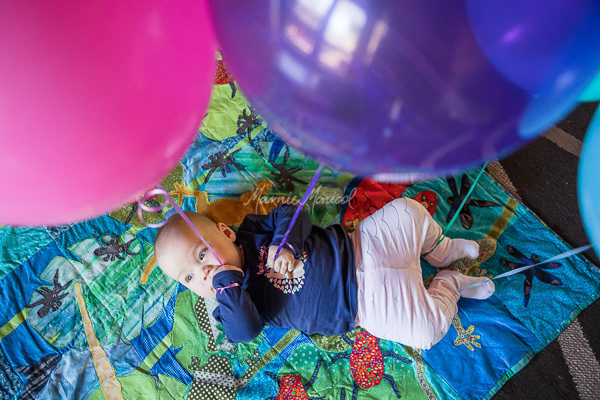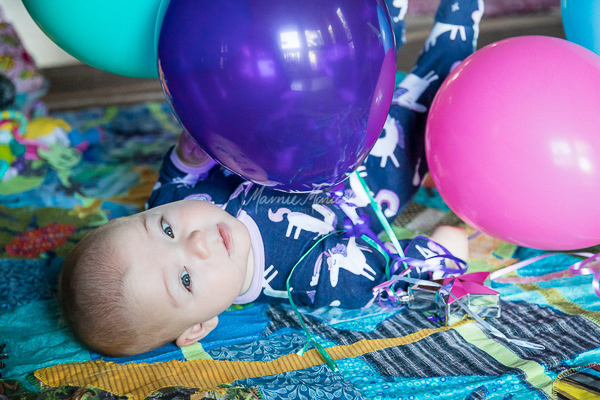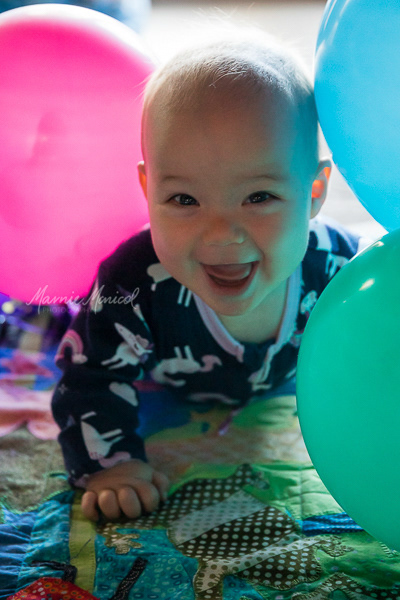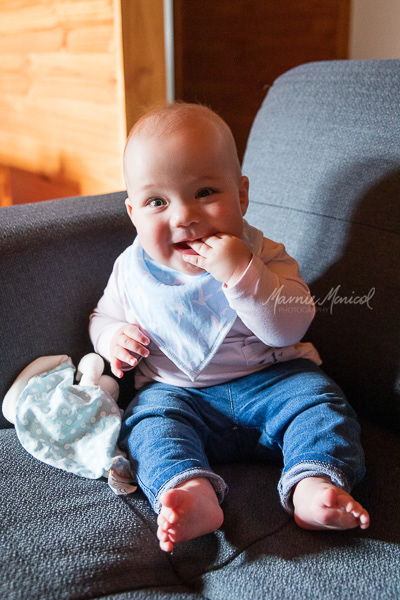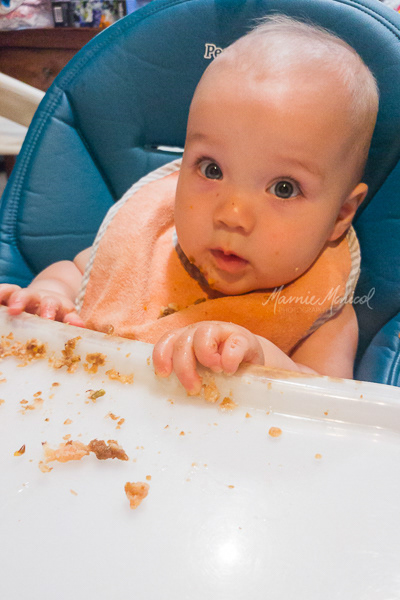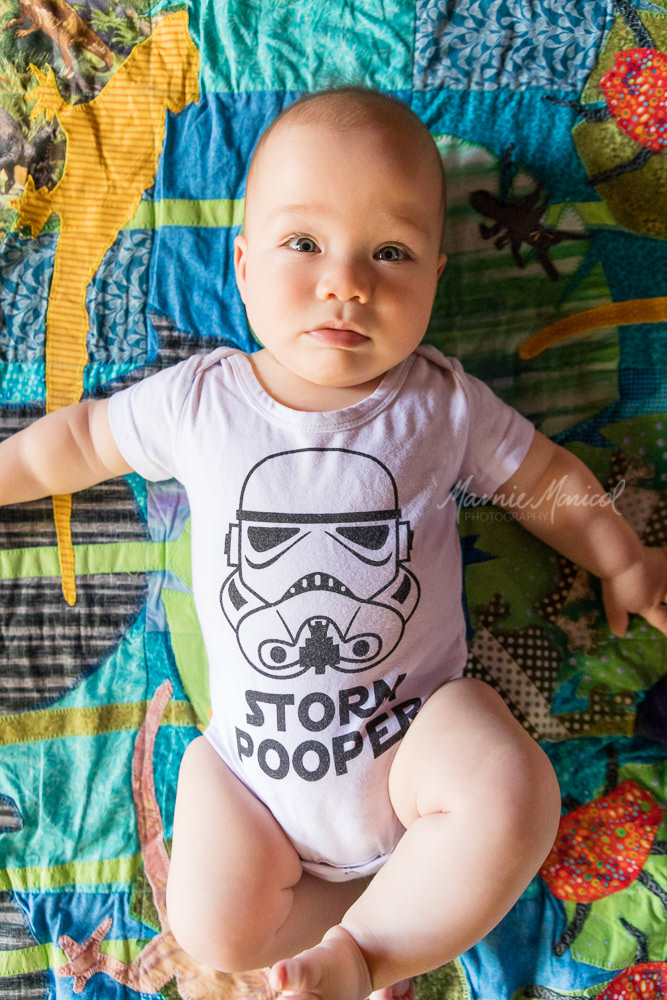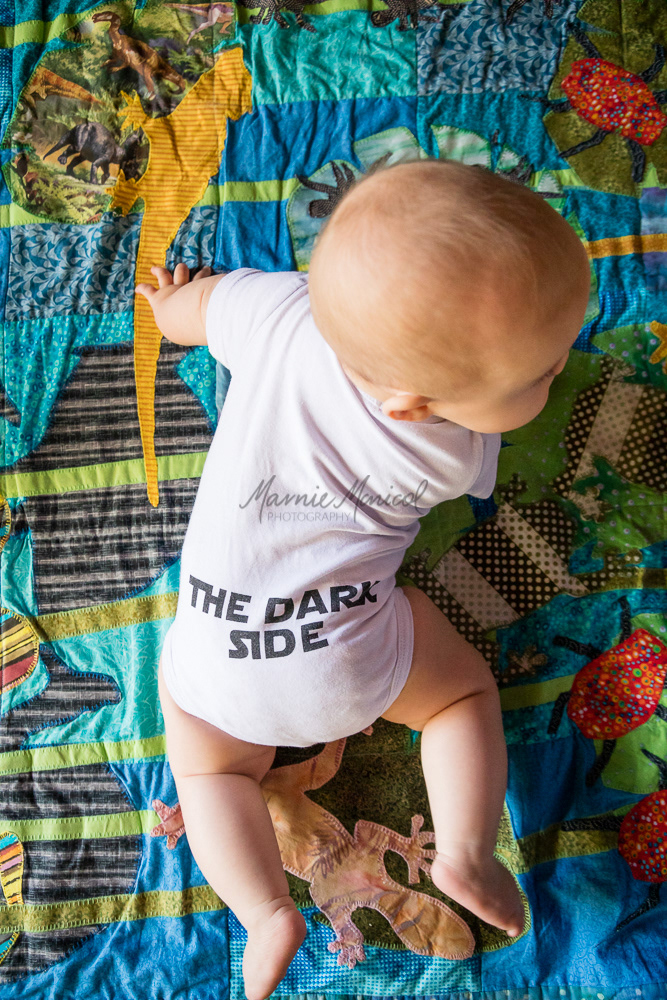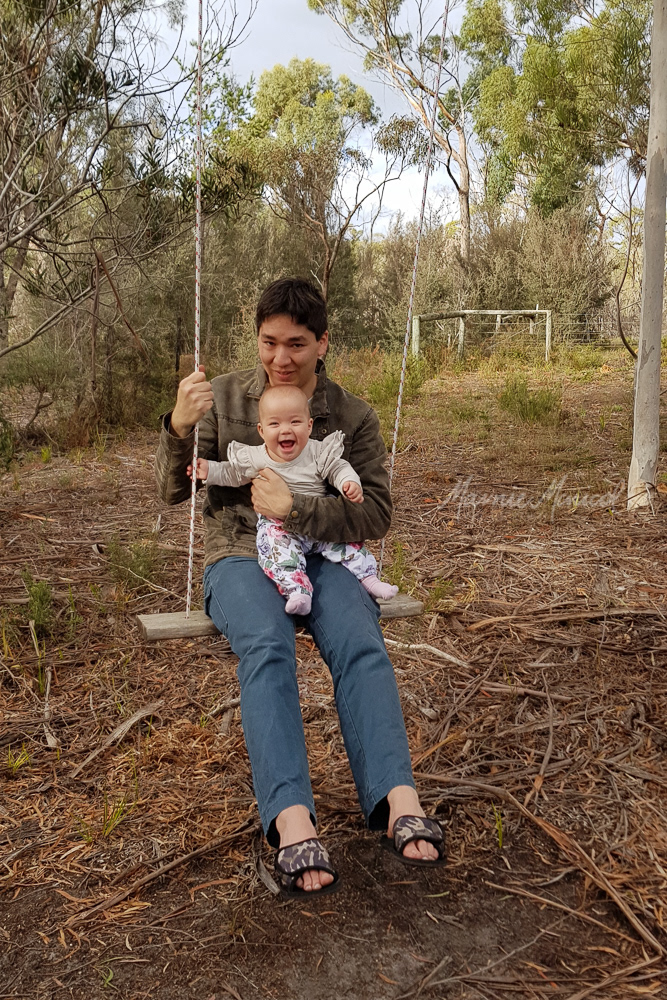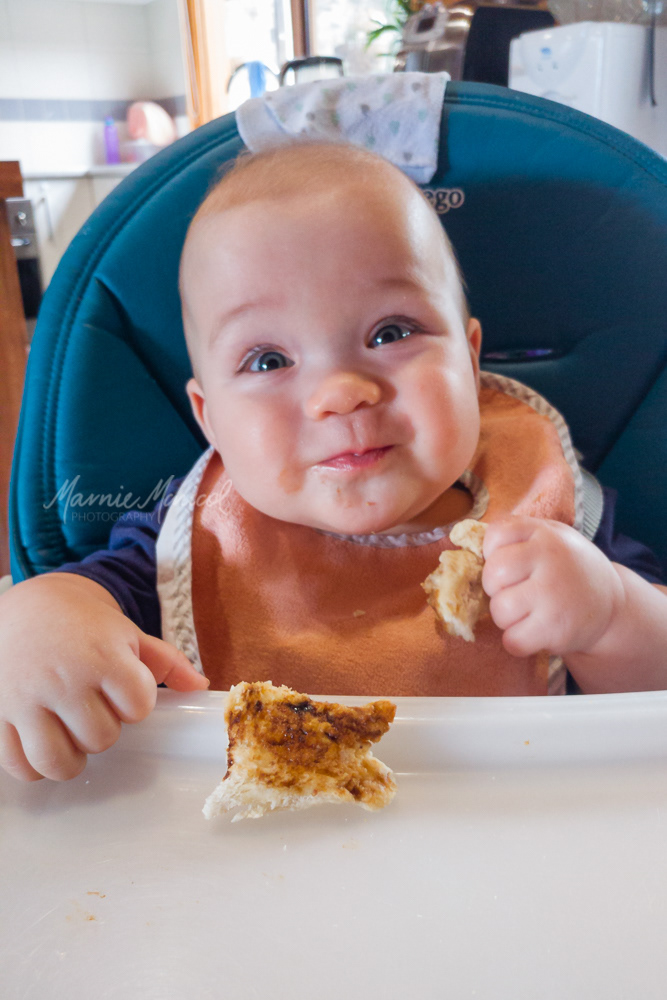 6 months ~ Playing with Dad, eating cheese, being cheeky in the cutest dinosaur onesie, drinking with a straw, balloons, sitting up on the couch without help, making a dinner-time mess, sliding backwards along the tiles, rocking a Star Wars bodysuit, the swing that Daddy made, and vegemite sandwiches.
Playing piano is a lot of fun!!
Trying to copy Mum making a 'fish face.'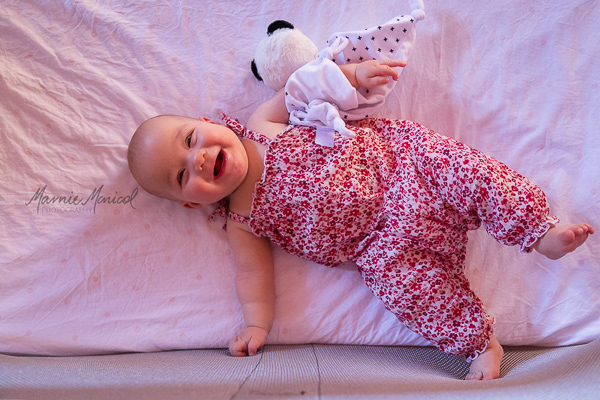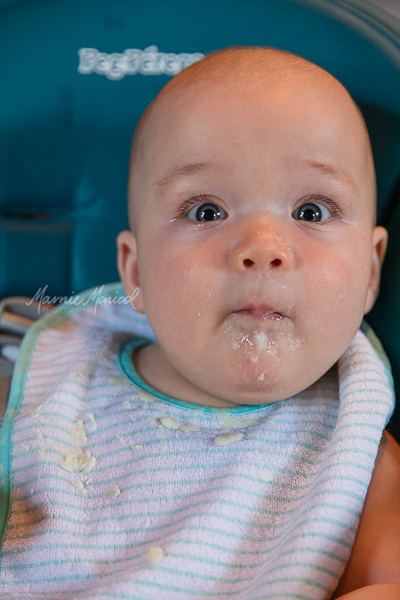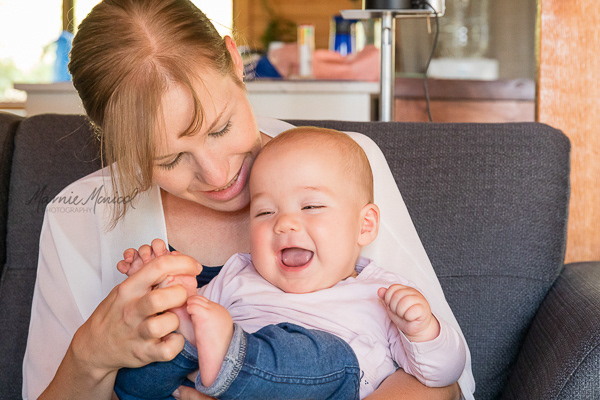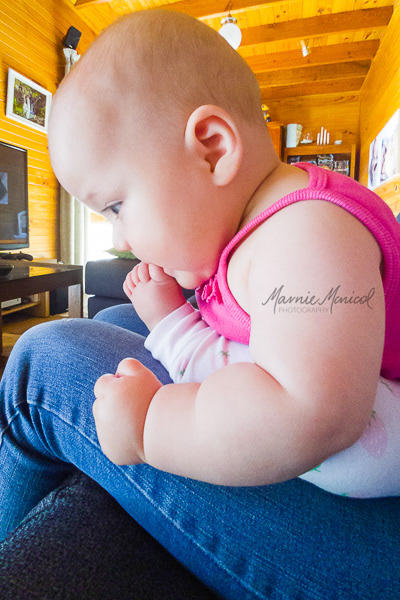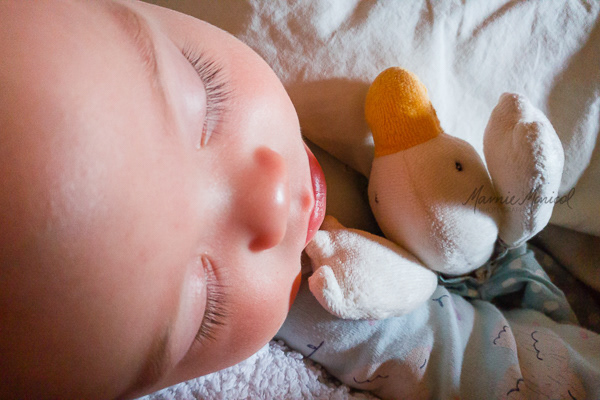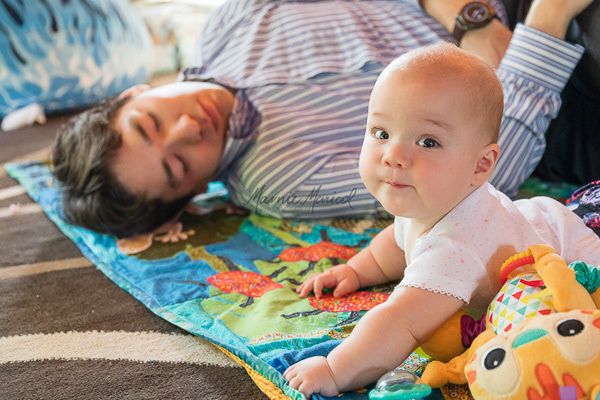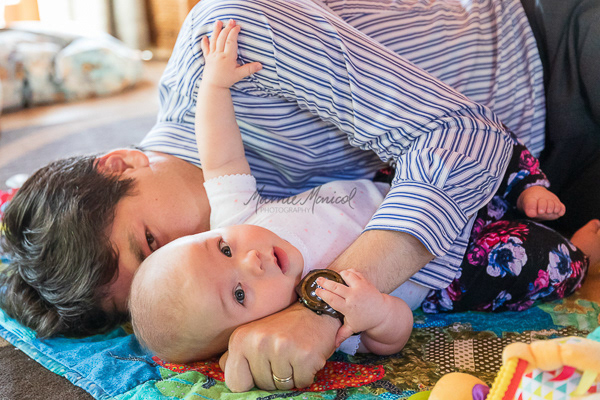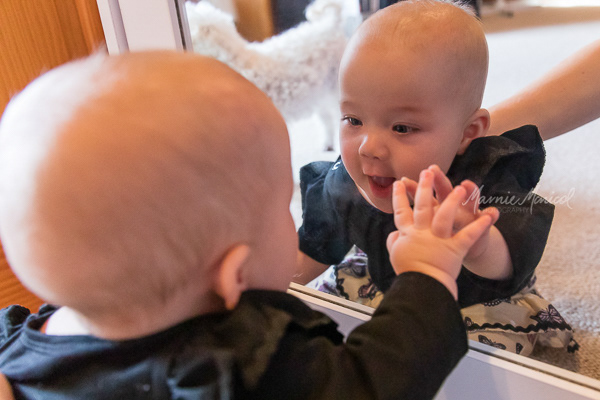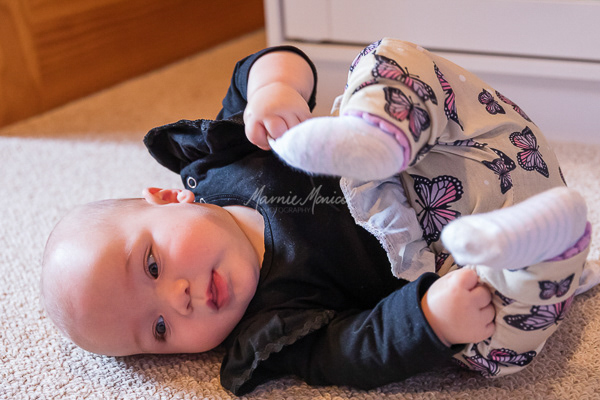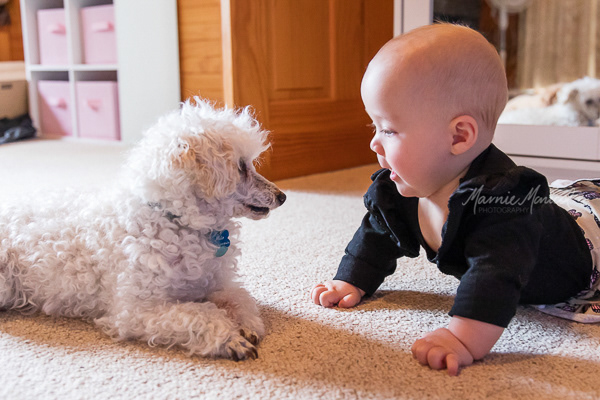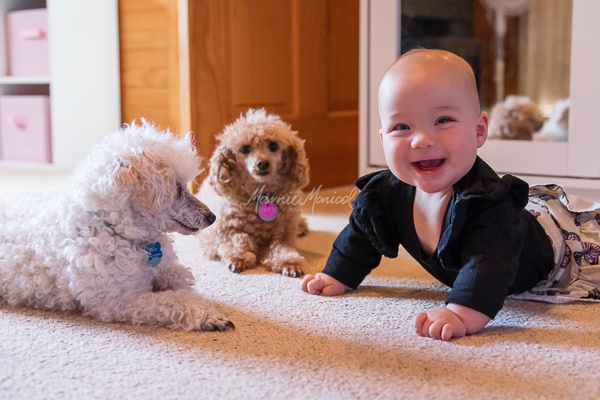 5 months ~ Being cheeky, cauliflower face, play time with Mum, eating toes, nap time, play time with Dad, lots of grabbing toes, playing in the mirror, and puppy friends. 
I don't recommend or encourage playing with plastic, but this opportunity was far too cute to pass up. 
Washing faces is funny too...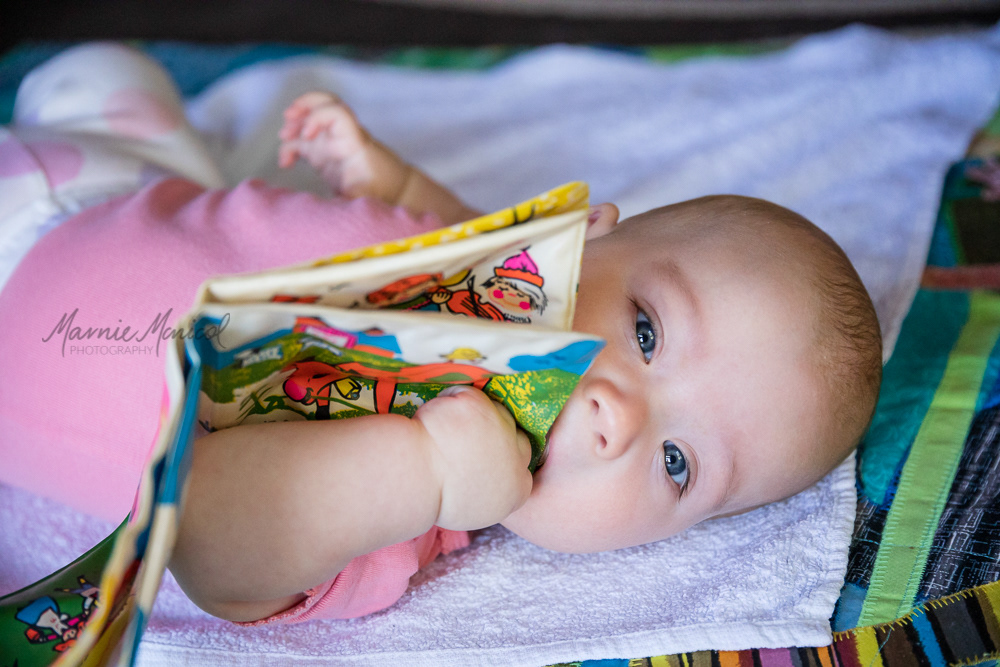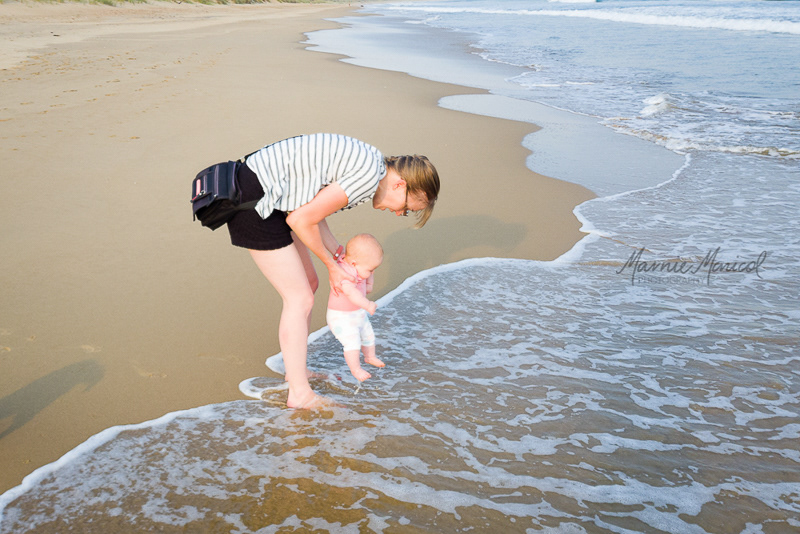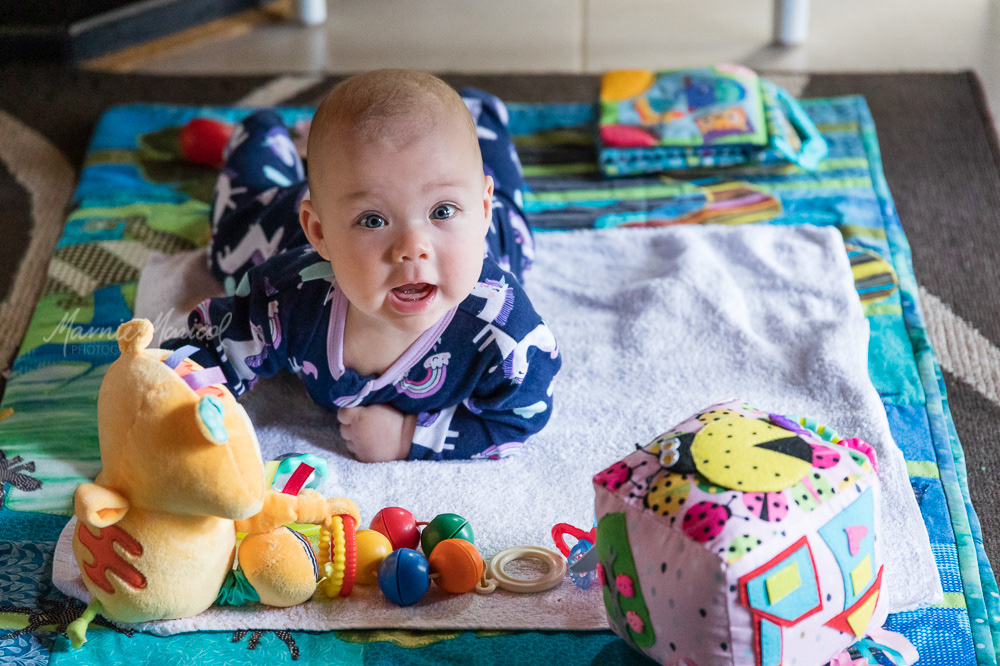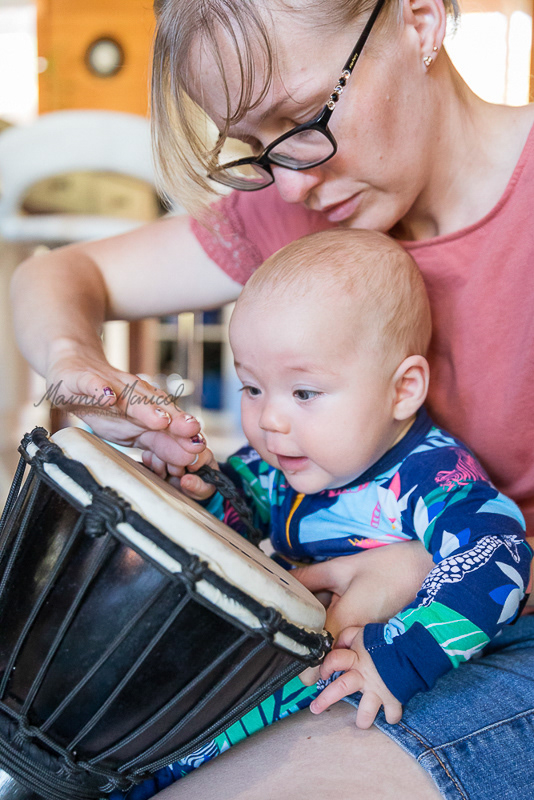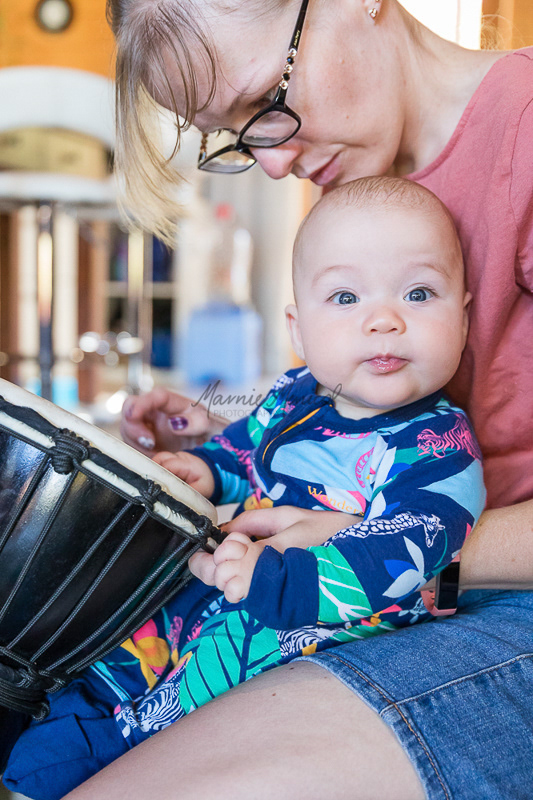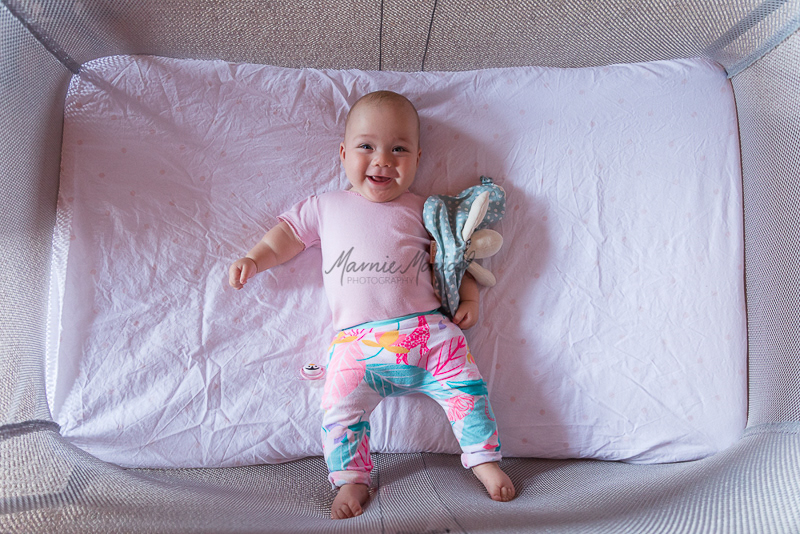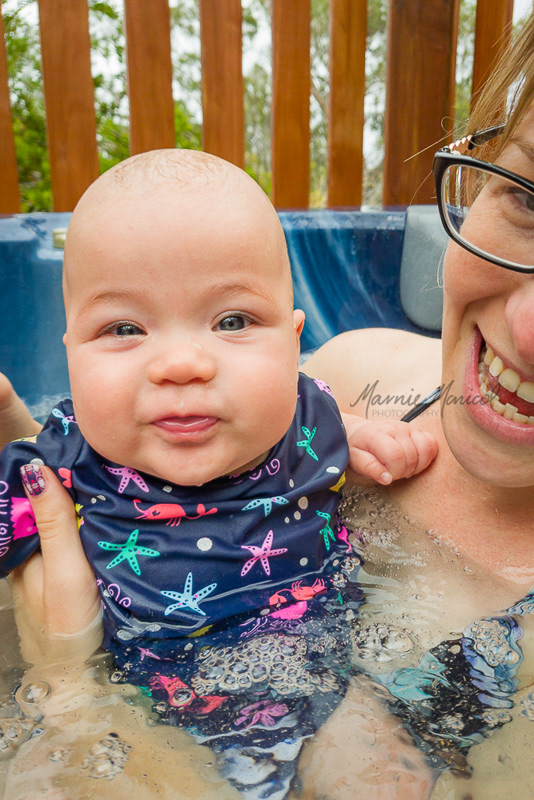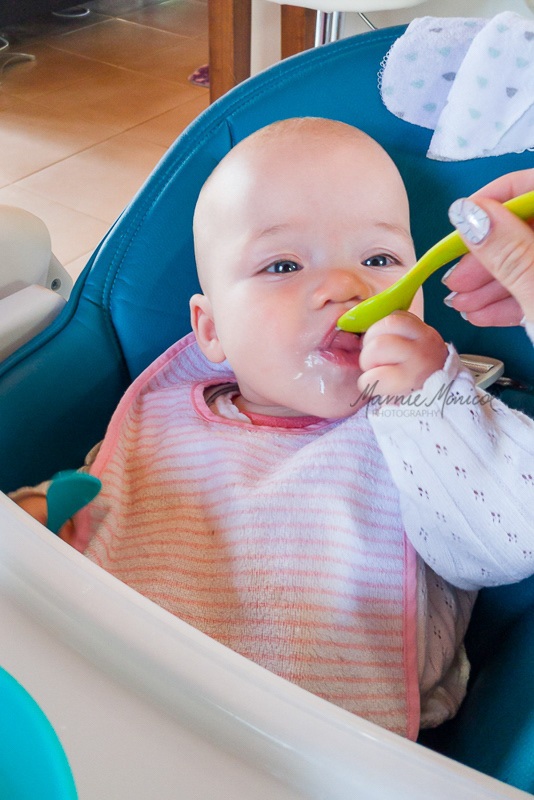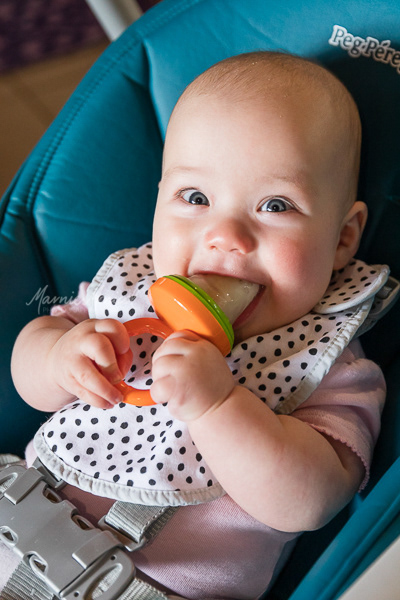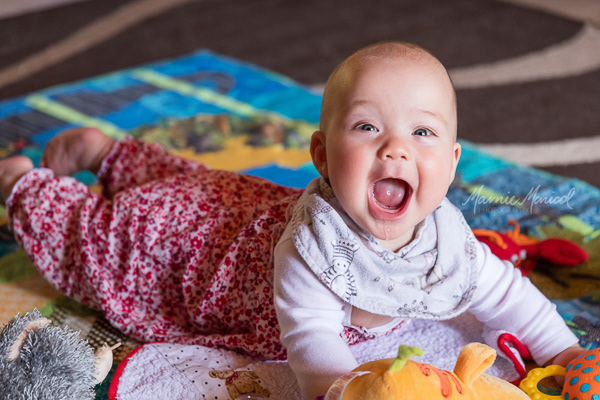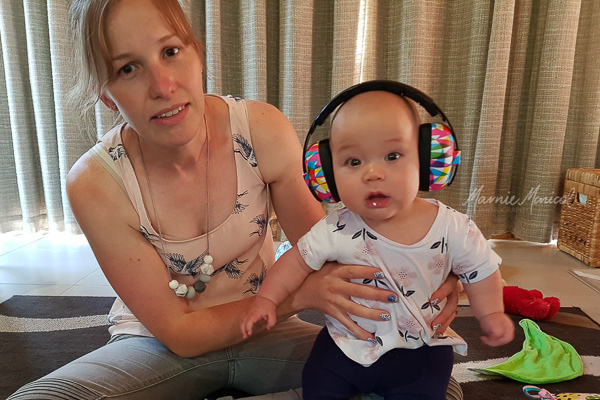 4 months ~ Eating books, learning about sand and waves, playing with toys, snuggling with Daddy, learning about drums, playing in bed, 'swimming lessons' in the spa, learning to eat rice cereal, milk ice blocks, general cheekiness, and funky new earmuffs for going to loud concerts (to watch Mum or Dad playing).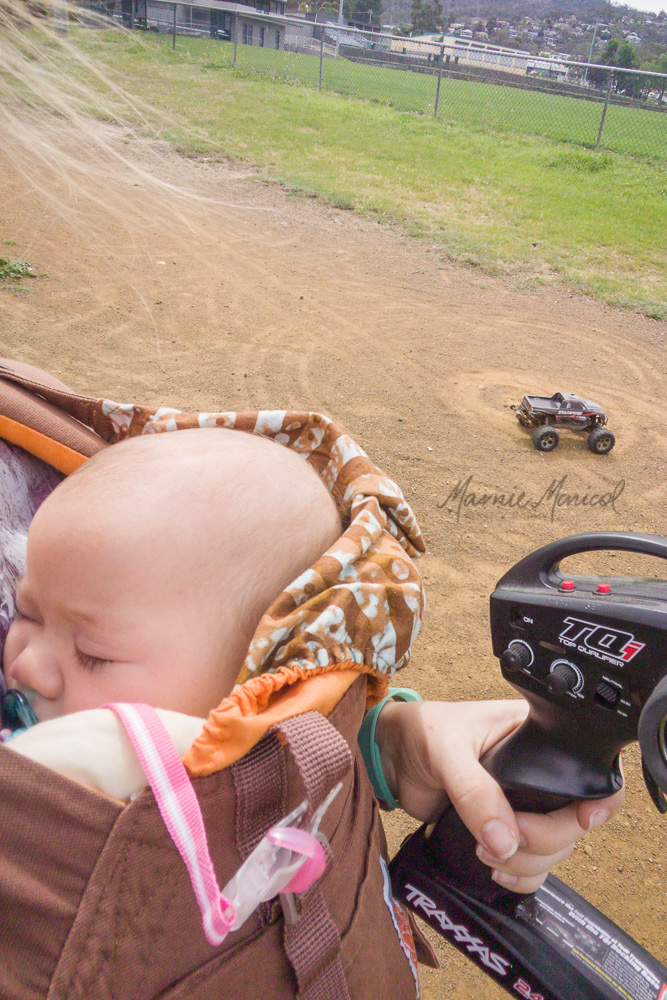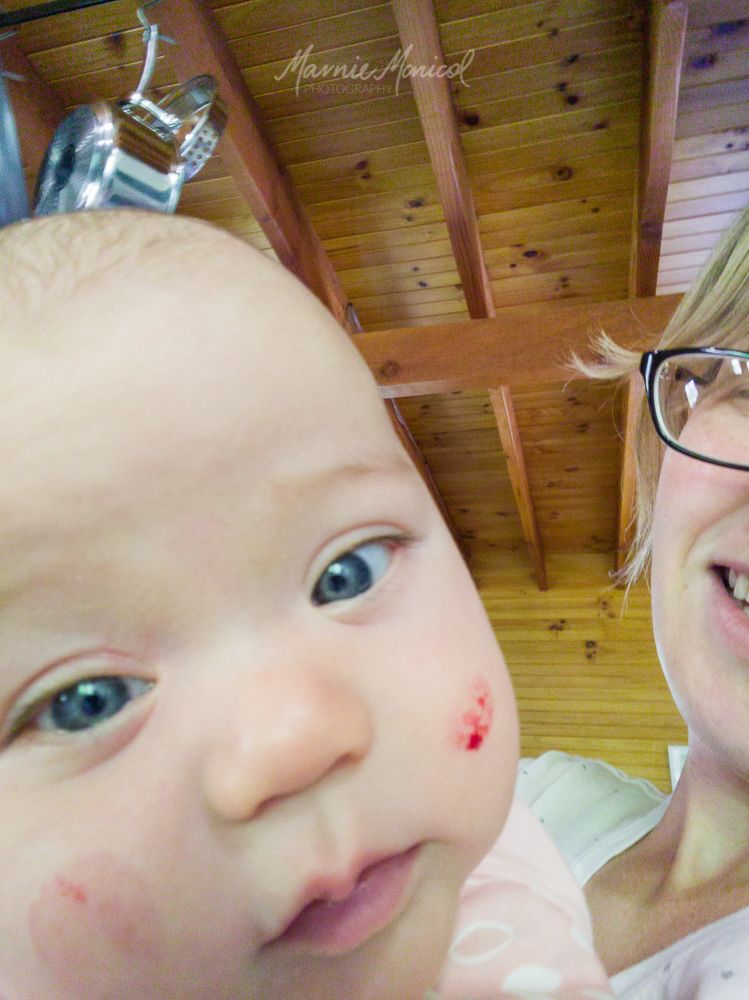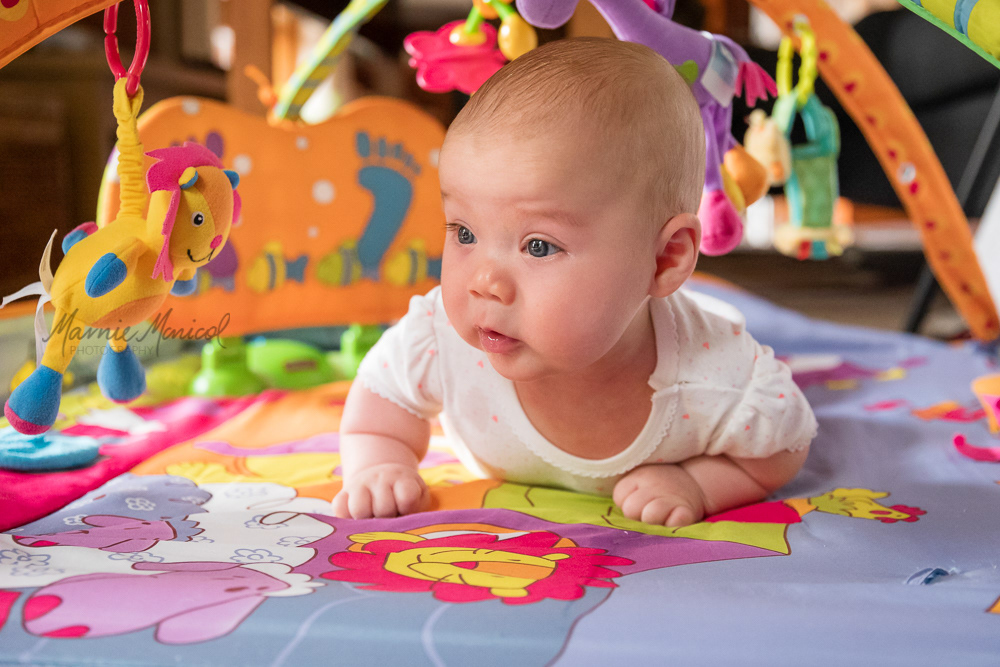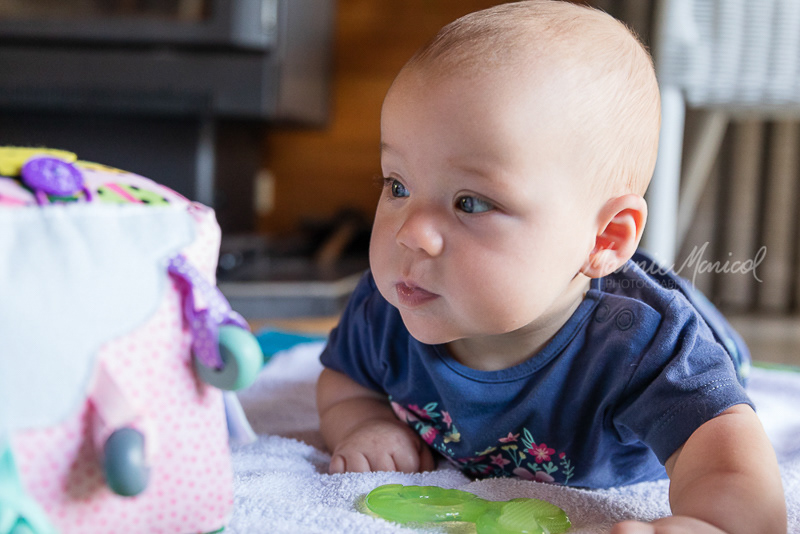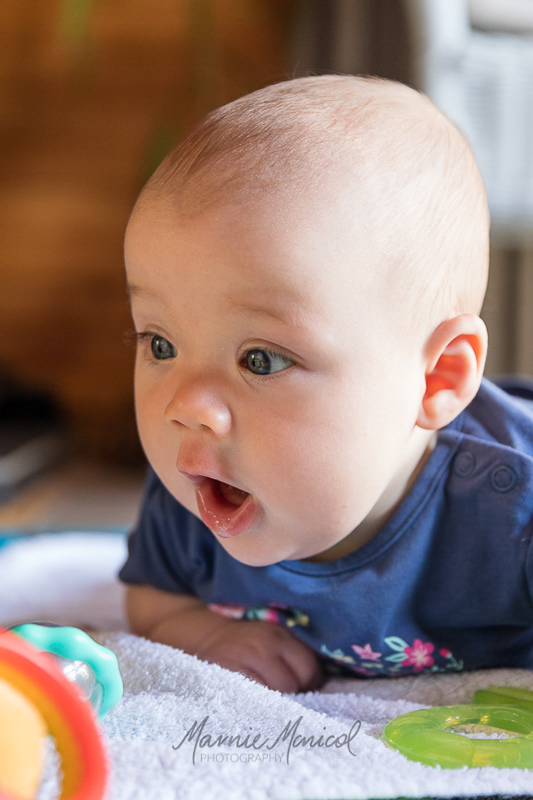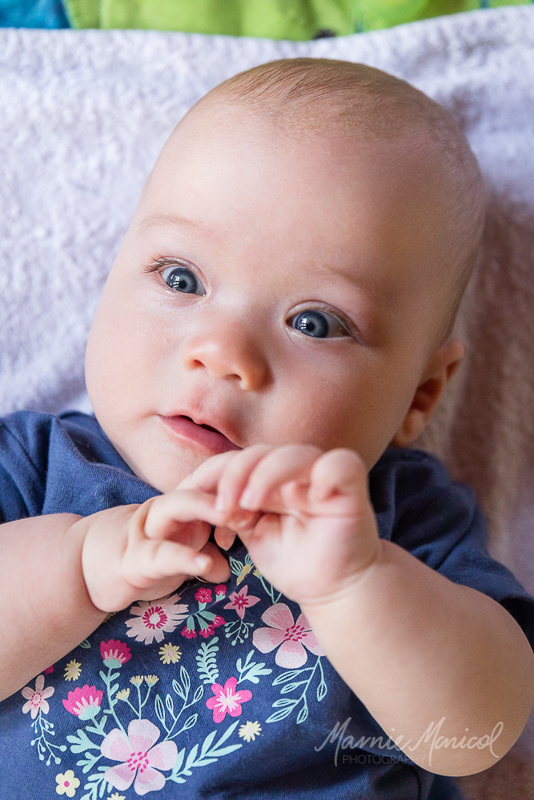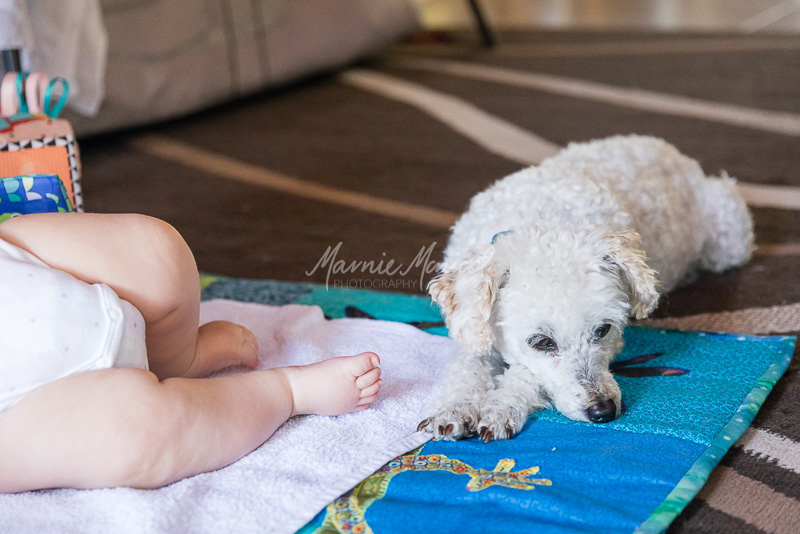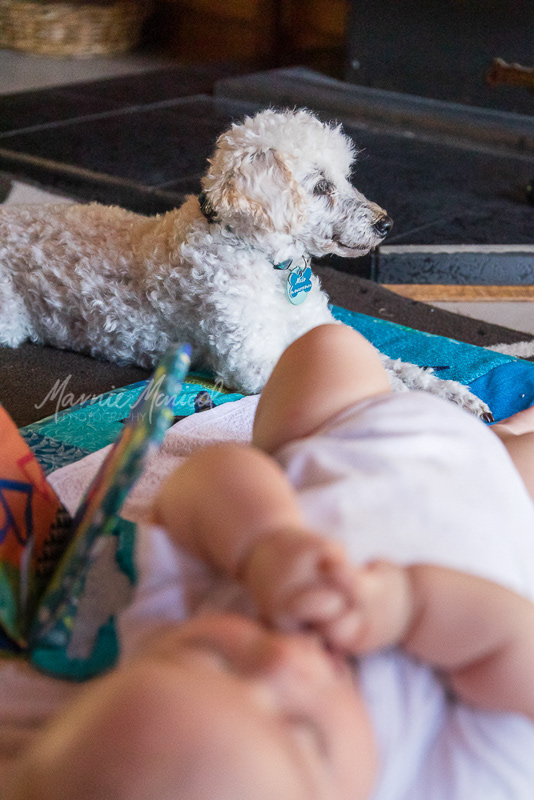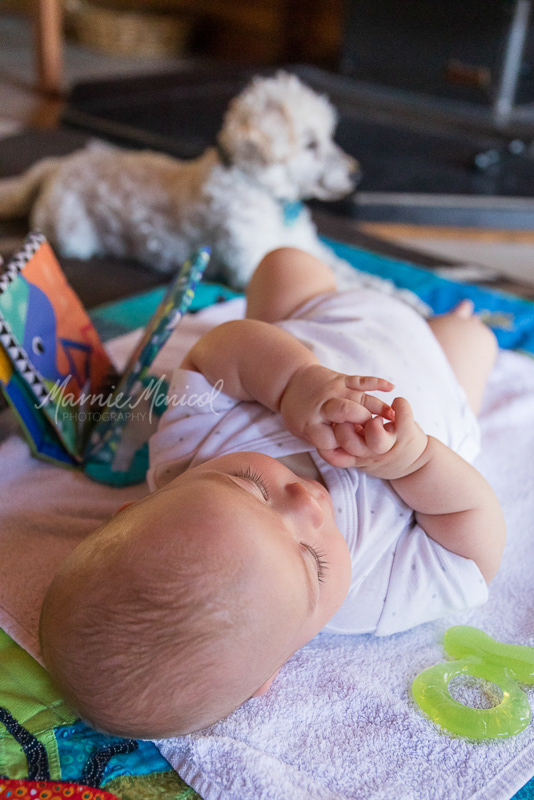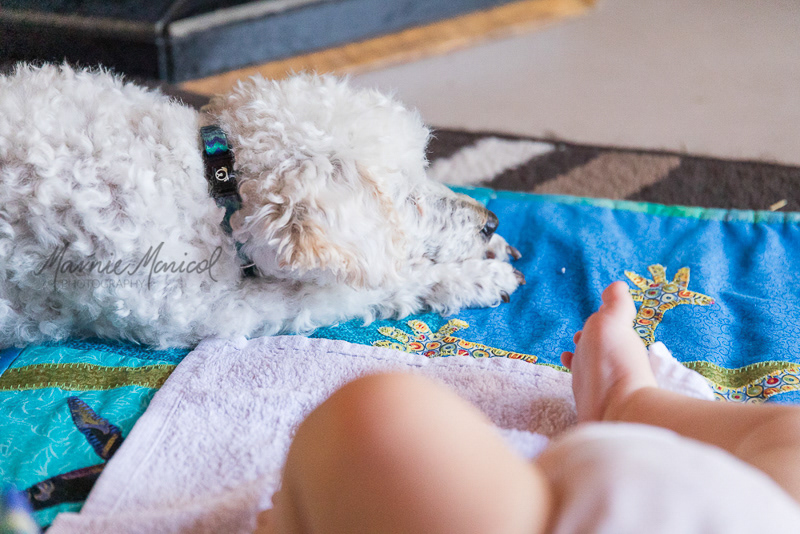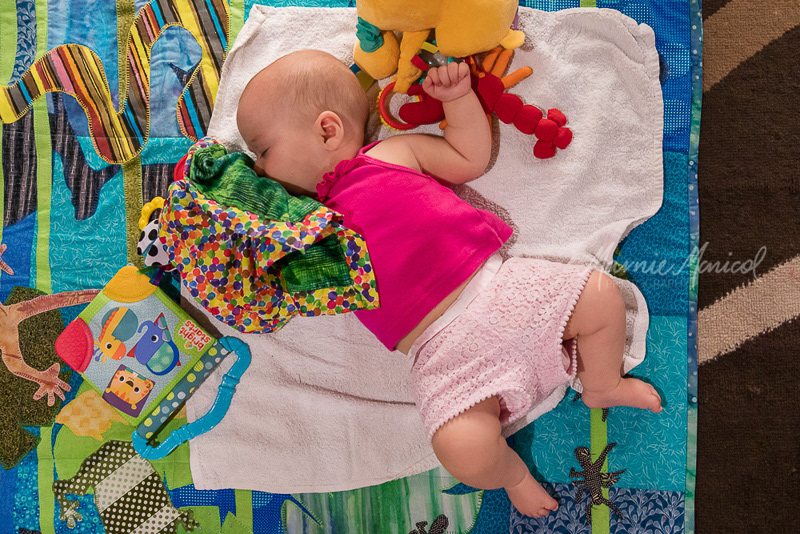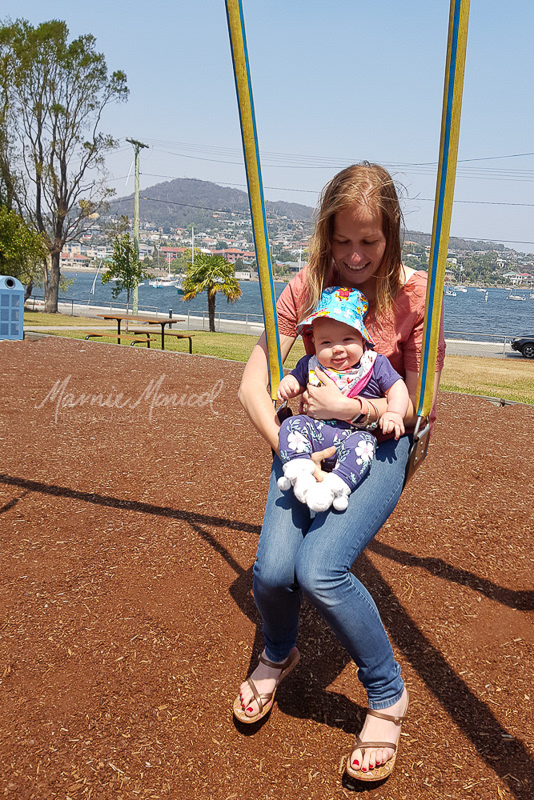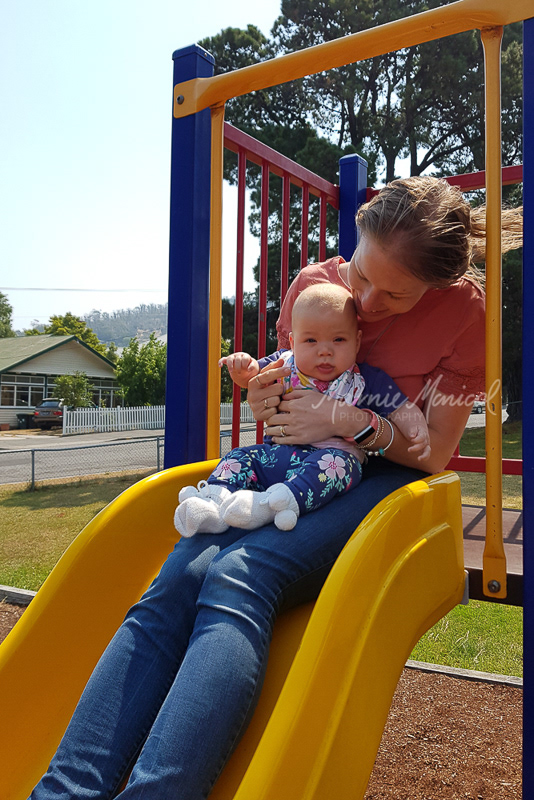 3 months ~ First remote control race car outing, cherry juice on her cheeks (thanks Daddy!), getting stronger all the time, puppy friends, eyelashes, transfixed by musical mobiles, falling asleep during play time, first time on the swing and slide!! Brianna has a best friend in Milo, although she doesn't know it yet. He's such a good little dog, always watching over her and protecting her.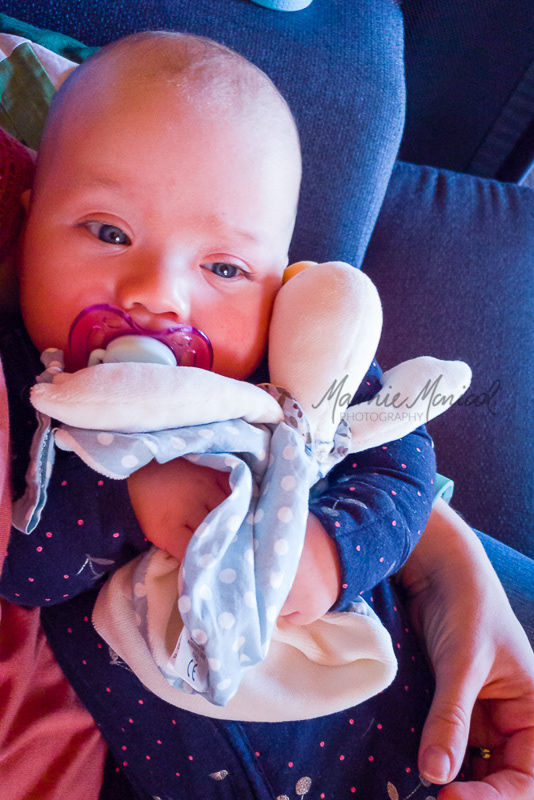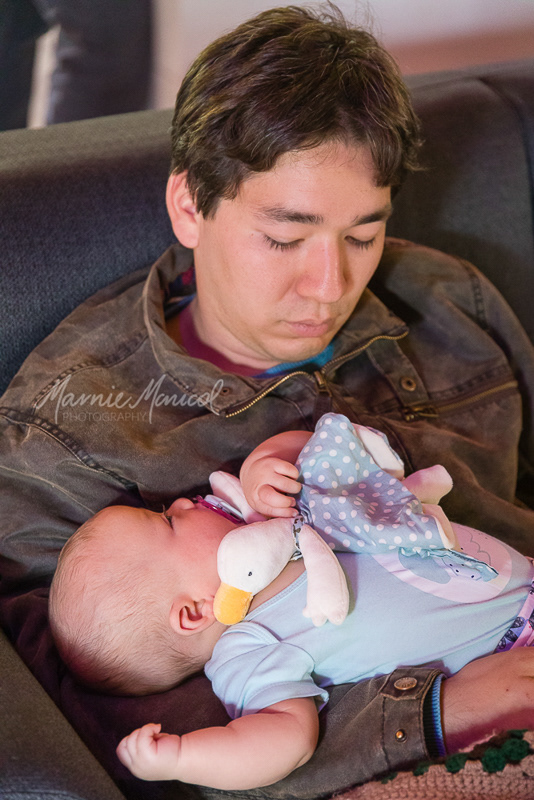 Brianna has recently decided that it's definitely better to fall asleep while cuddling a soft toy - too cute!!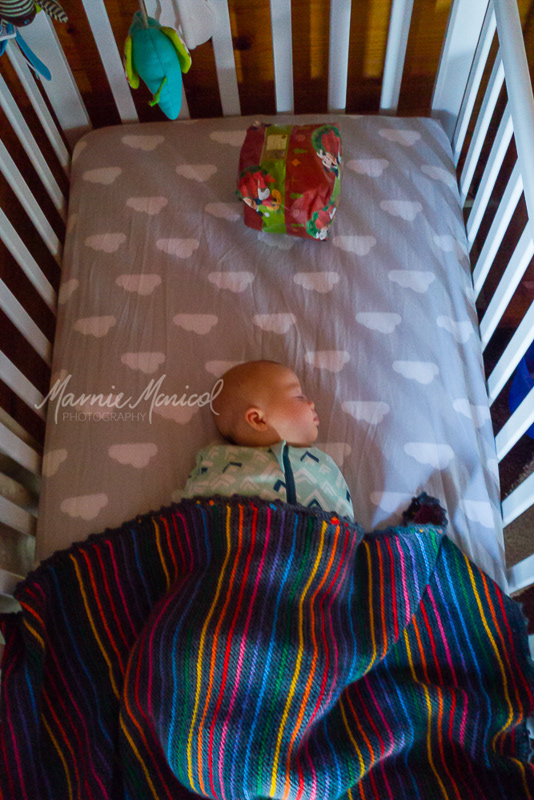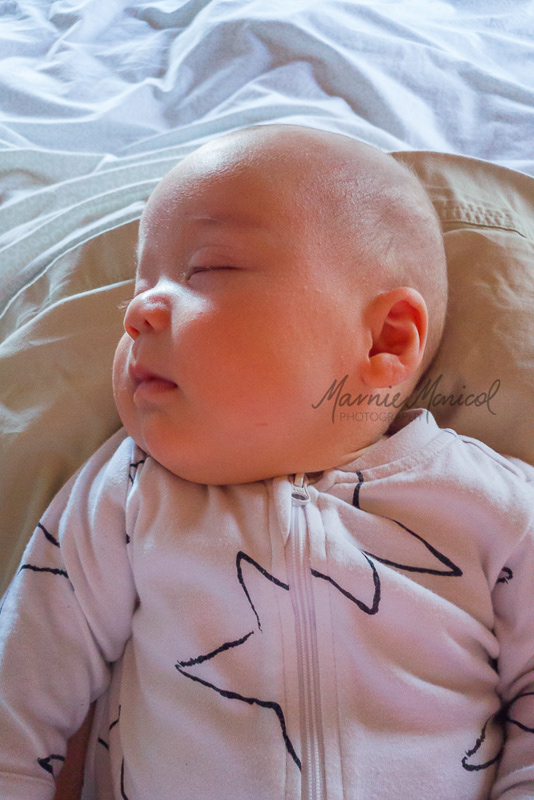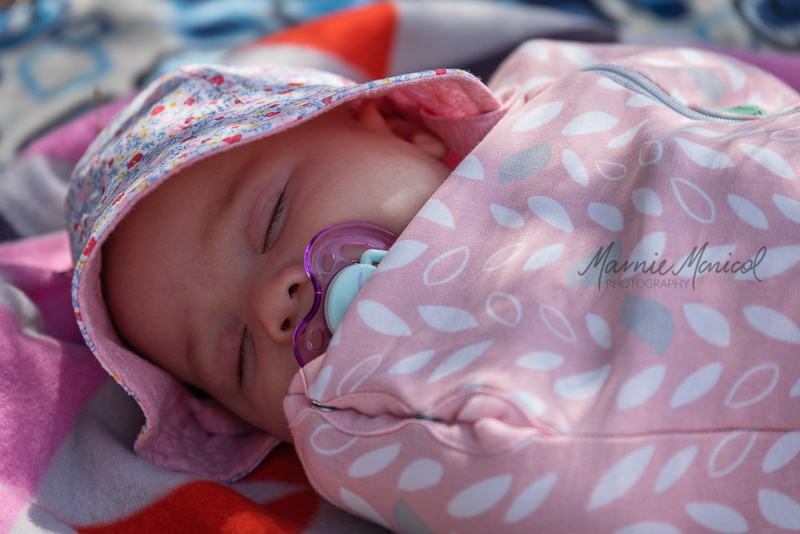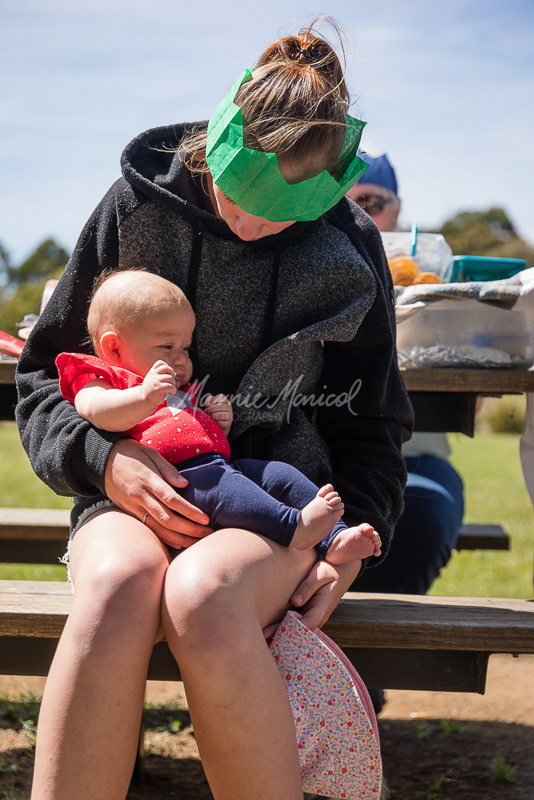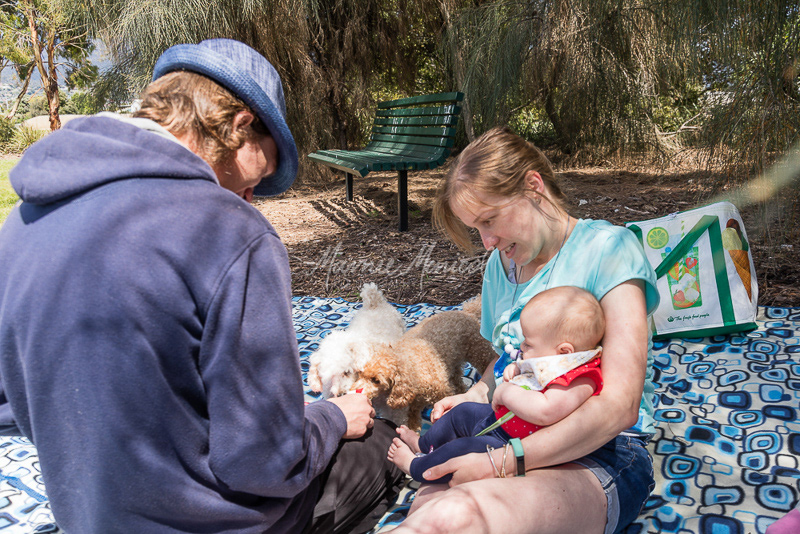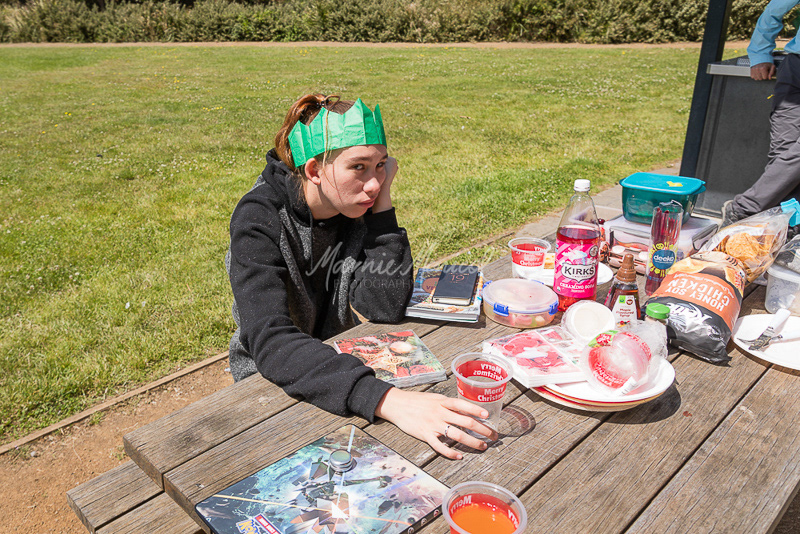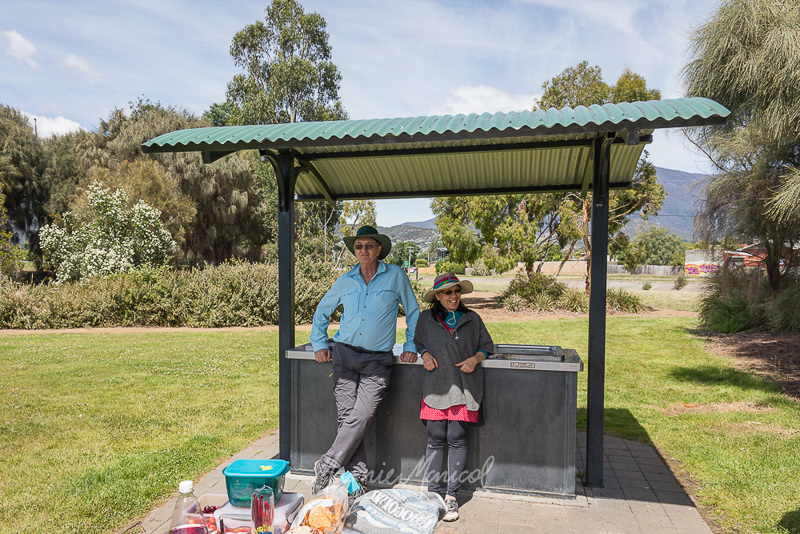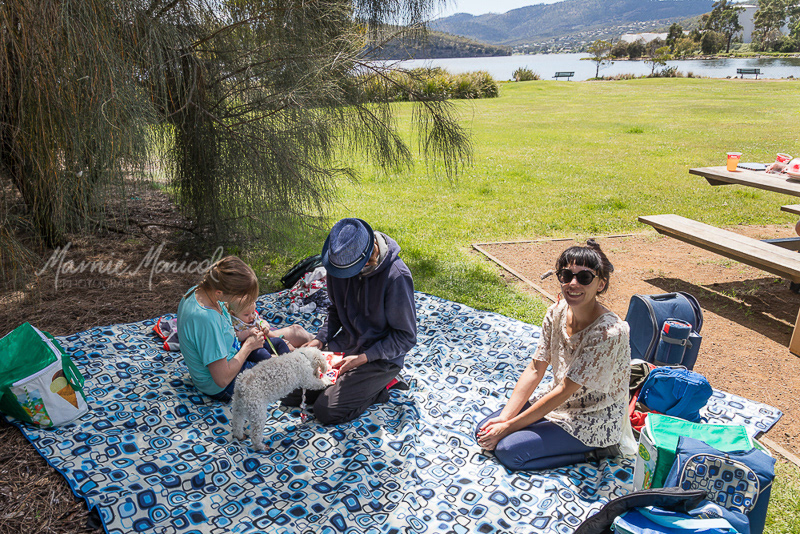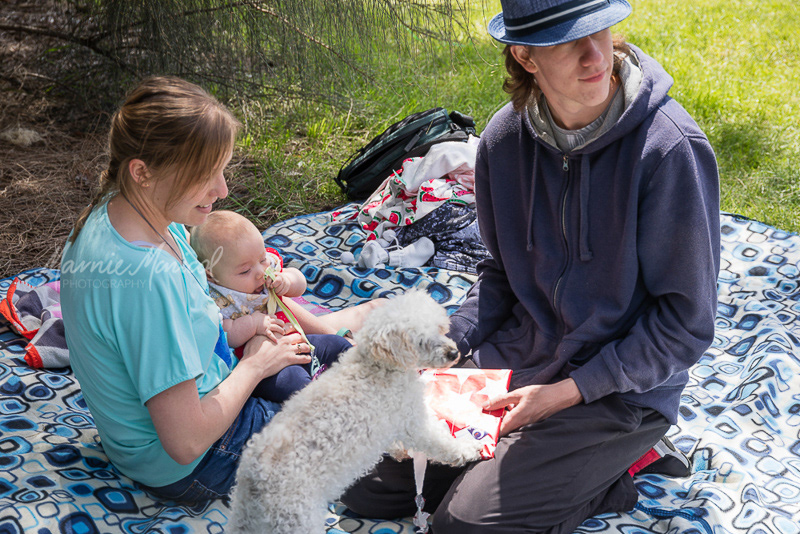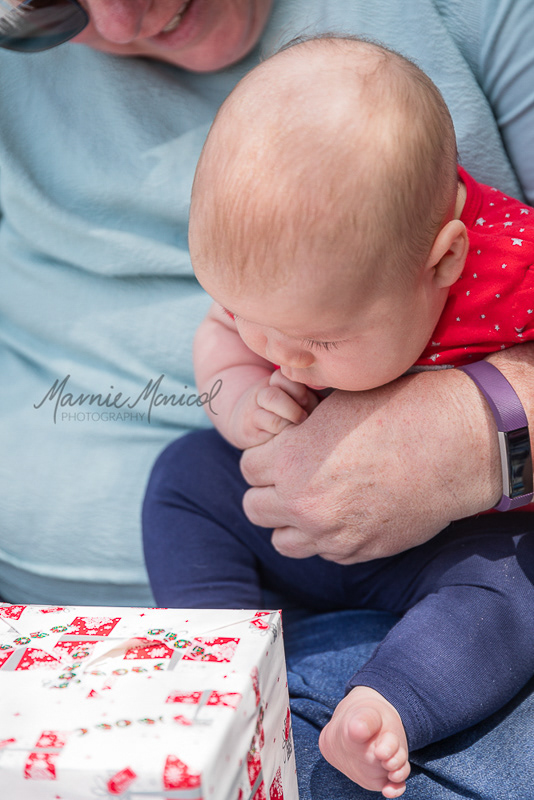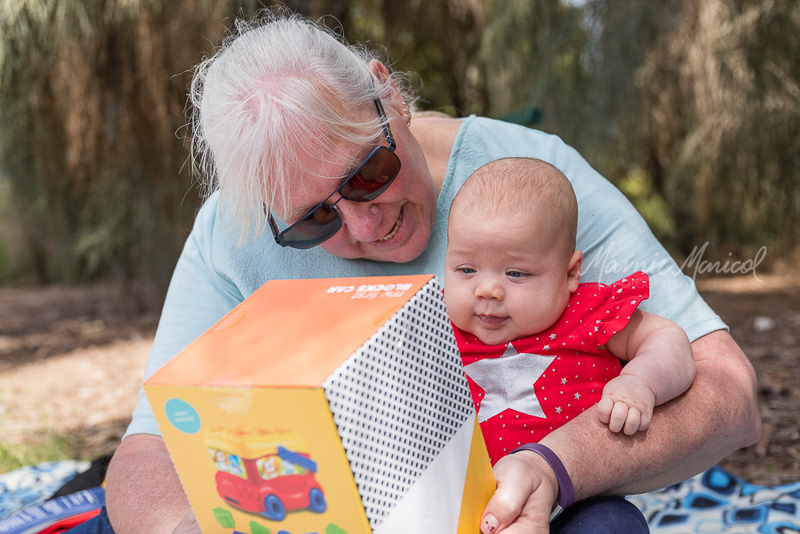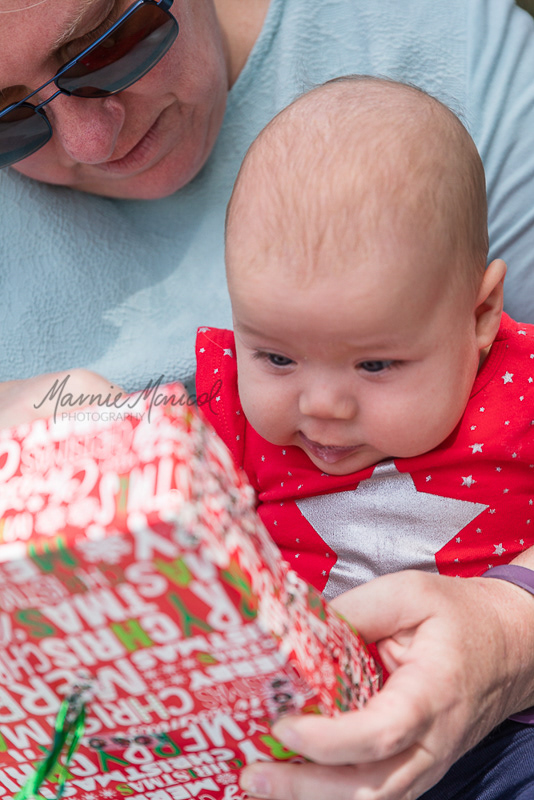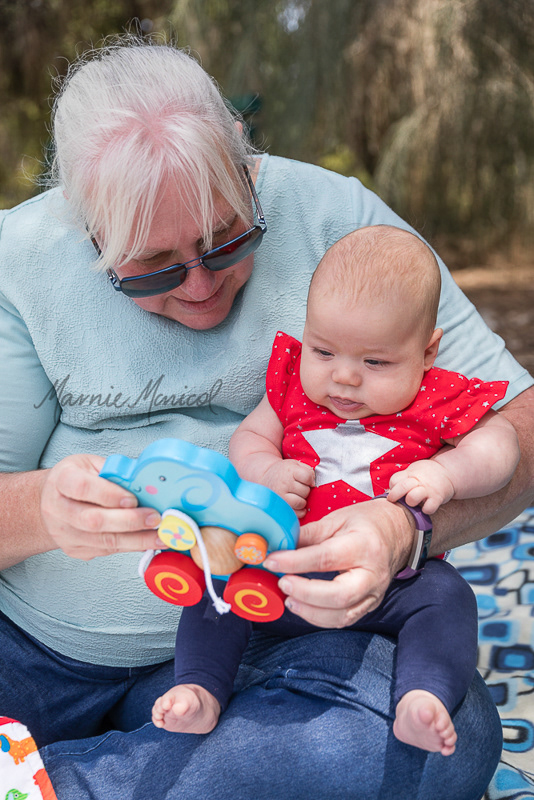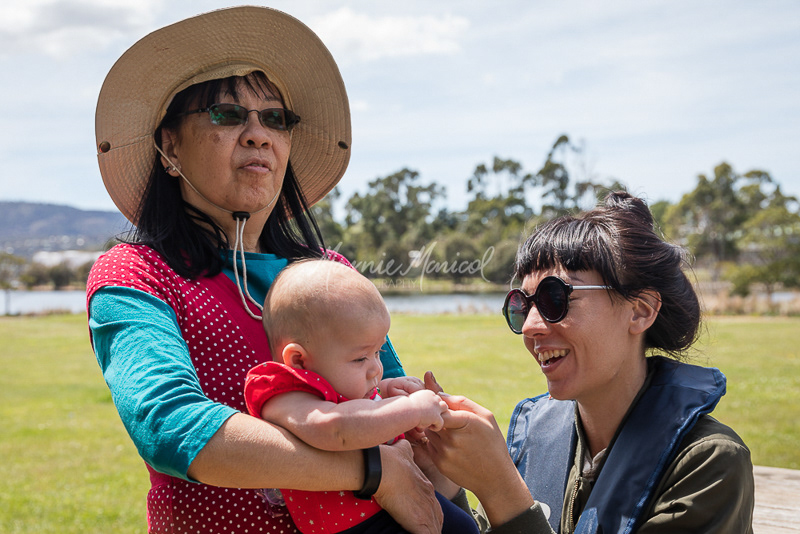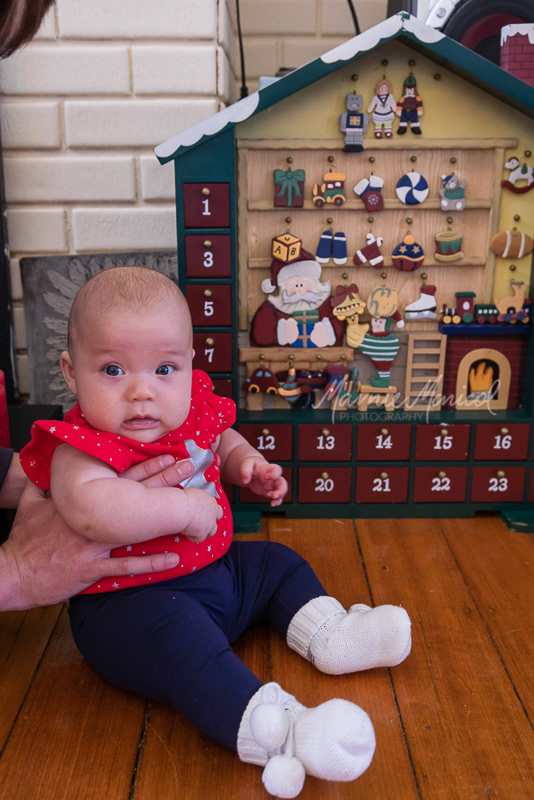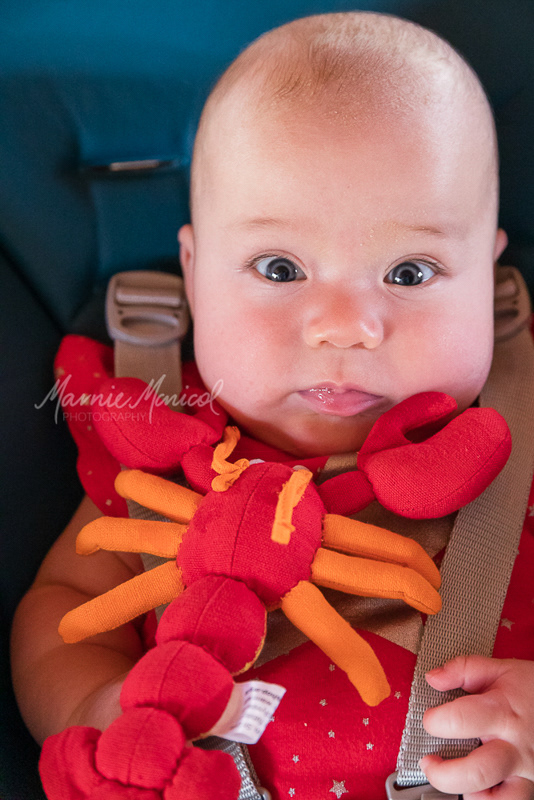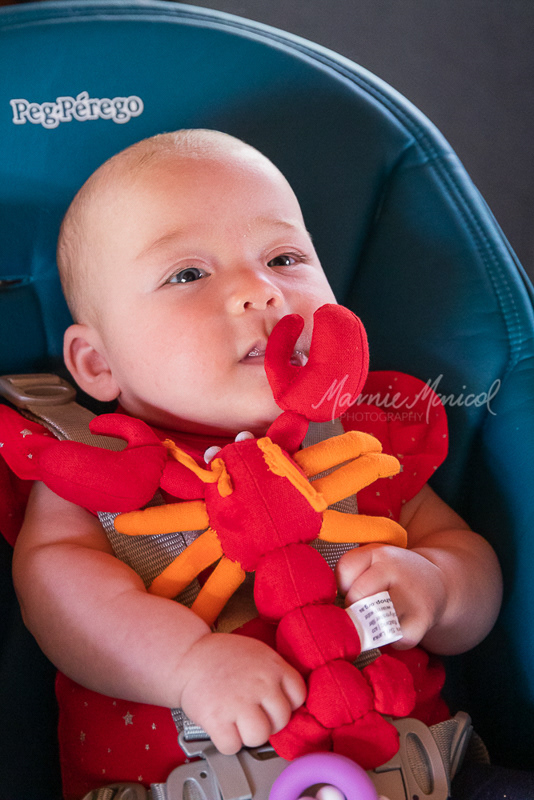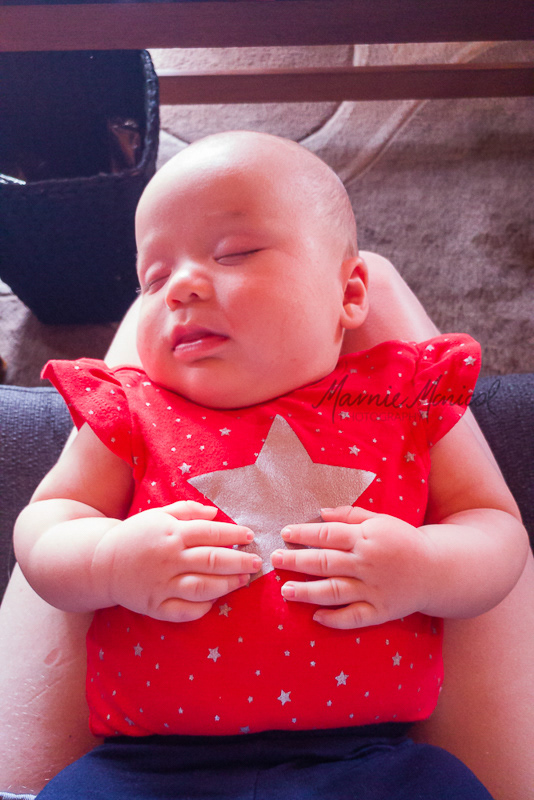 Brianna's first Christmas!!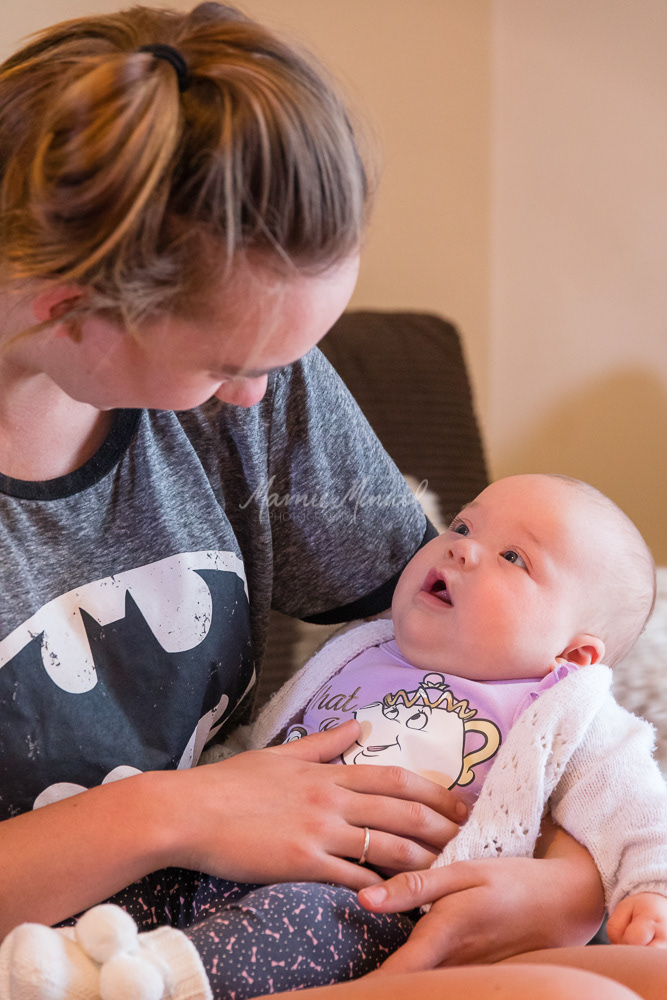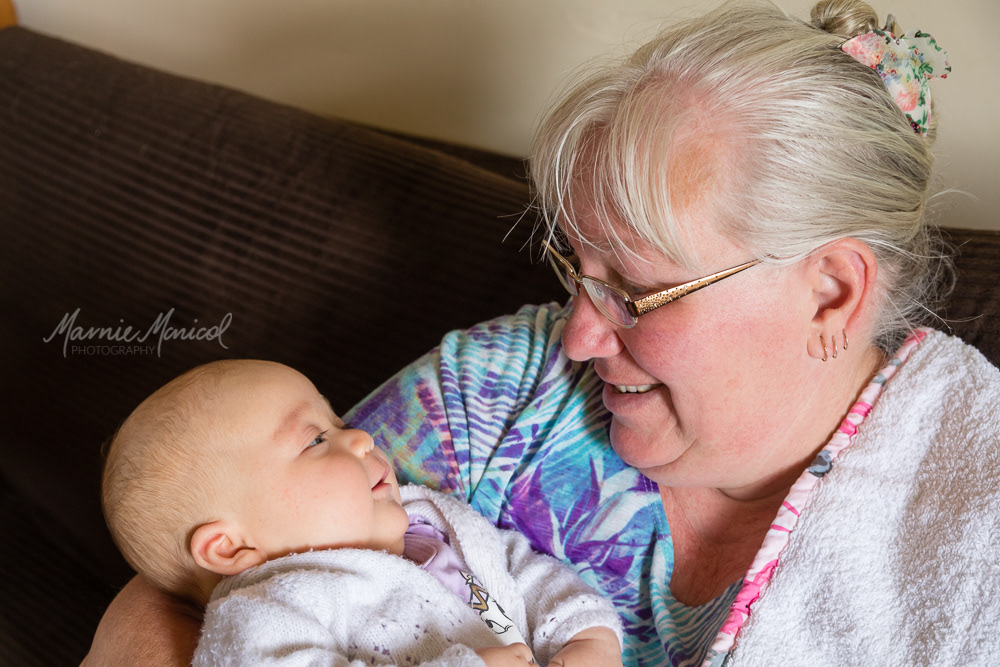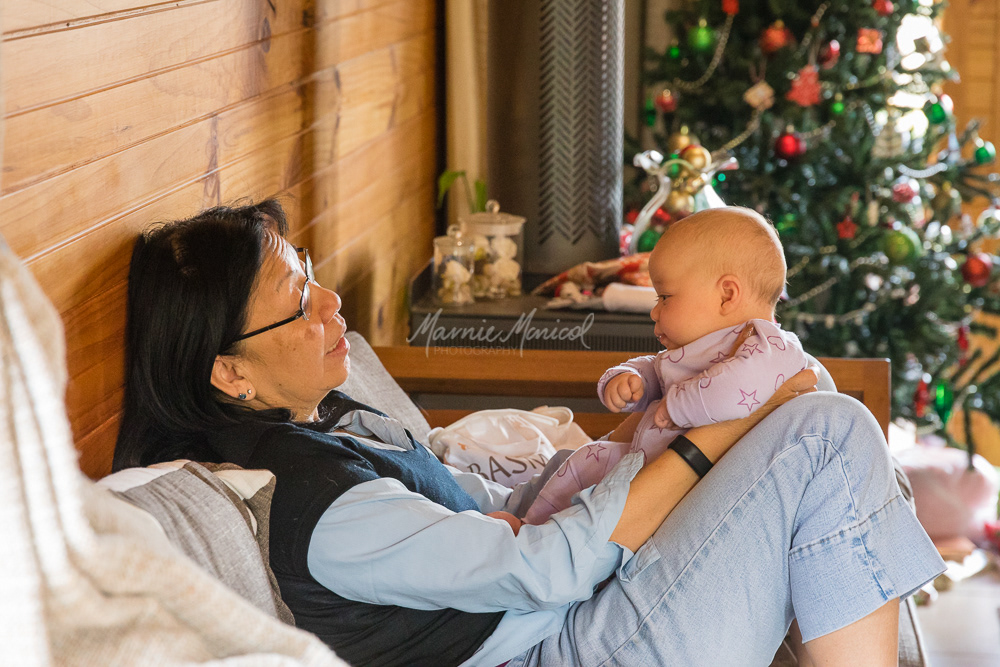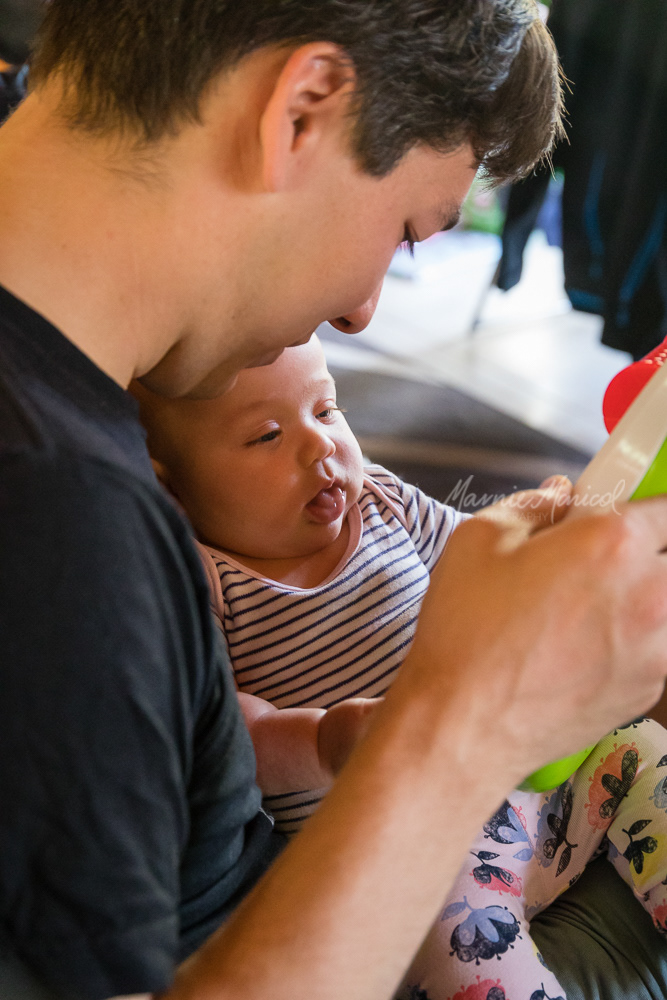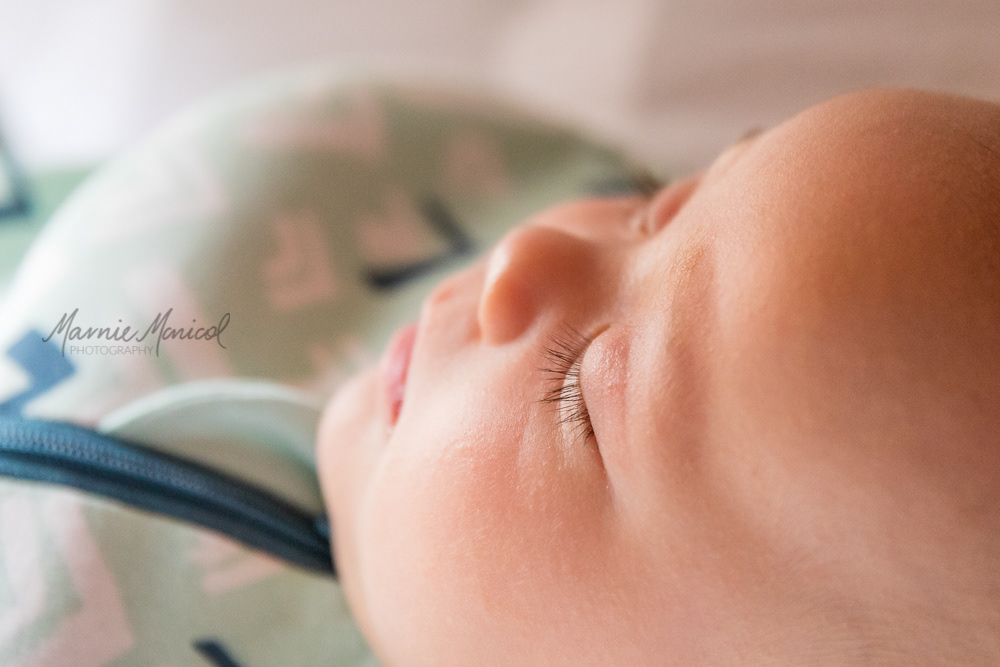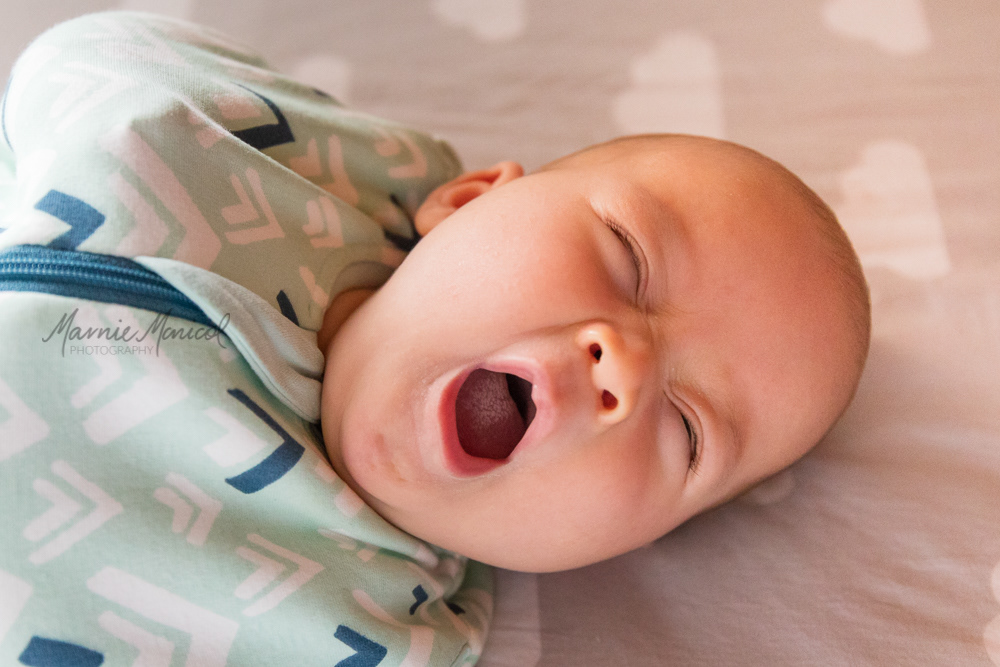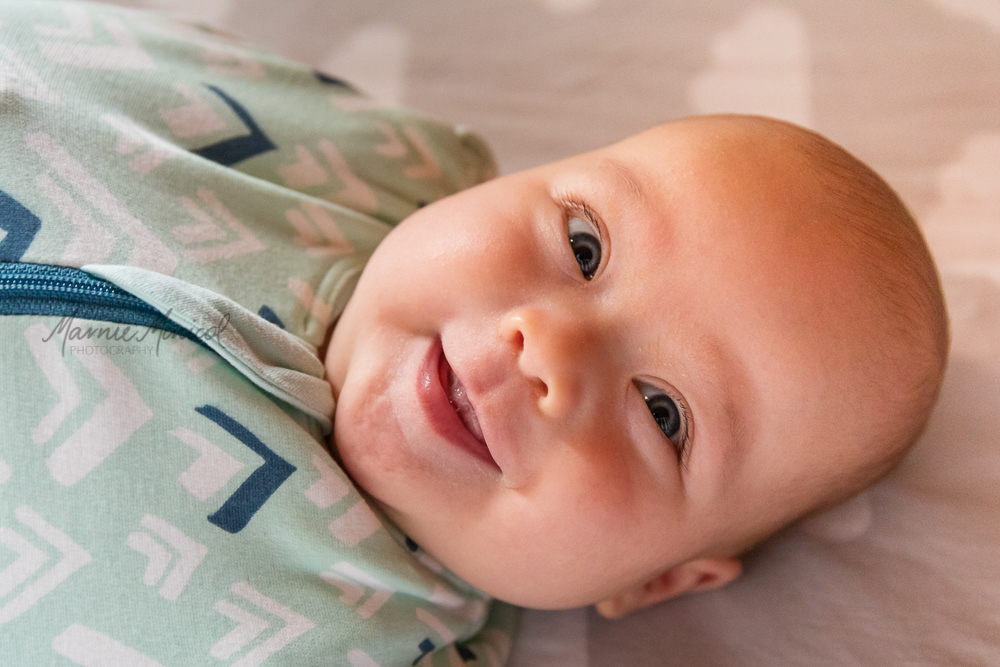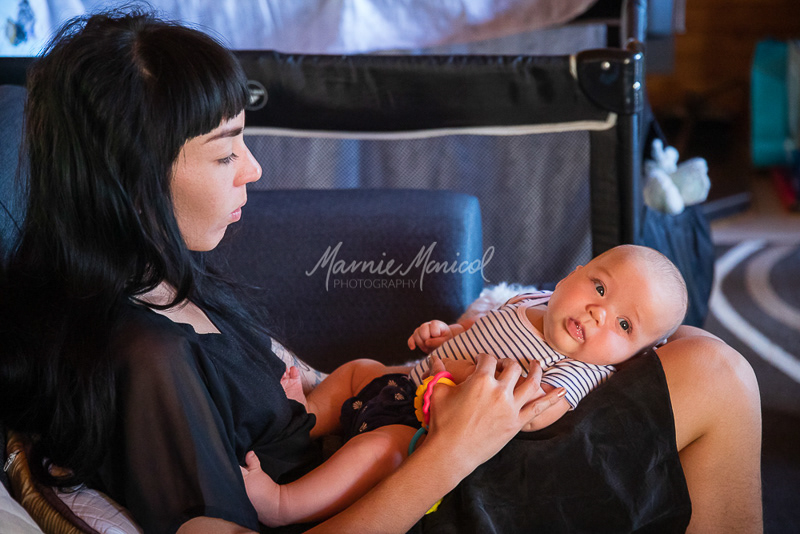 2 months ~ Lots of family time, naps, talking with Dad, and meeting Aunty Skye. Brianna has a new toy and her Daddy has been teaching her to push, pull or slide the buttons to make noise. She learned very quickly how to make it work all by herself!!
Brianna has always found this little game hilarious, and at 11 weeks old, she started trying to make the sounds herself.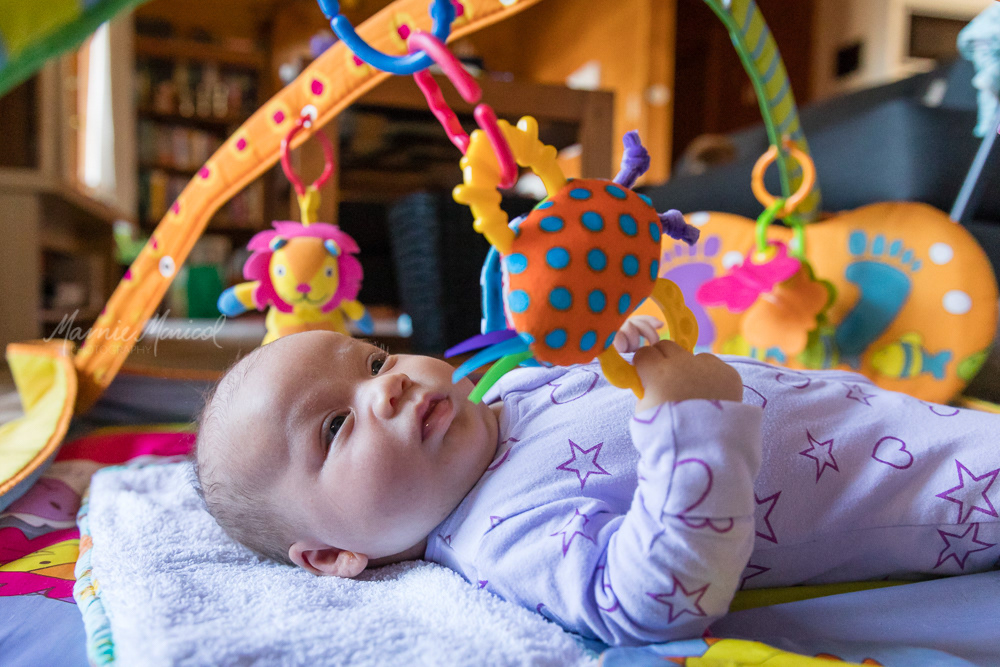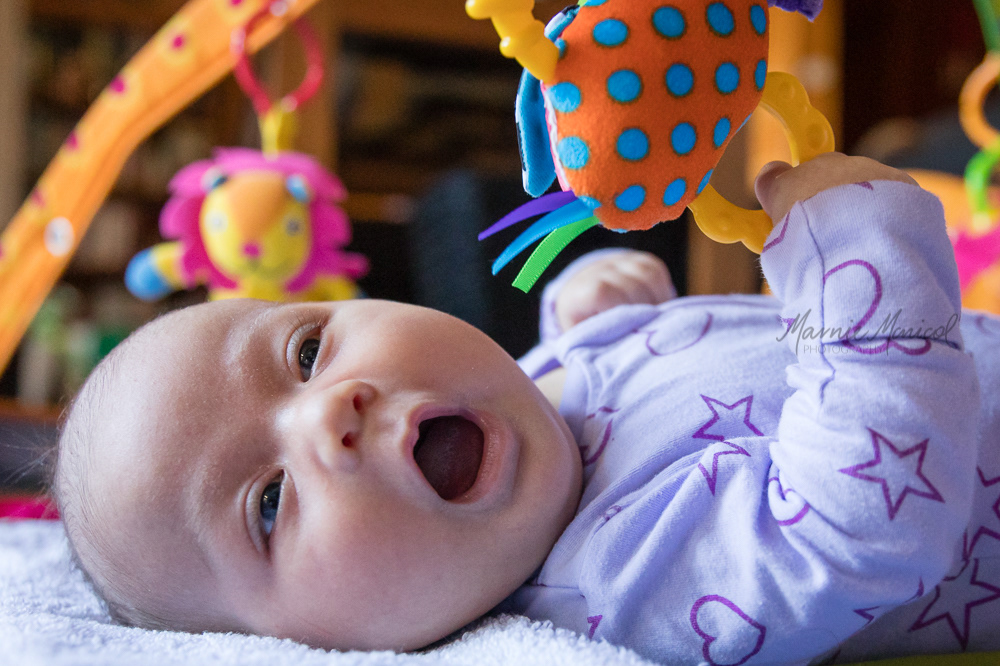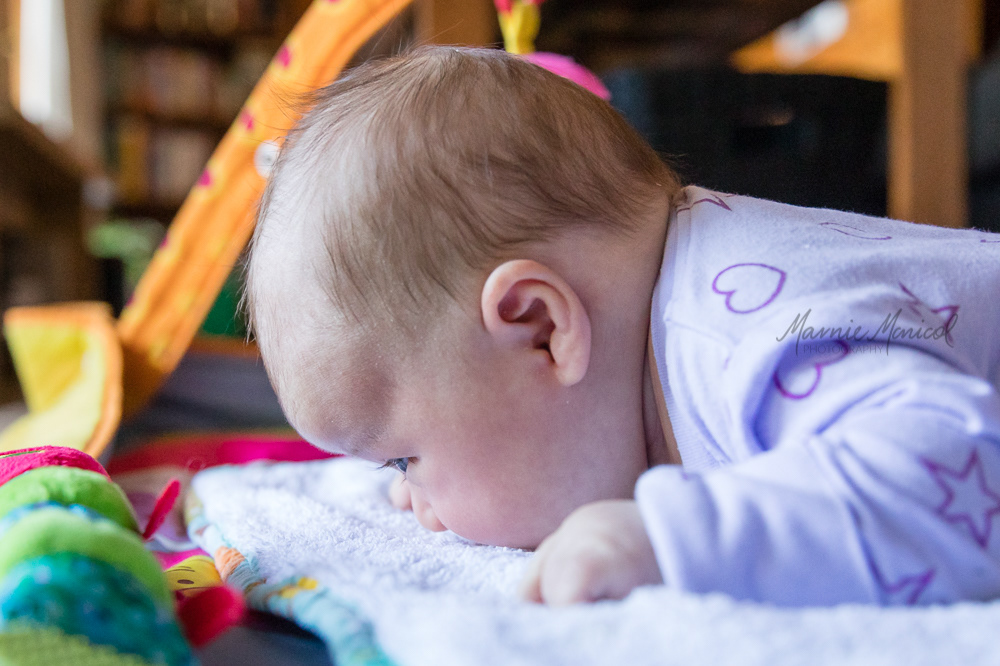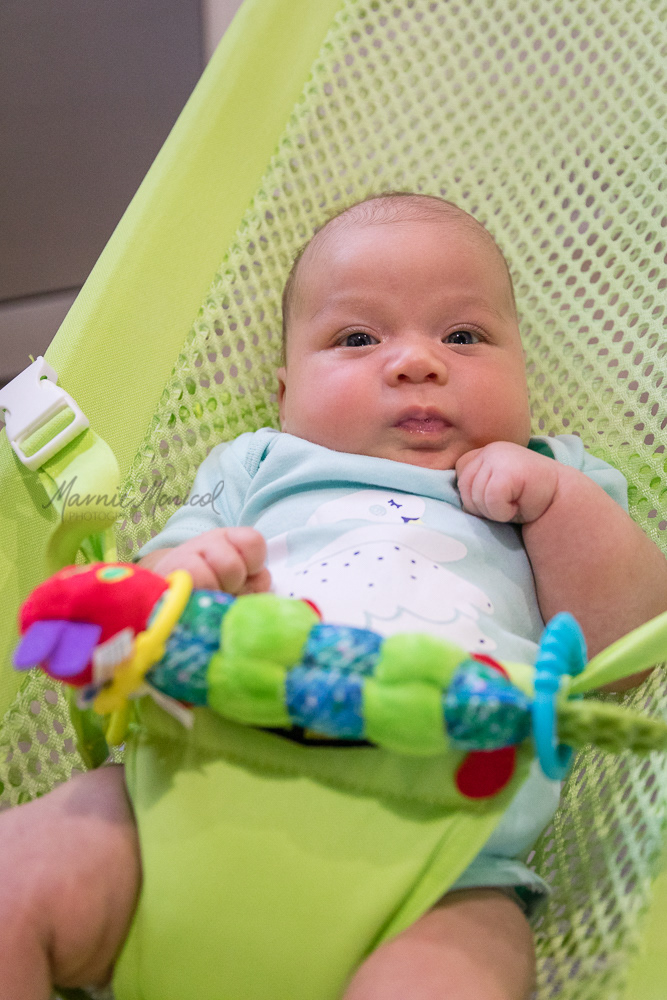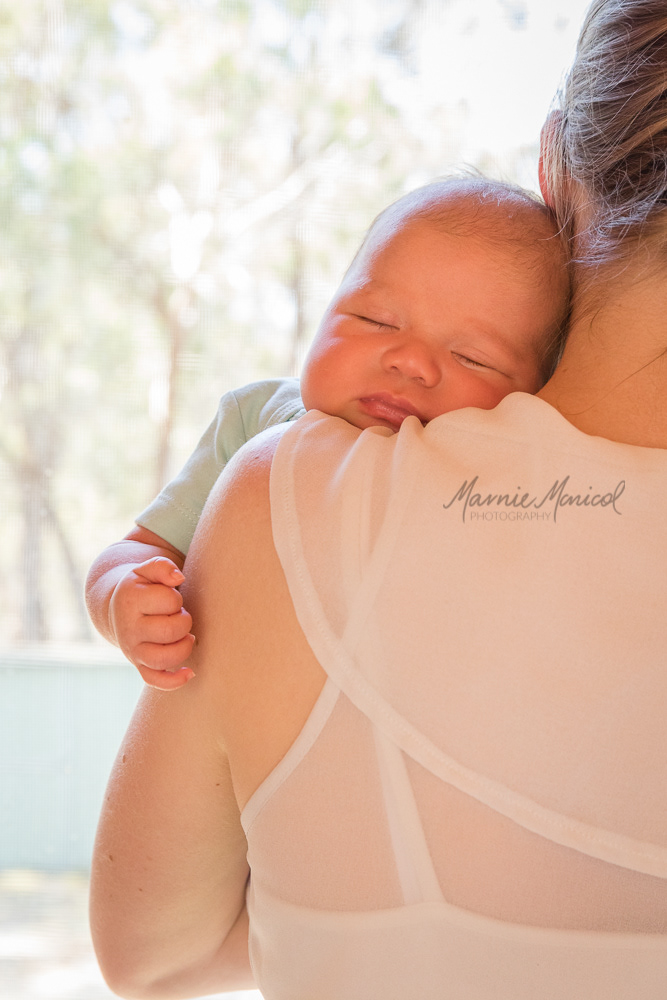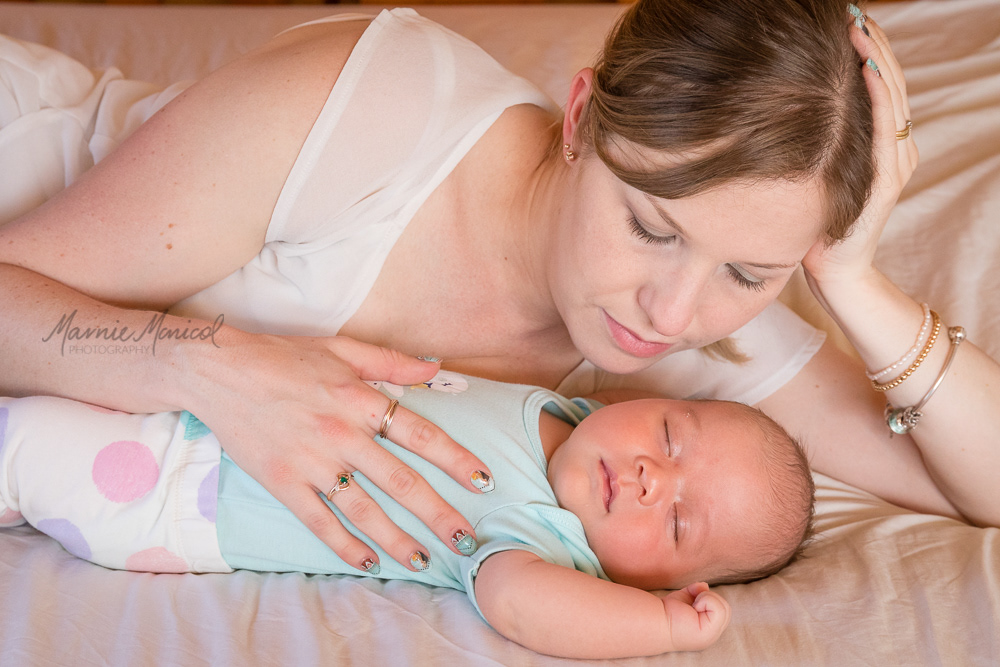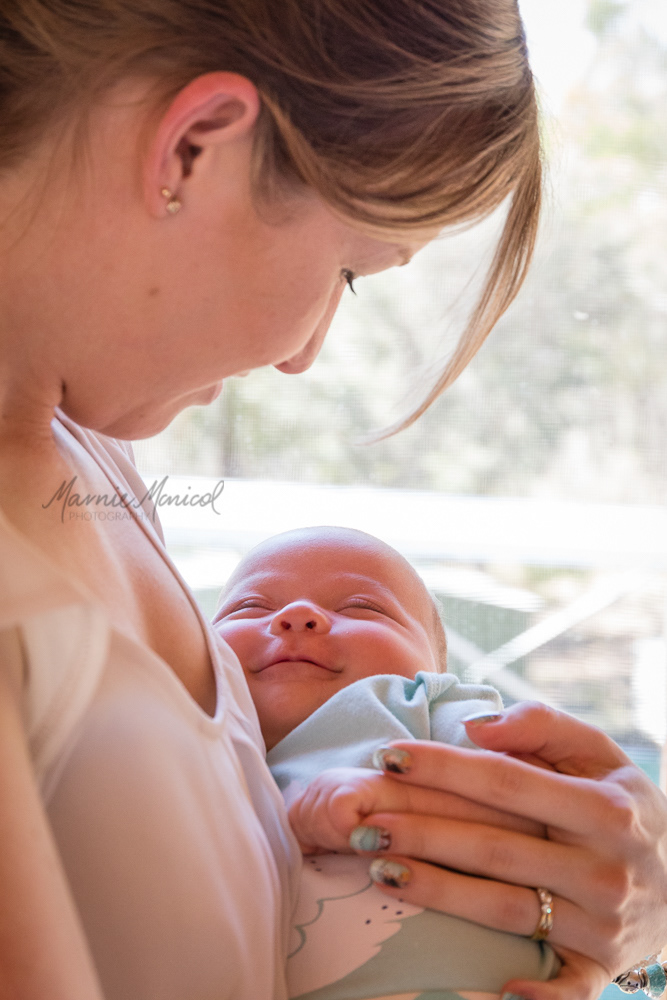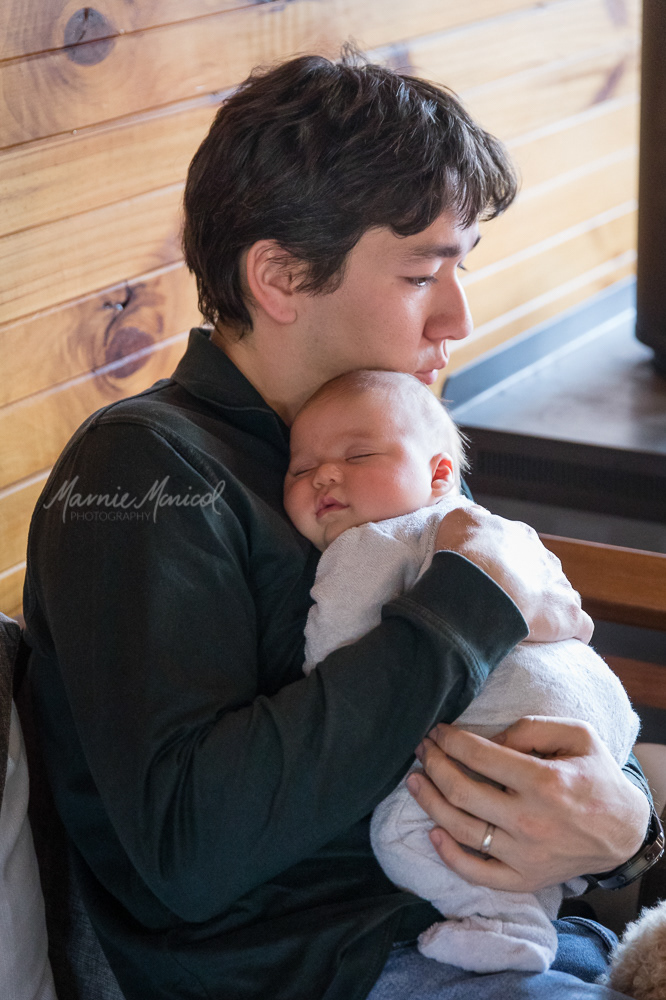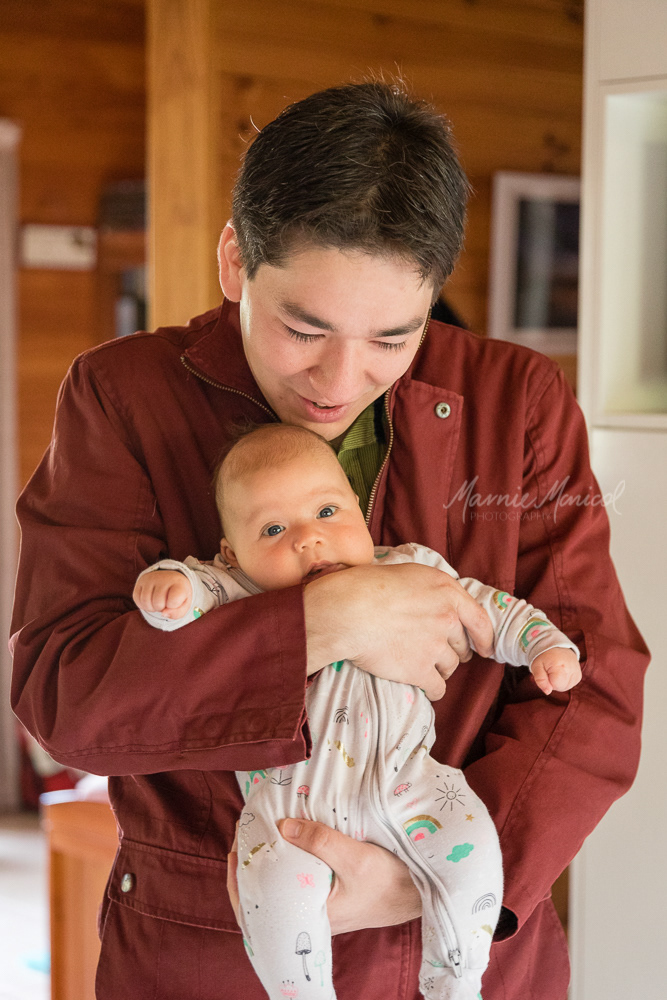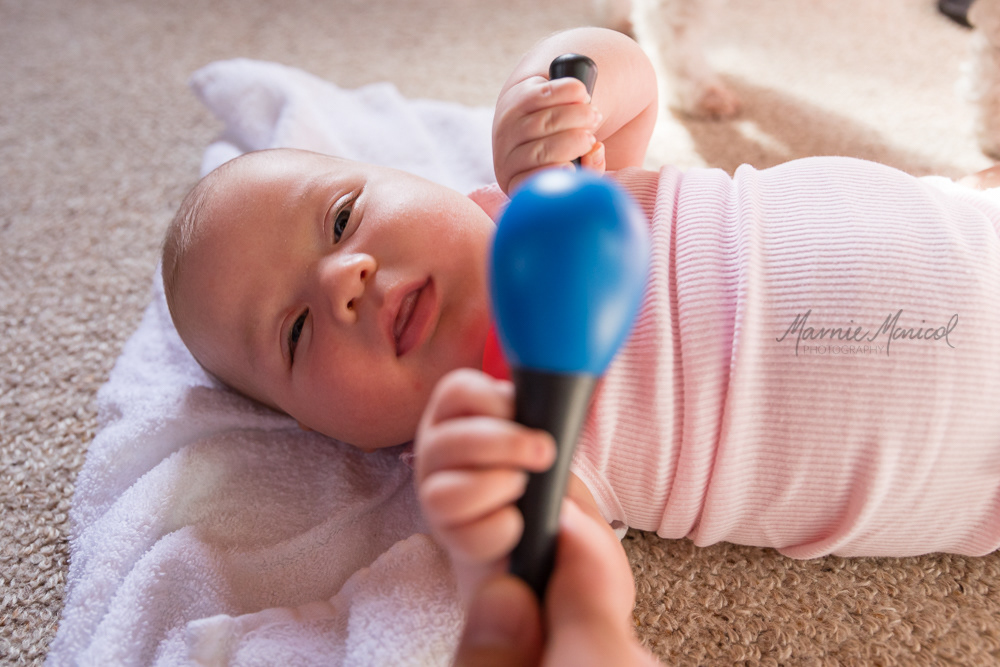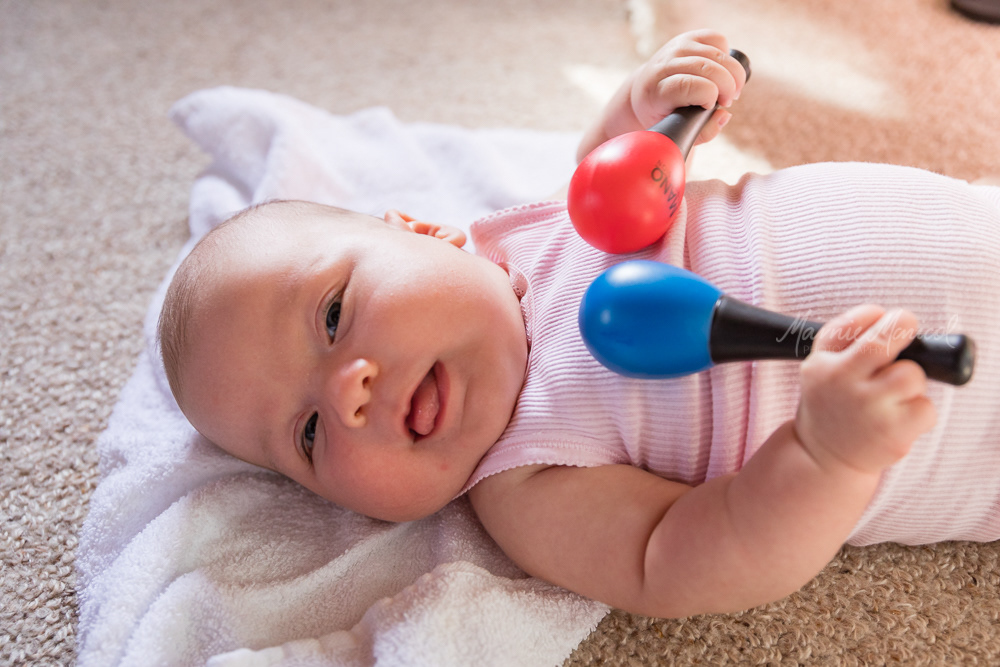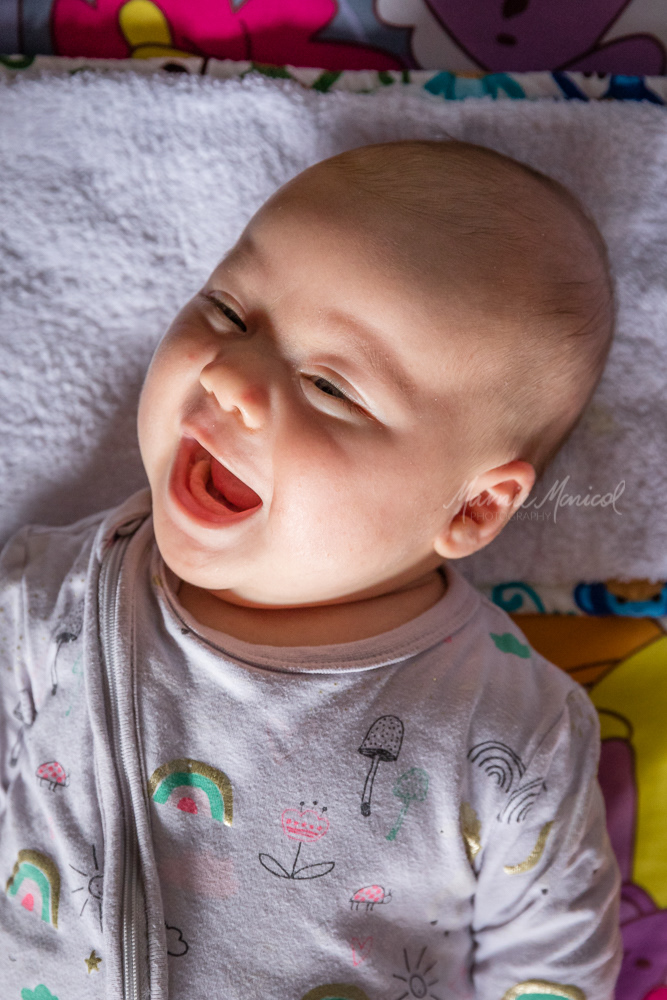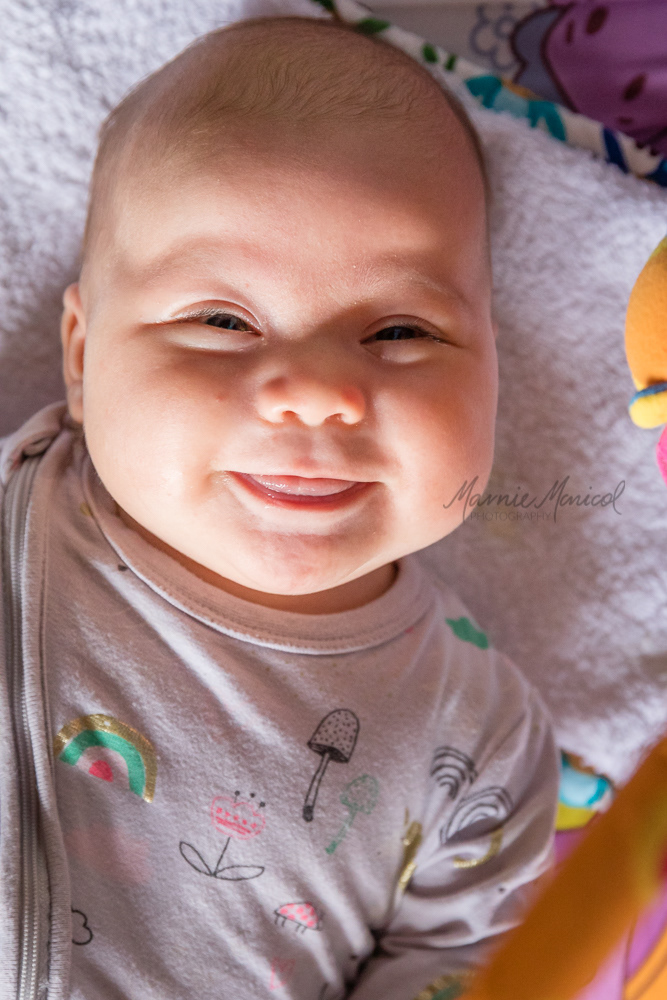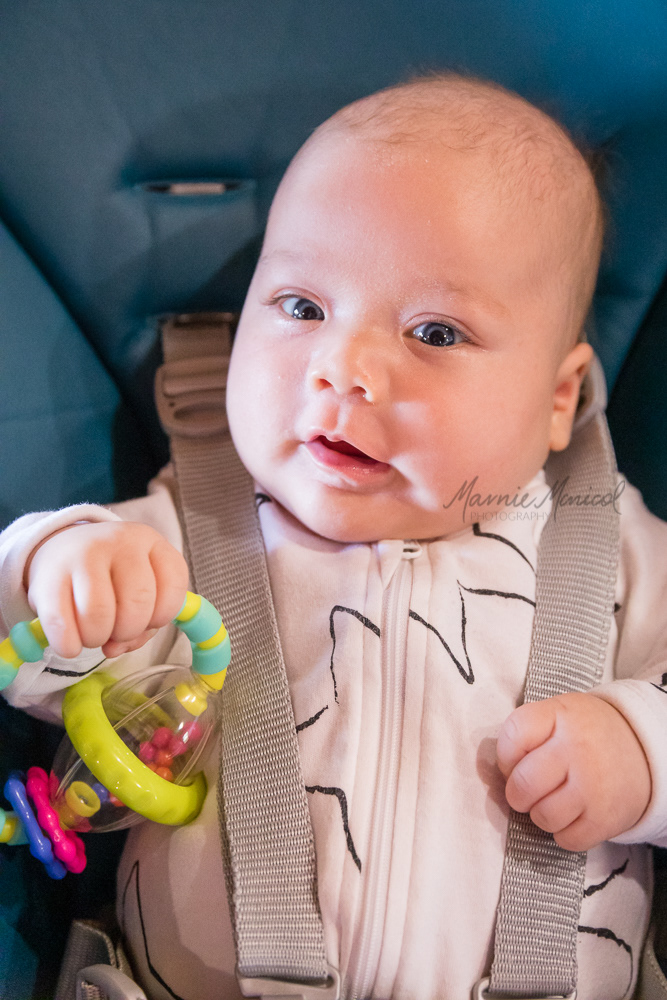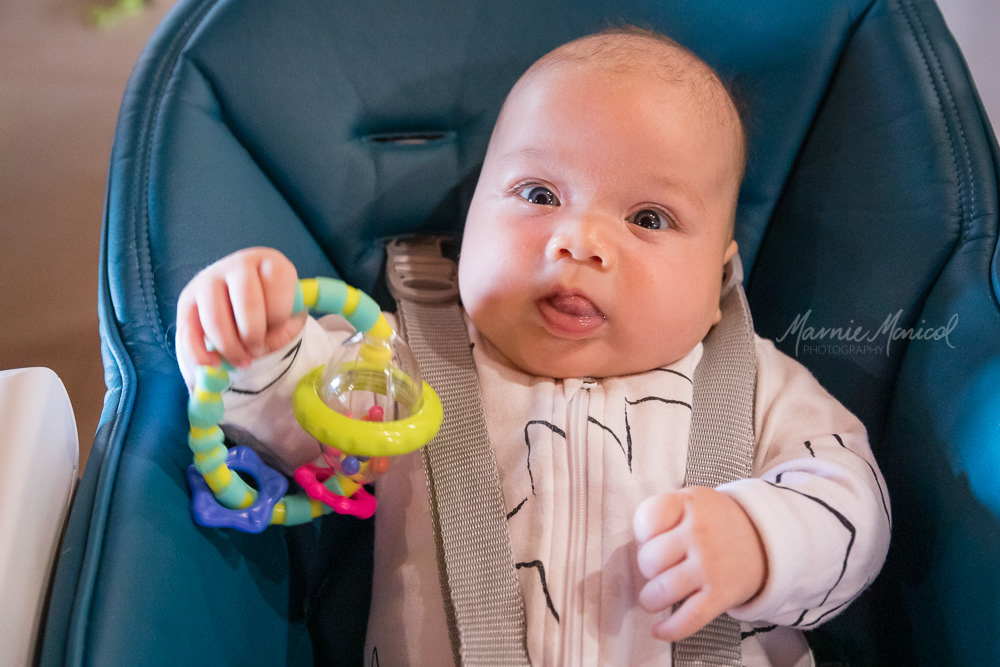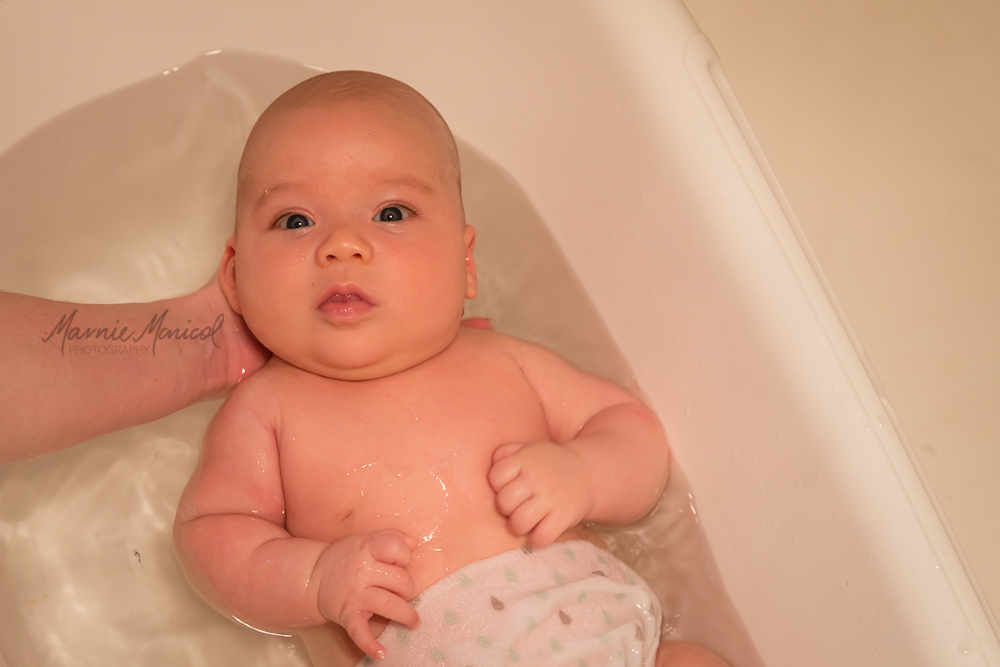 1 month ~ Play time, helping Mum make dinner, 'selfies' with Mum, time with Dad, holding things by herself, smiles, and bath time. Brianna is a morning person, just like her dad. I don't quite know how she can be so smiley first thing in the morning!!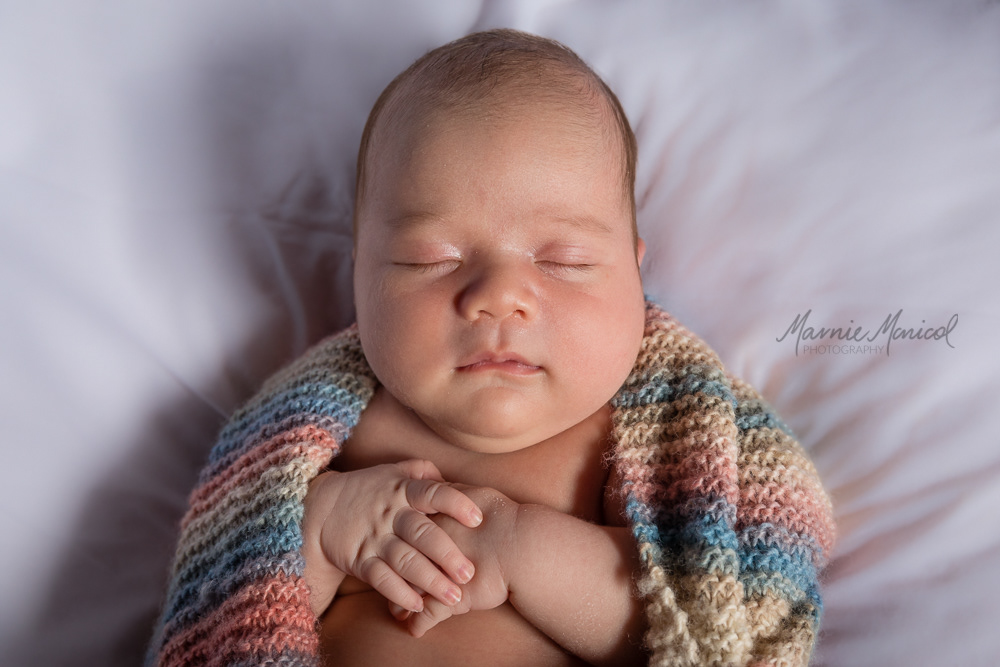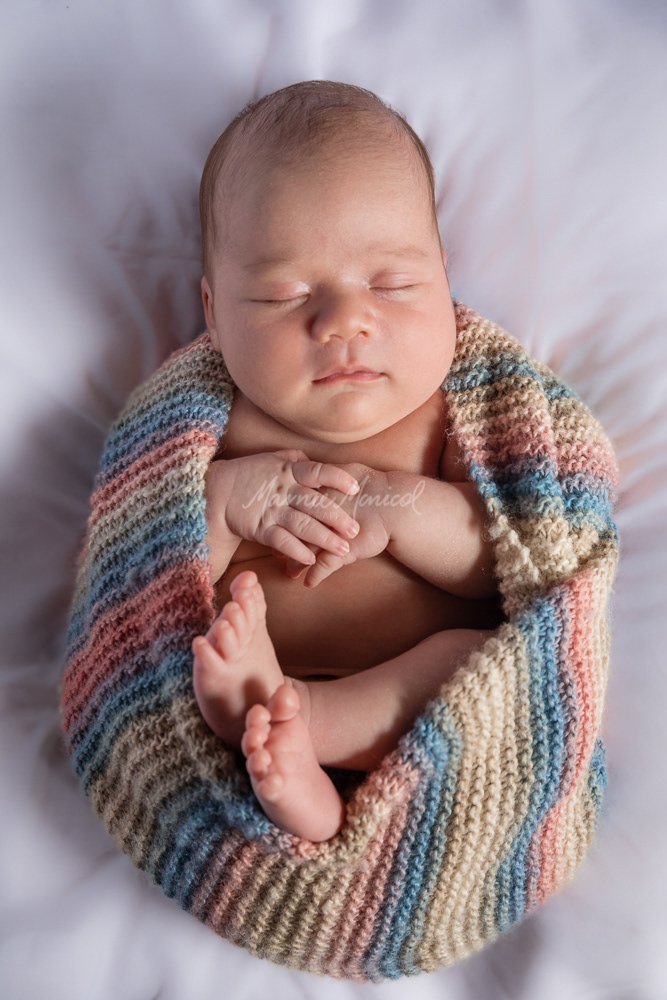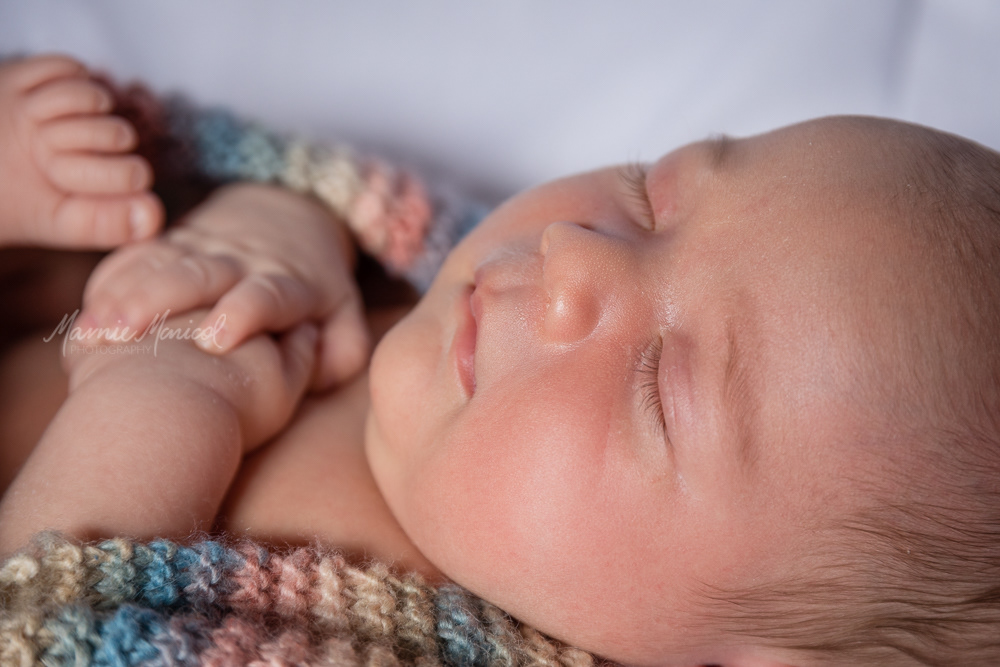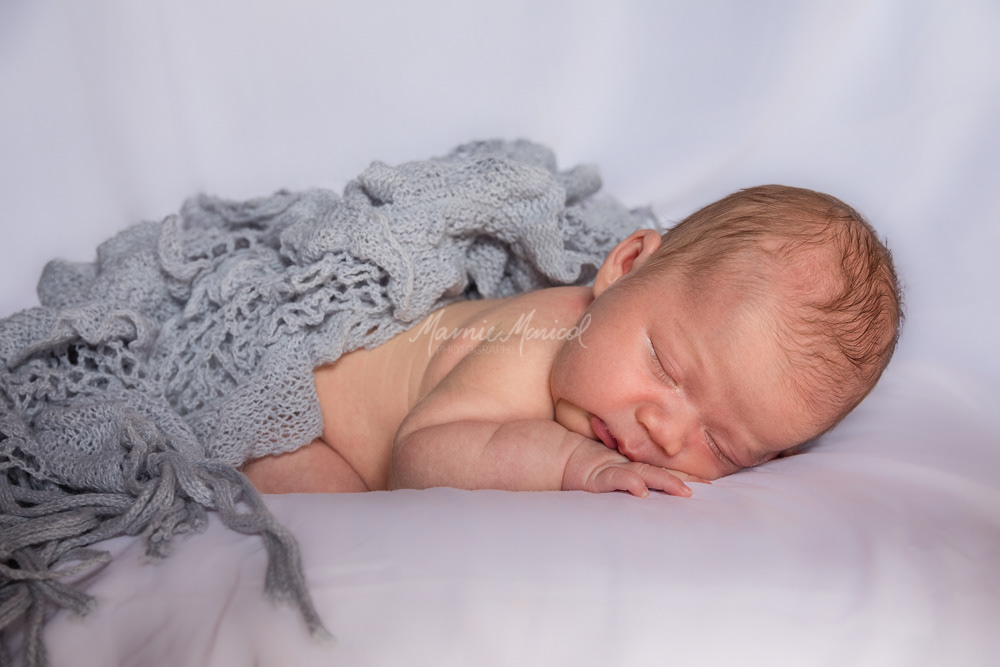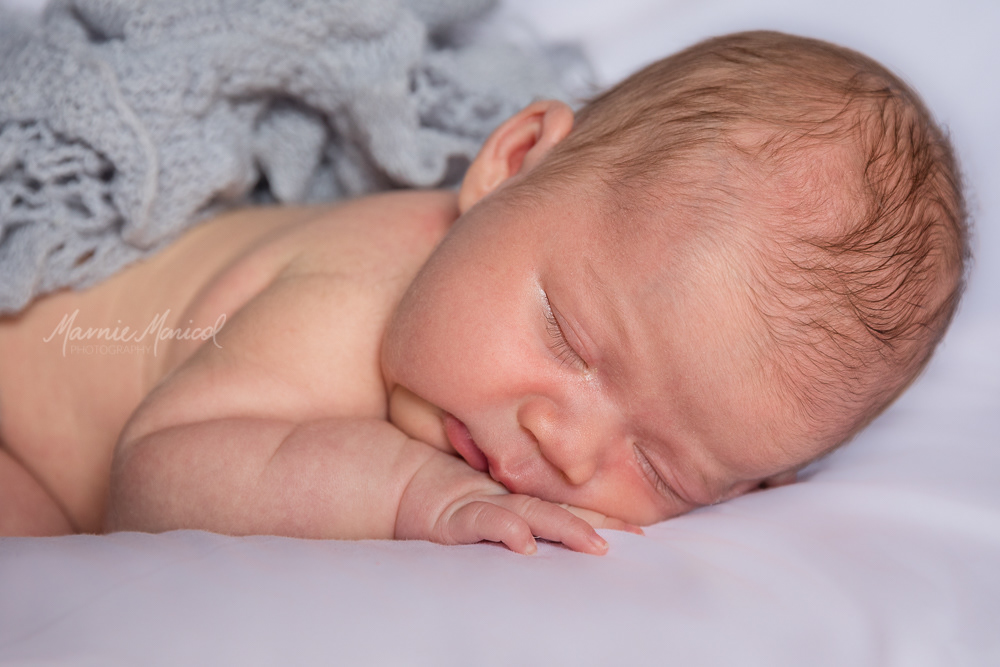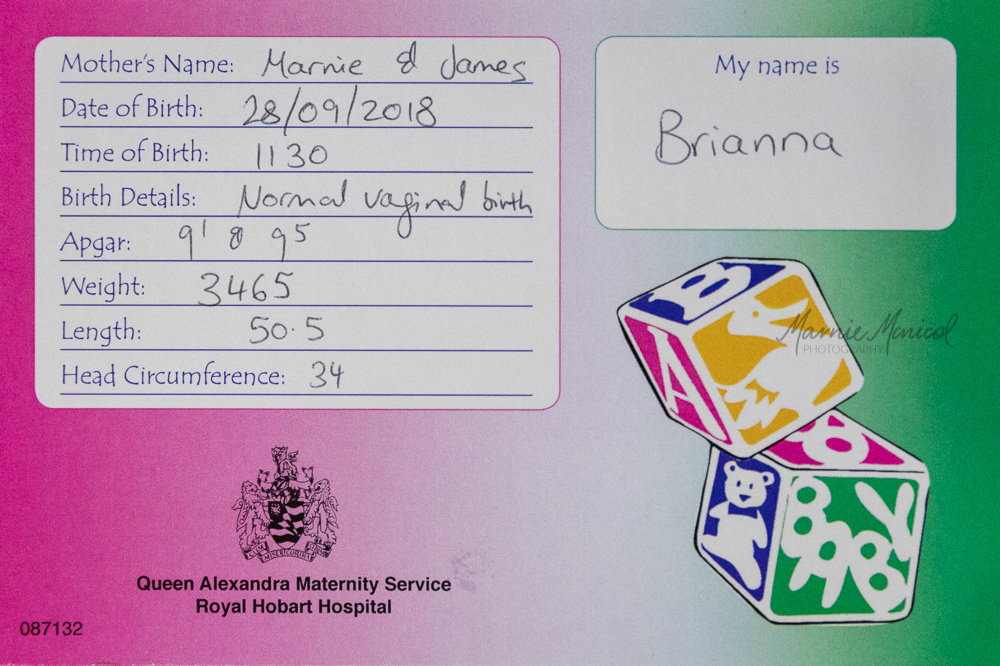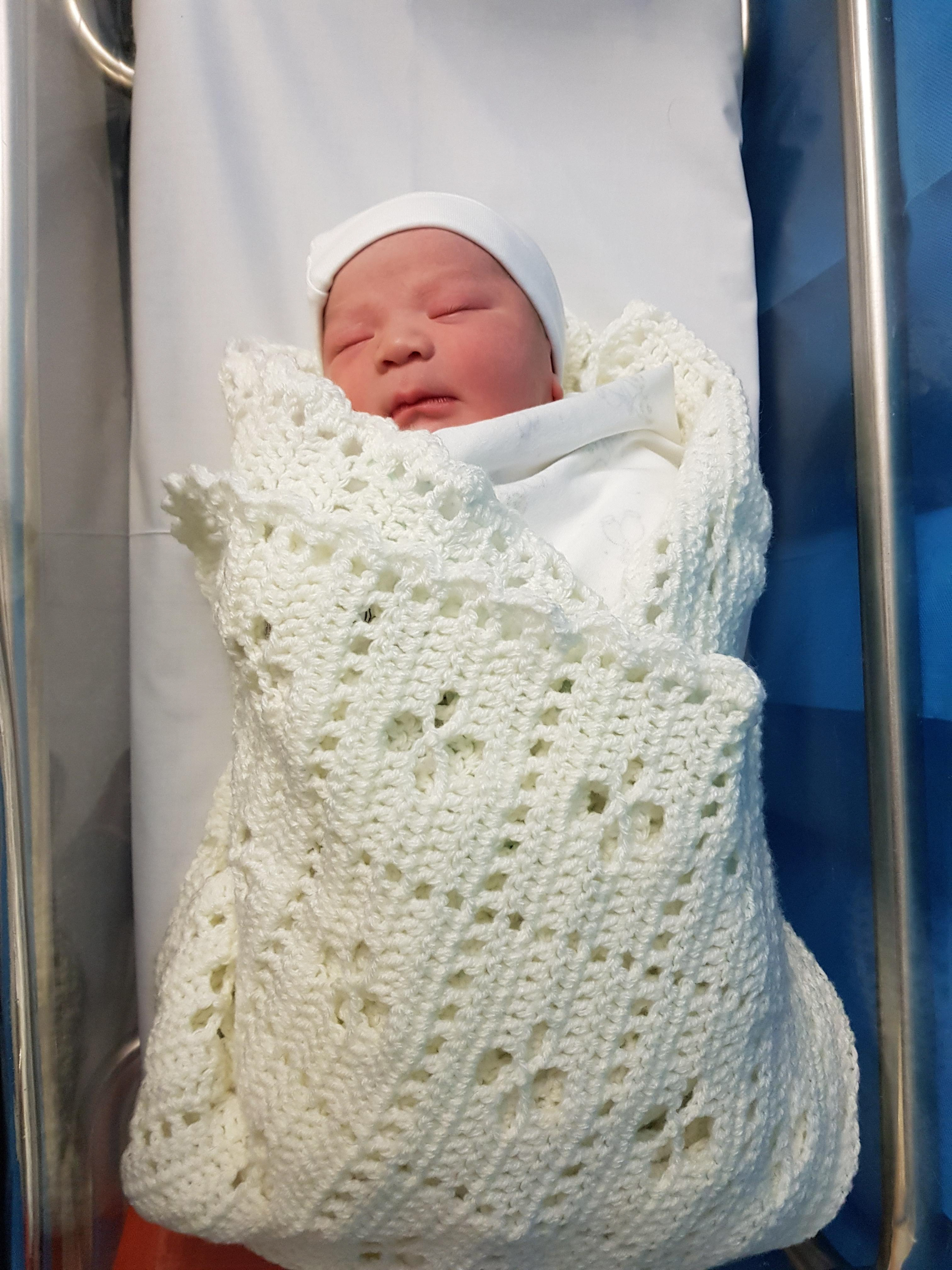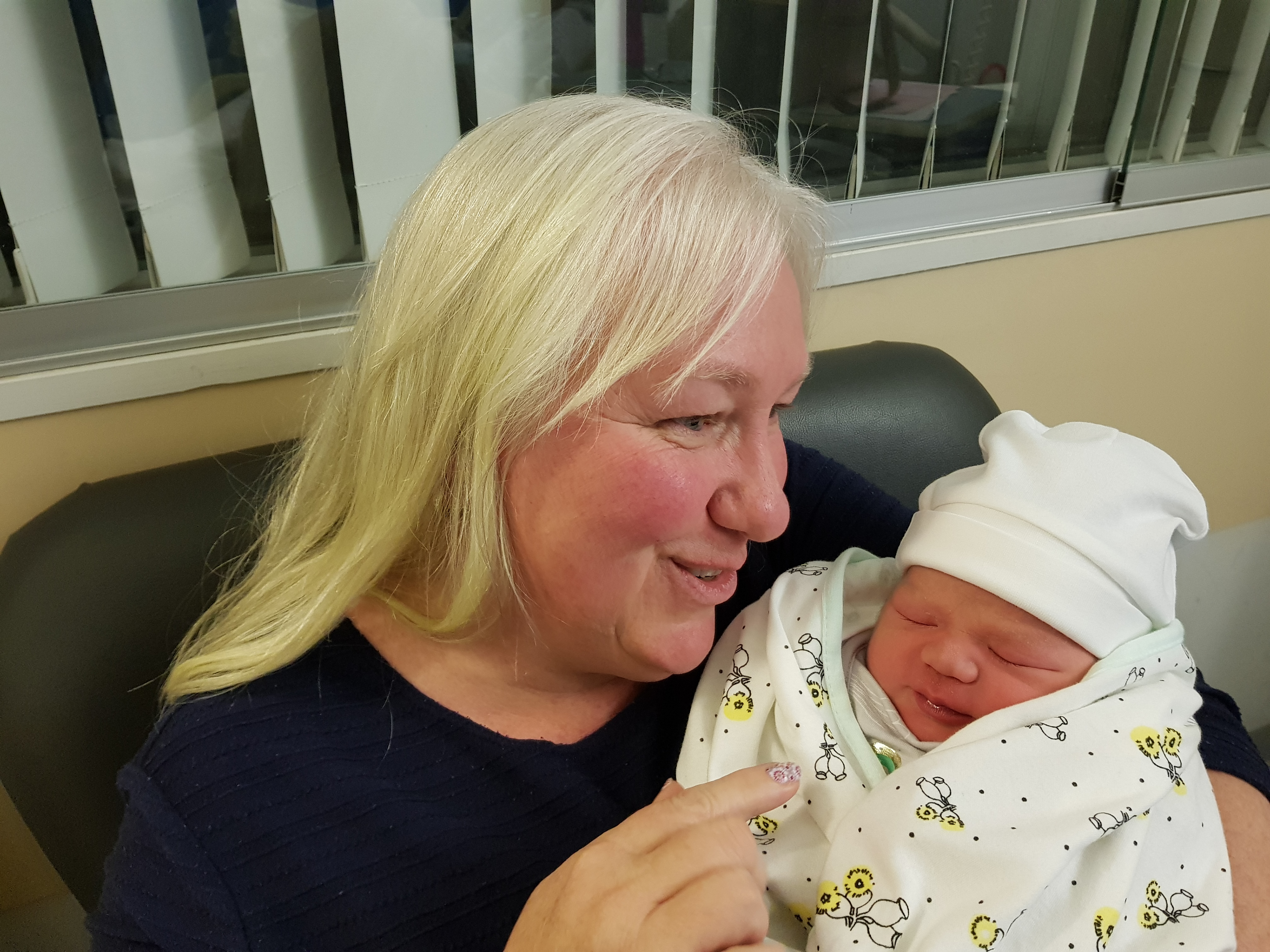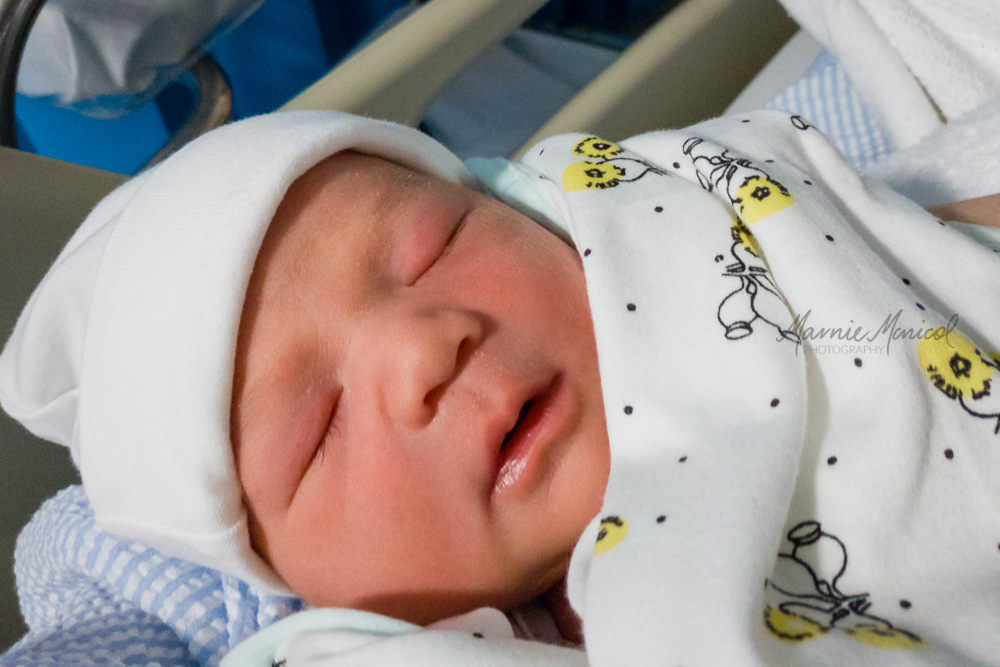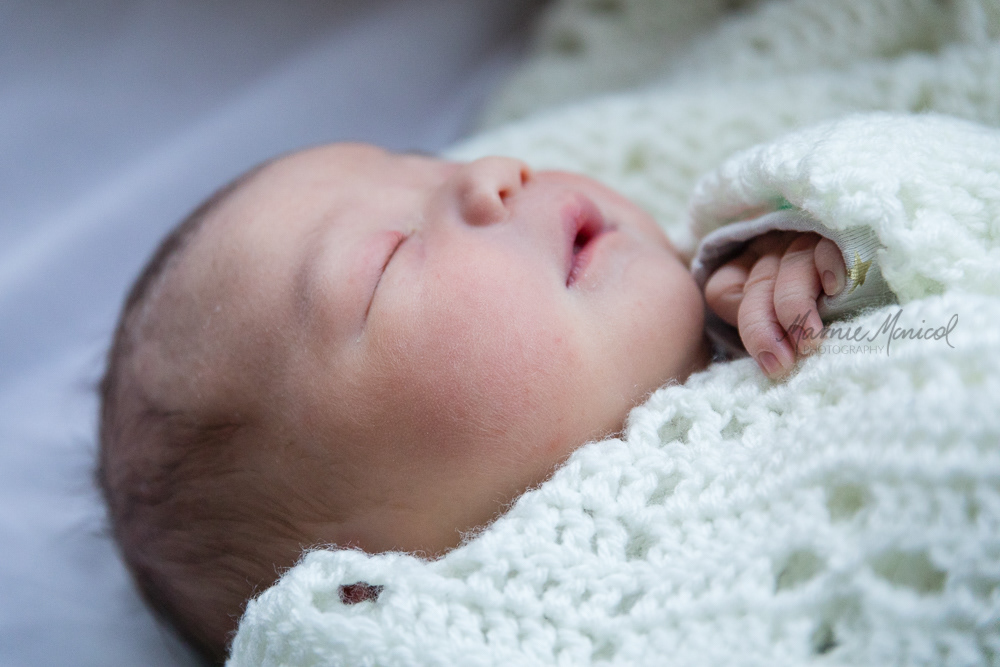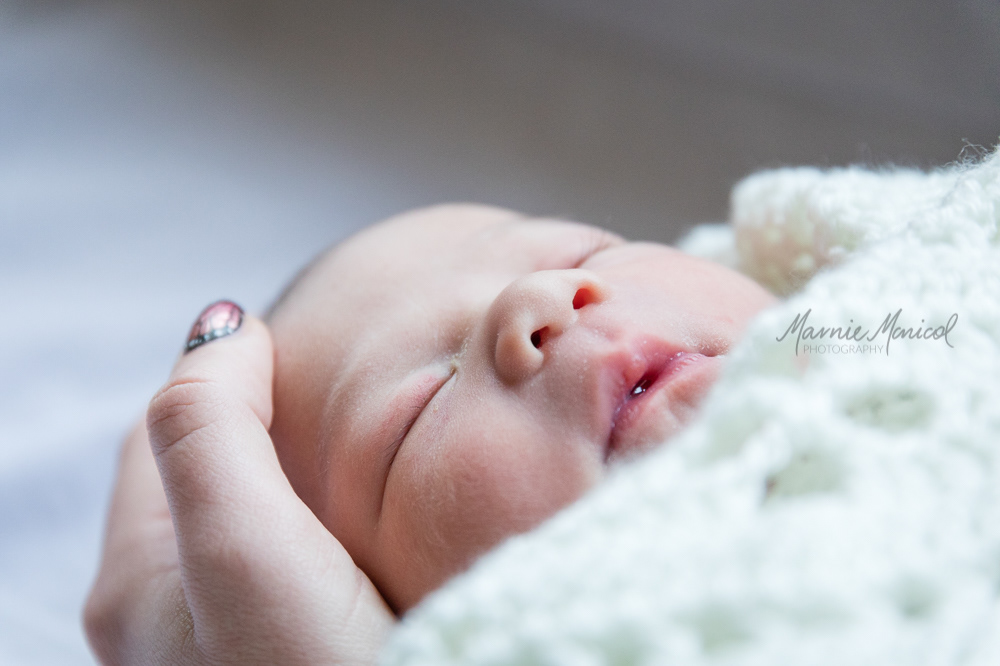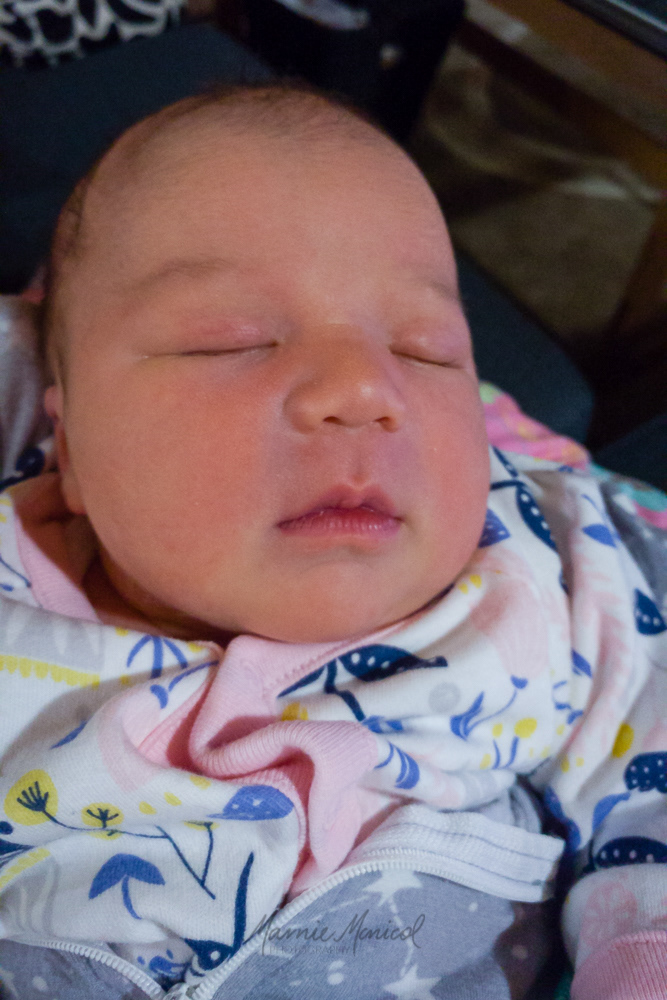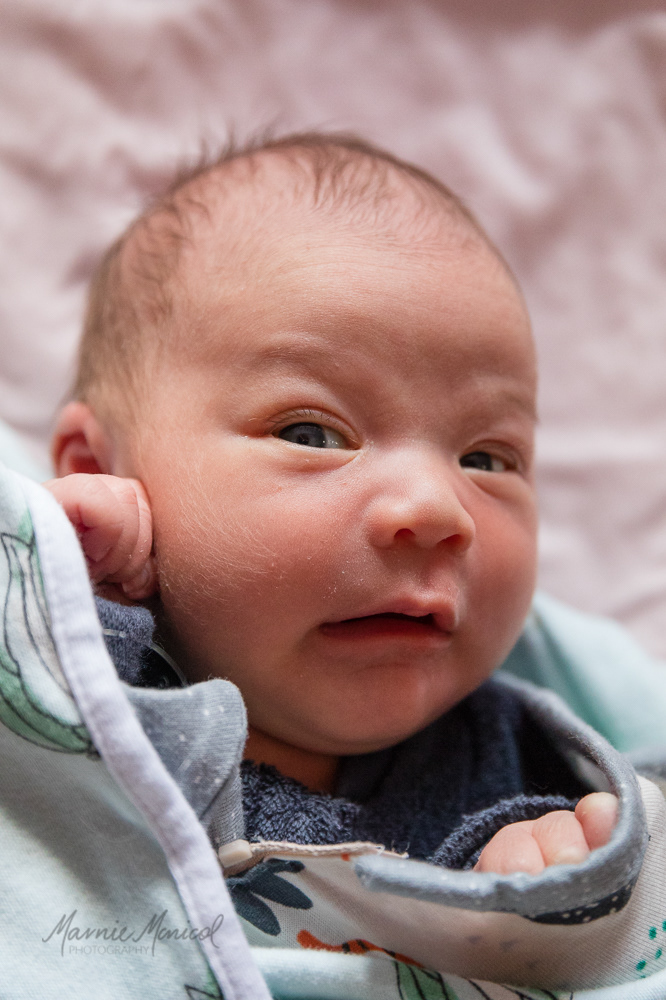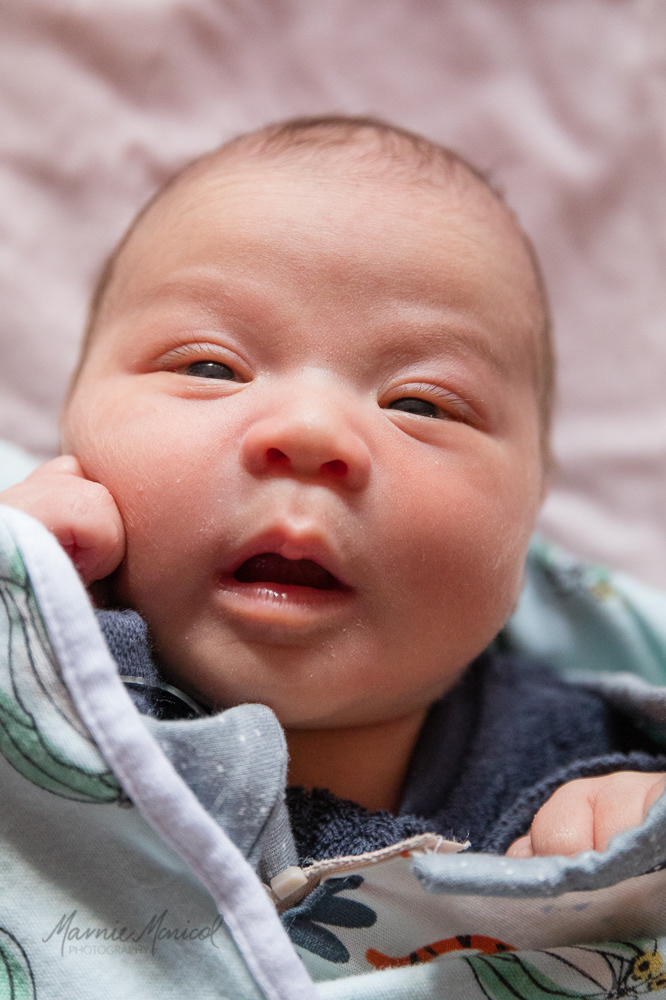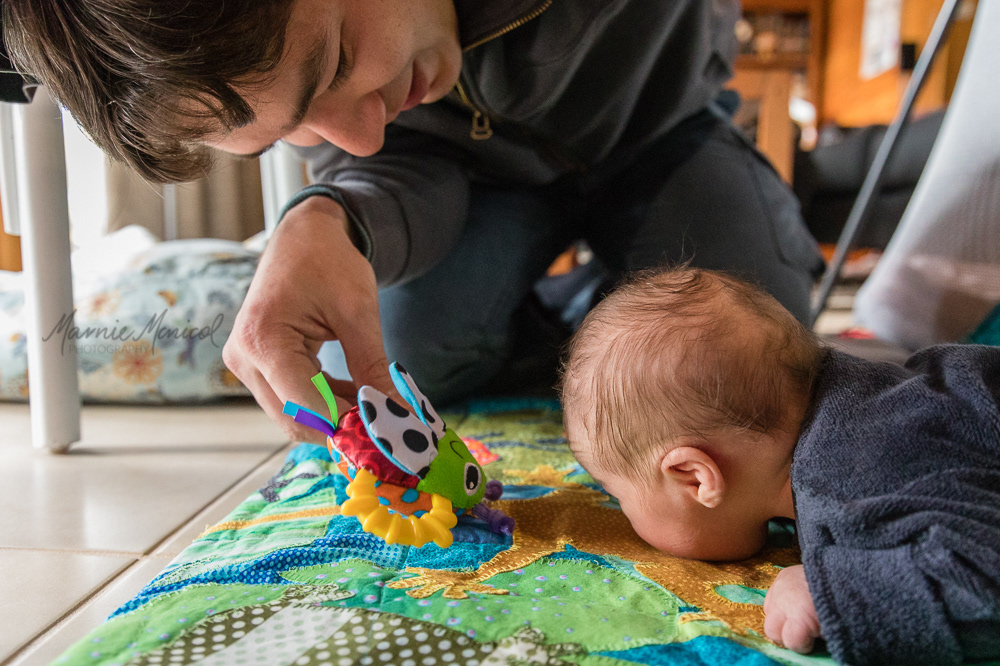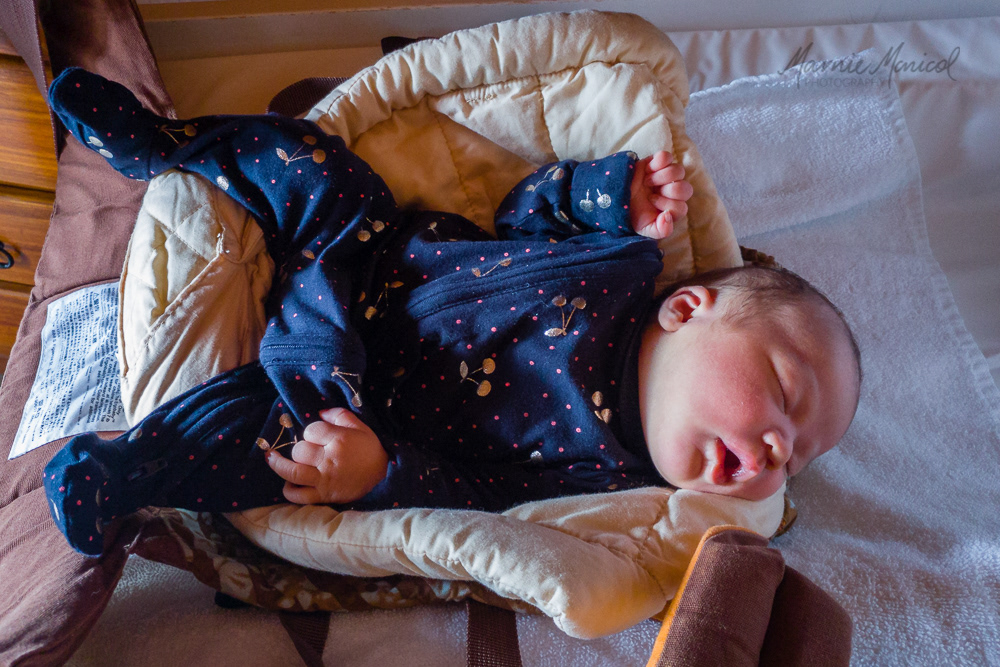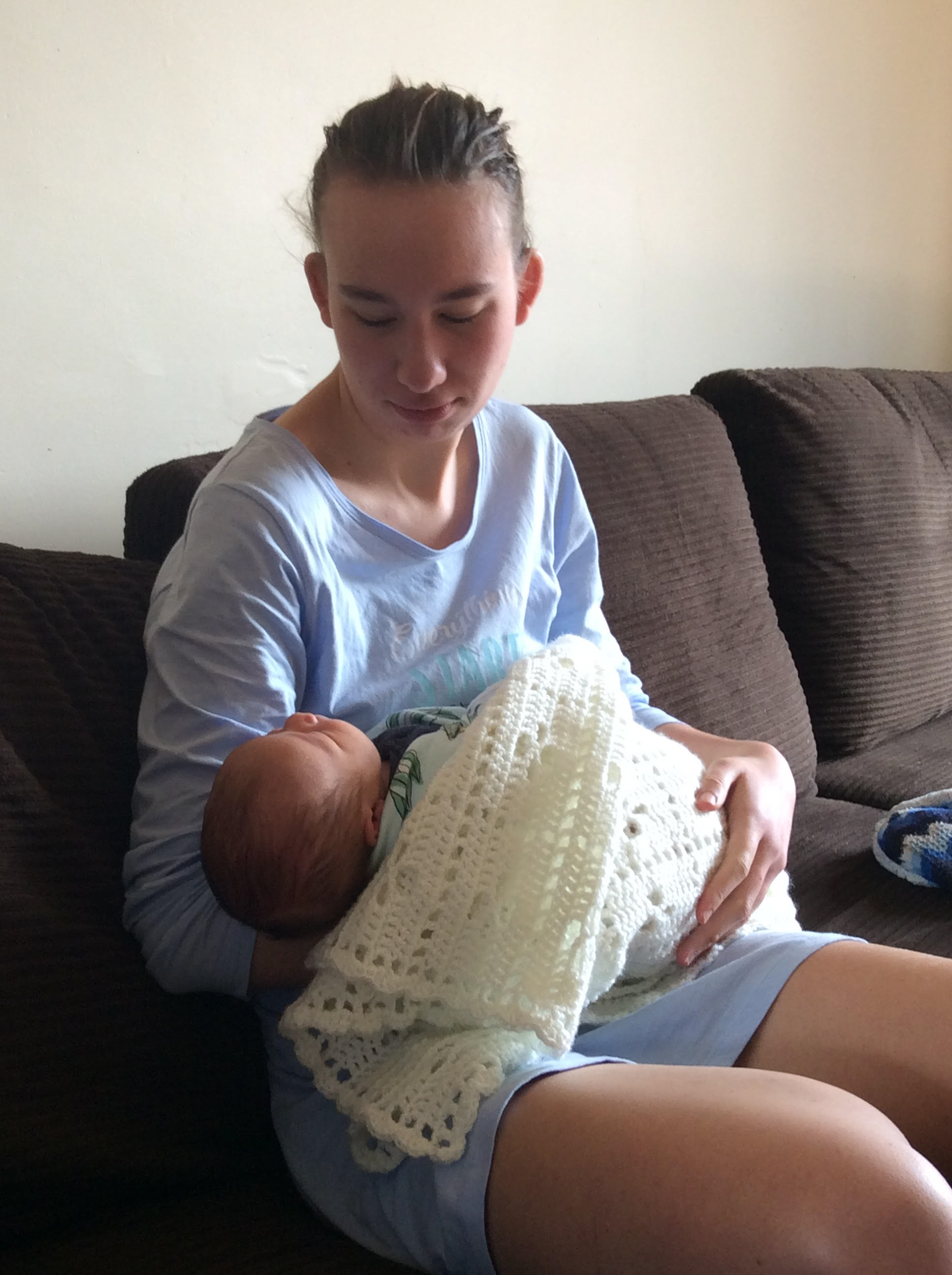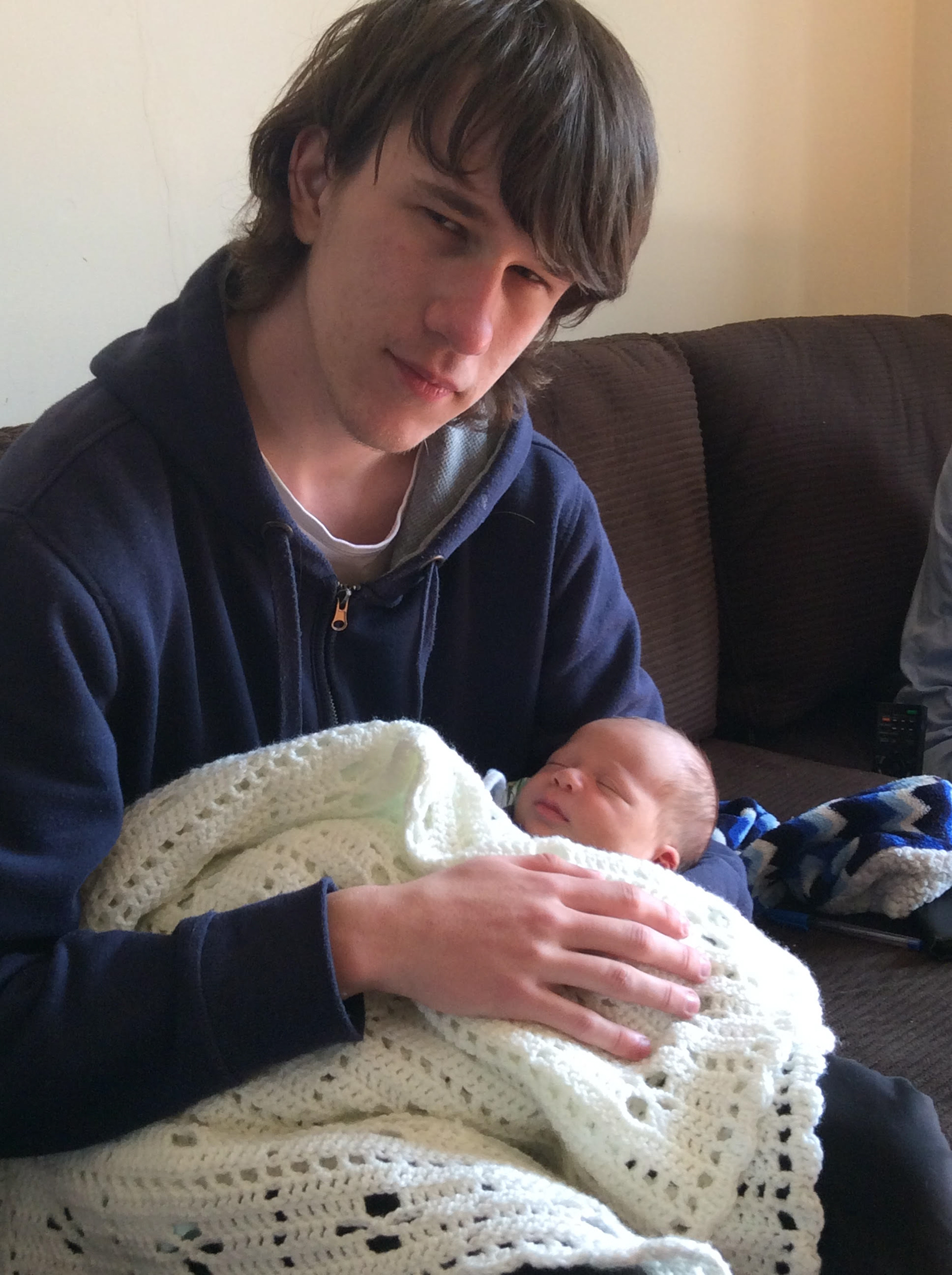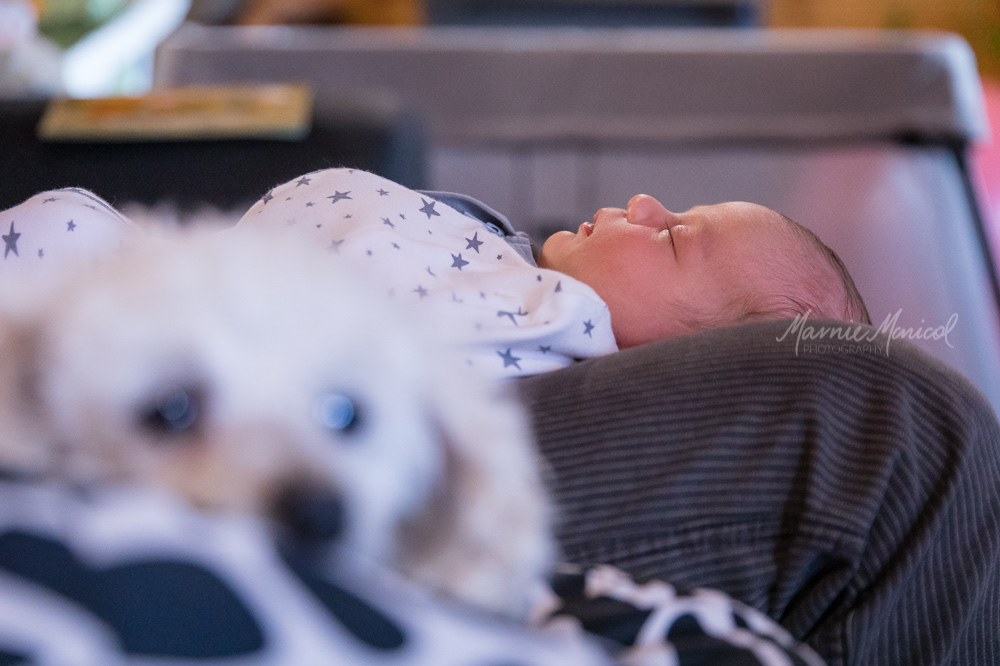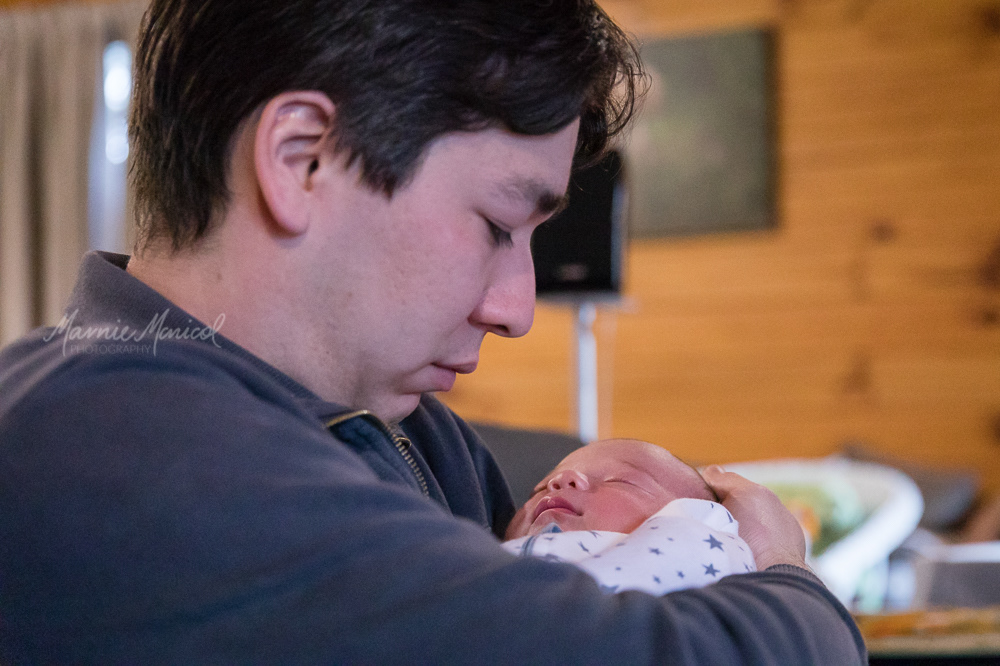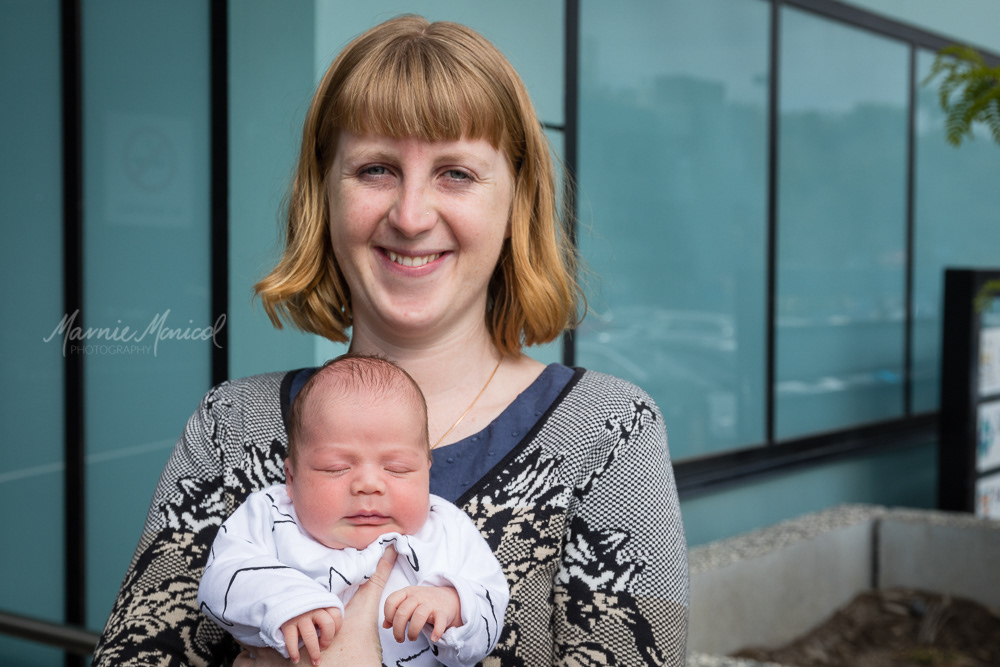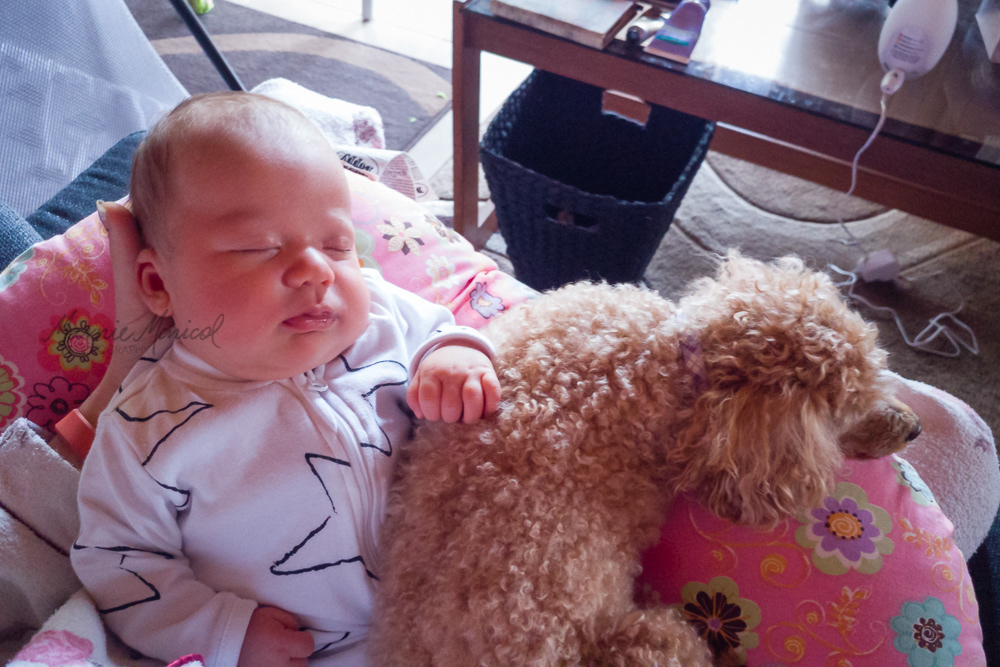 0-1 month ~ Hospital, meeting Grandma, going home, play time, going for walks to the beach, car rides, visiting family, snuggles with Daddy, visits with our lovely midwife, snuggles with Java, and reading books.